Indian weddings are a grand affair. From décor to food to the destination, Indian traditional weddings are high on pomp and show. But one of the most crucial aspects of an Indian wedding has to be the bridal lehenga. While most brides tend to choose a traditional lehenga for their big day, there are some brides who love to experiment with contemporary silhouettes and embellishments.
Falguni Shane Peacock is one designer brand which has given Indian traditional wear a modern makeover and has presented it to the fashion-loving crowd to wear and flaunt. The globally renowned brand is known and celebrated for its contemporary take on traditional wear. From incorporating unique silhouettes to adding ornate embellishments, Falguni Shane Peacock has successfully created the perfect amalgamation of traditional and modern contemporary vibes.
Every single outfit created by the brand is a stand-apart creation but their feather work lehenga is the one which is a favourite amongst the modern brides. This creative collection of lehenga with feathers is replete with elaborate feathered veils, luxurious feathered shrugs, stunning feathered capes and feathered bows and is the perfect option for a bride who wants to make a fashion statement at her wedding.
Let's scroll down and have a look at the best 5 lehenga with feathers by Falguni Shane Peacock to have in your bridal trousseau.
Macy Bridal Lehenga Set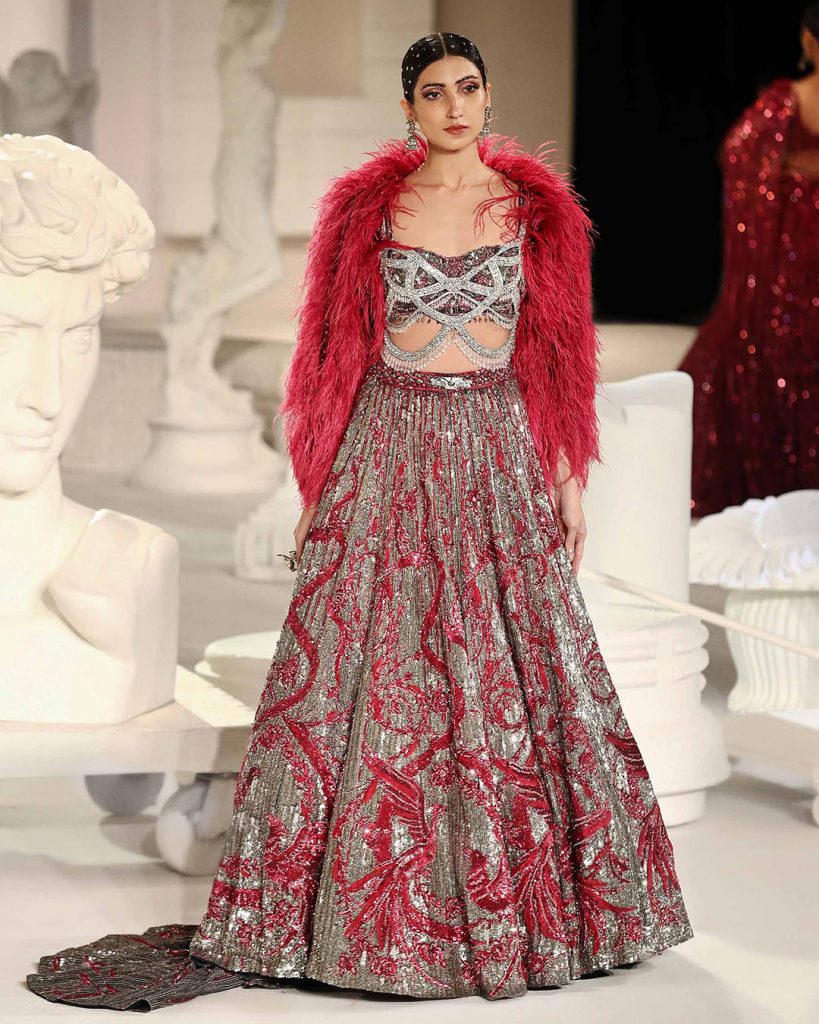 This heavily embellished red and silver feather lehenga exudes confidence and panache like no other. Replete with foliage and bird motifs in sequins, this uber-dramatic lehenga showcases a blouse with a handcrafted harness curated out of crystals and tassels and a feathered shrug for that warrior princess look.
Josephine Bridal Lehenga Set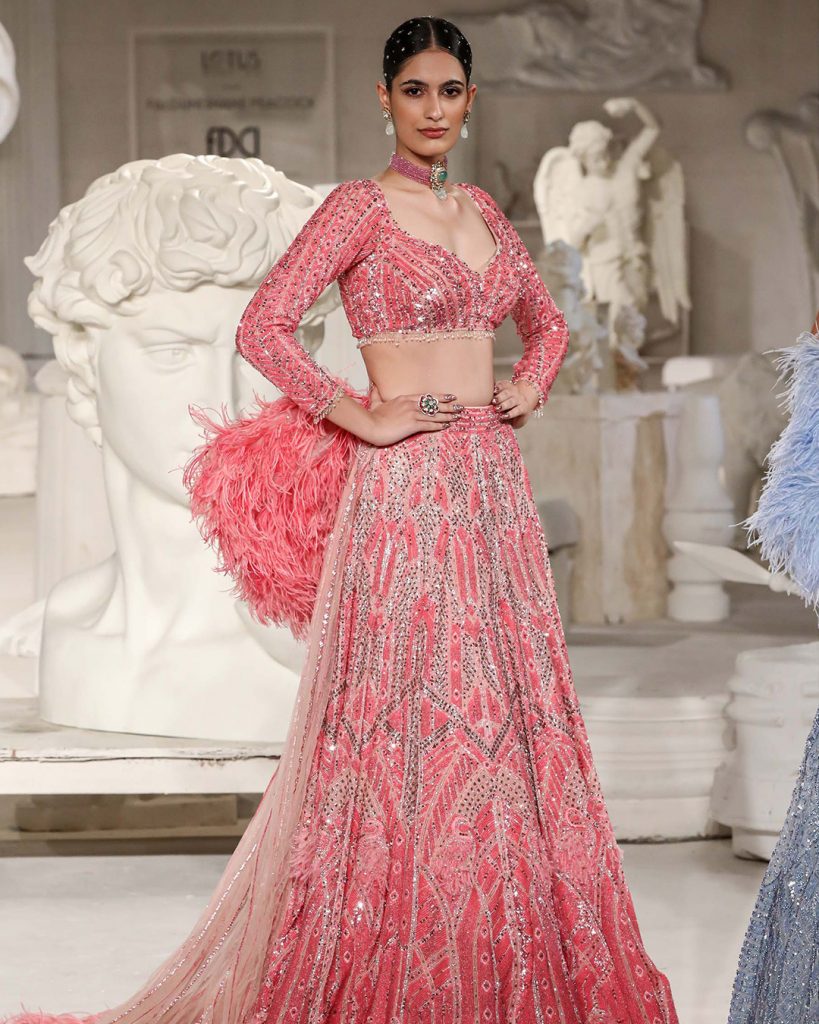 With a super feminine vibe, the Josephine bridal feather lehenga set is the perfect amalgamation of dreamy colour, modern accents and traditional workmanship. The deep blush lehenga with feathers is adorned with crystals, beads and sequins in architectural motifs. Replete with a cropped blouse and feathered bow accent, this lehenga is what bridal dreams are made of.
Kayden Bridal Lehenga Set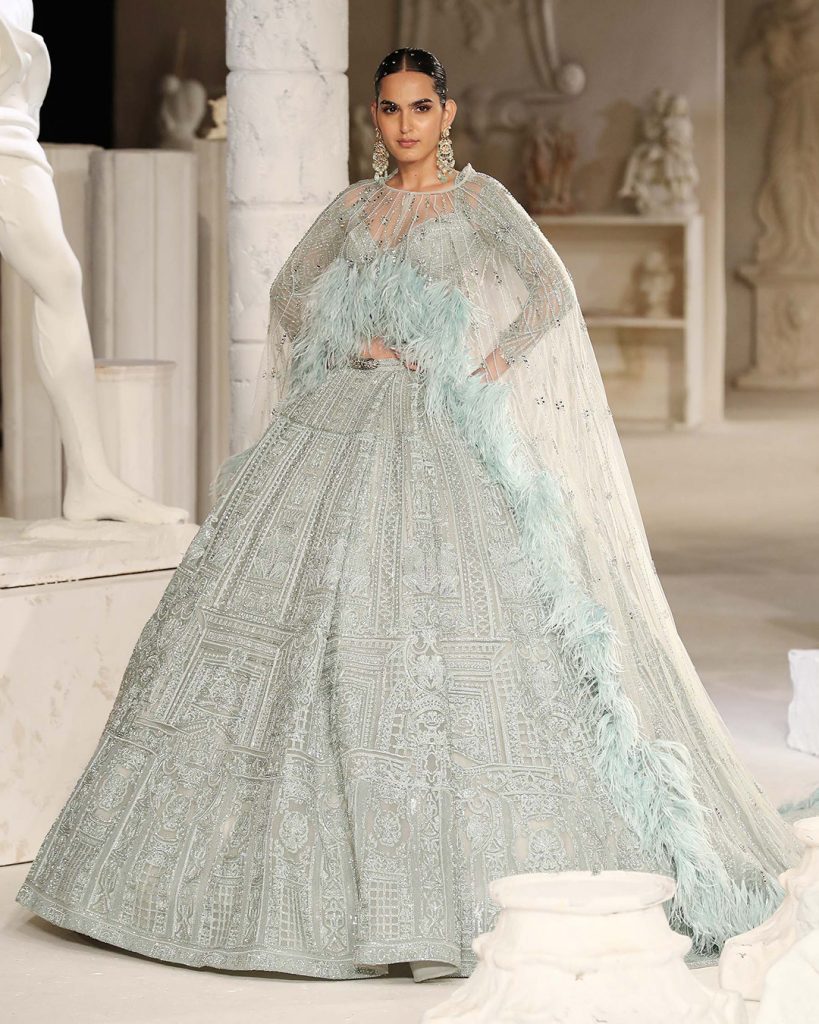 Straight out of a fairytale, this light blue ballgown feather lehenga exudes opulence on a whole other level. This extravagant couture piece is replete with architectural motifs stitched intricately with sequins, beads and crystals. The lehenga with feathers showcases a cropped bustier style blouse with detailed tulle sleeves and a feathered tulle cape to bring the whole look together.
Khloe Bridal Lehenga Set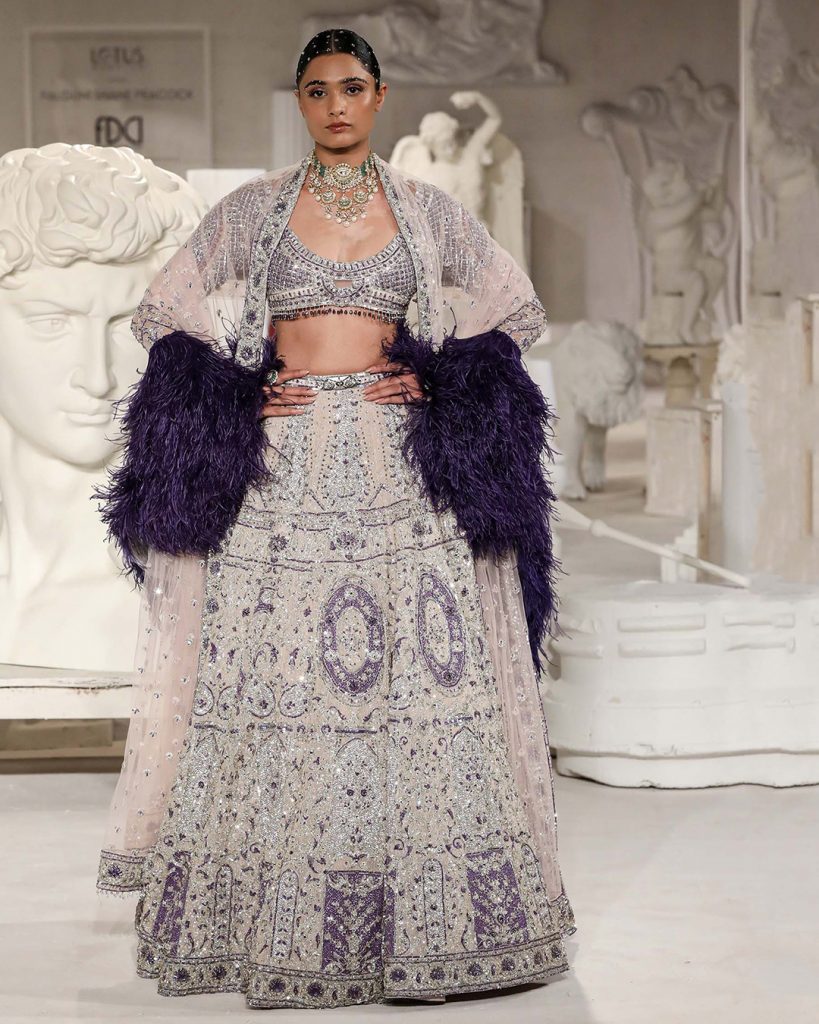 Curated on a powder-pink base, this purple embellished feather lehenga is replete with regal and architectural motifs adorned with crystals, sequins and beads. The elaborate lehenga with feathers is paired with a cropped blouse with gridwork and an attached cape along with an embellished border tulle dupatta and an ultra-violet feathered shrug.
Livia Bridal Lehenga Set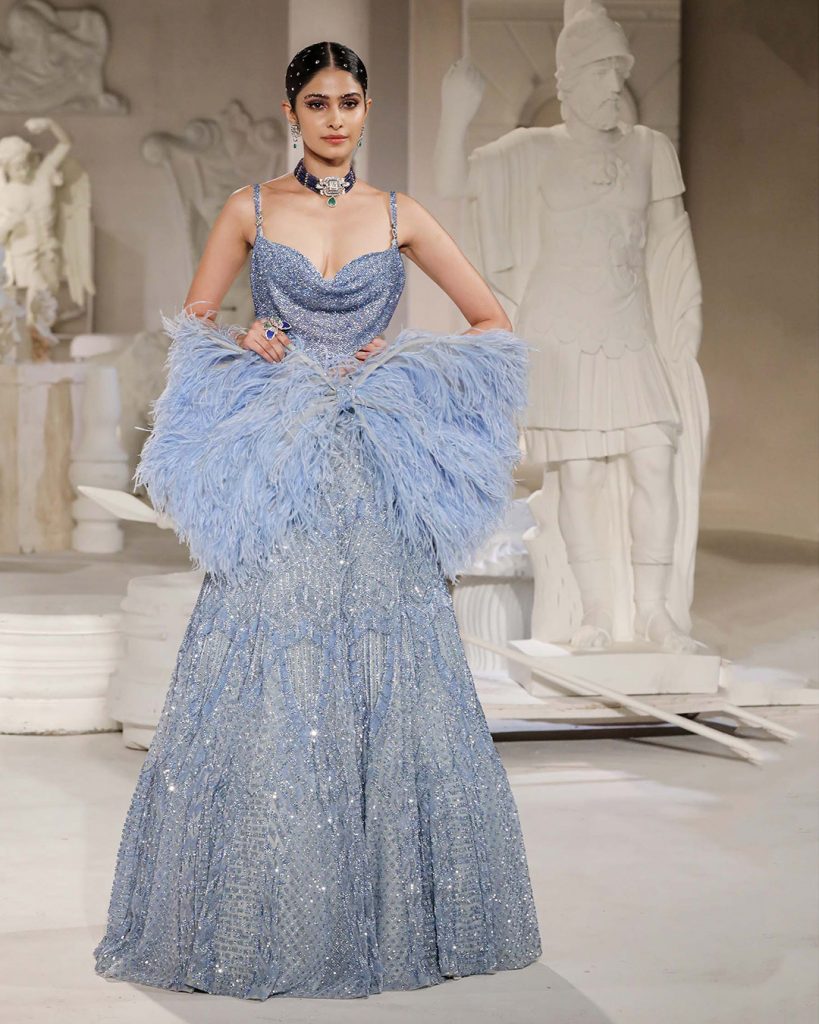 The contemporary style sky blue lehenga with feathers showcases fine-detailed geometric motifs adorned with sequins and crystals. The lehenga skirt is paired with a cowl neck drape blouse with singlet straps and a sky blue feathered bow accent.