Fulfil all your bridal trousseau dreams with an elaborate collection of the latest bridal lehenga curated by the globally celebrated designer luxury brand, Falguni Shane Peacock. 
Every bride expects her wedding day to be as perfect as it can get and that includes getting her bridal ensemble on point as well. There is absolutely no scope for any compromises to be made in terms of the bridal lehenga.
A few decades ago, most brides would have settled for a traditional red or pink bridal lehenga as their bridal outfit. But the new-age brides are all about exploring fashionable bridal options and putting their best outfits forward on their big day. From edgy designs to funky colours, fashion-forward brides are all about creating fashion statements. 
So, if you're looking forward to mesmerising everyone with your sartorial choices, look no further. Let's explore our coveted list of the top 5 bridal lehenga designs curated for modern brides to fulfil all their bridal dreams. 
ALISSA BRIDAL LEHENGA SET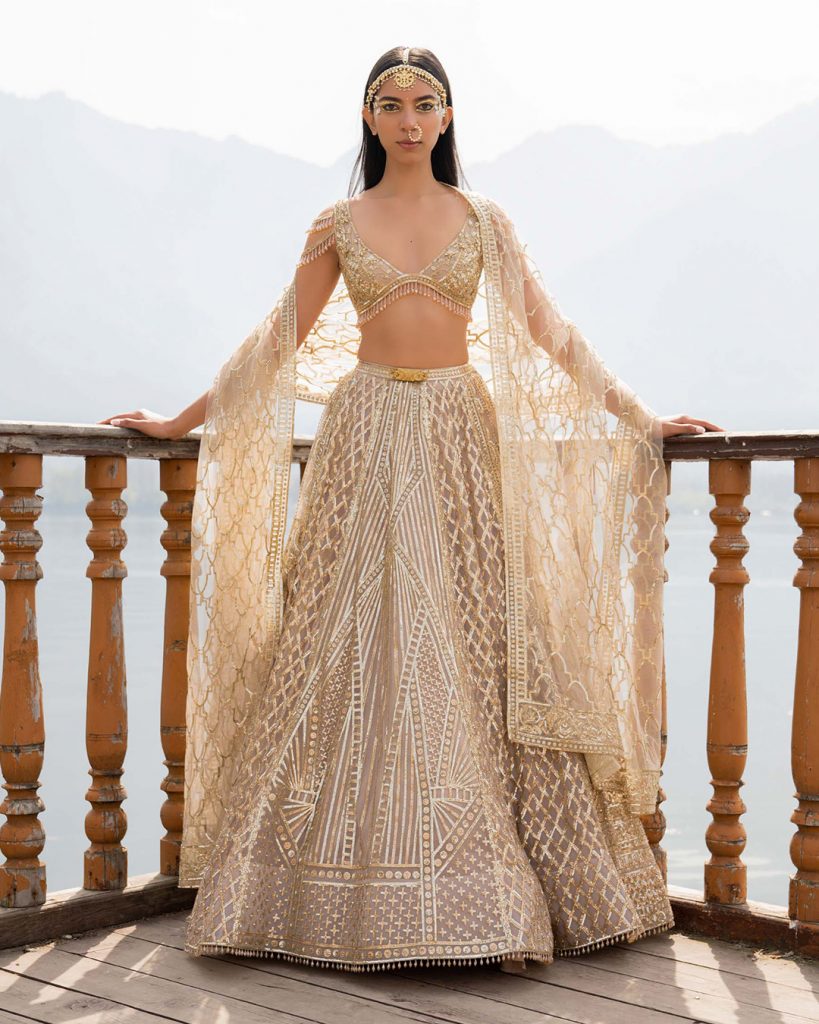 The Alissa latest bridal lehenga set is not your average bridal lehenga for women and is designed keeping in mind the modern bride who is willing to experiment with different cuts and silhouettes. This light beige-based lehenga is adorned with beads, crystals and sequins on golden chrome showcasing architectural and geometric motifs. The stunning lehenga is paired with a bralette-style, cold shoulder blouse with tassel detailing and a matching tulle dupatta with tulle detailing.
DAYANA BRIDAL LEHENAG SET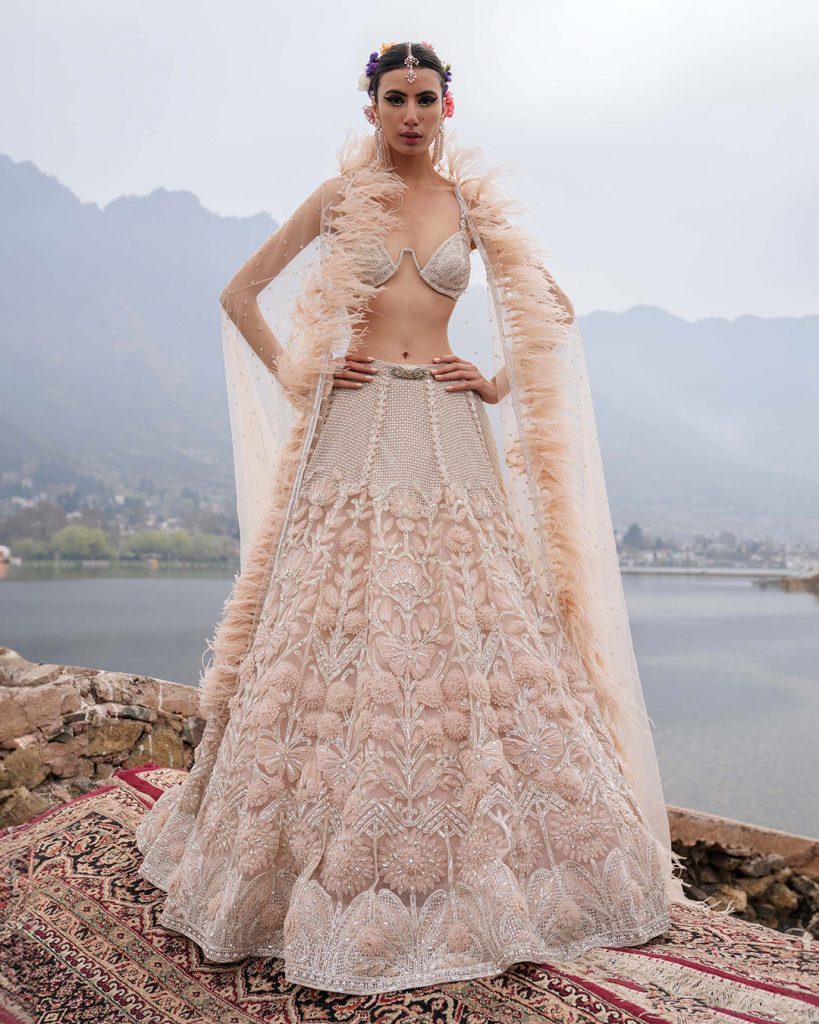 This latest bridal lehenga is designed to fit the contemporary aesthetic of the modern-day bride. This light peach bridal lehenga for women is festooned with ivory and peach floral motifs adorned with crystals, sequins and beads. The gorgeous lehenga is paired with a bralette-style blouse and a short veil-style dupatta with a feathered border.

ELIN BRIDAL LEHENGA SET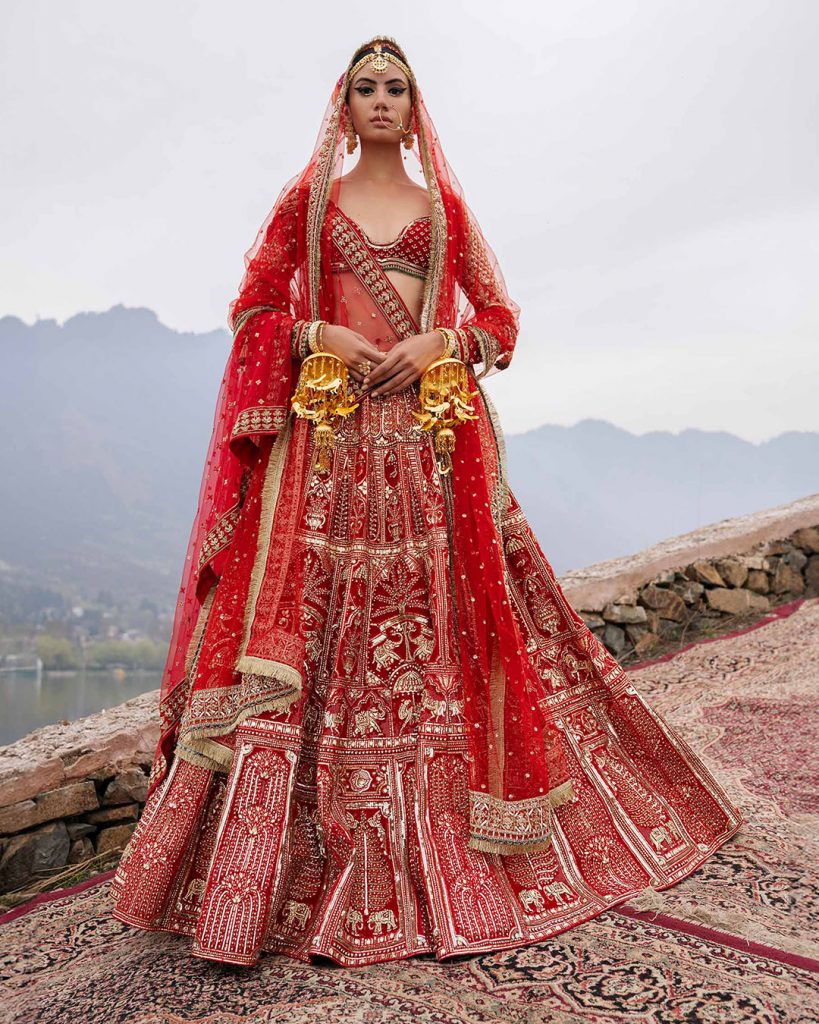 Our Elin bridal lehenga set is for the bride who wants to keep it traditional and at the same time tap into the modern contemporary bridal designer wear. The red designer bridal lehenga for women features foliage, architectural and animal motifs in golden chrome applique and is paired with a handcrafted cropped embellished blouse with green tassels detailing. 
CORDELIA BRIDAL LEHENGA SET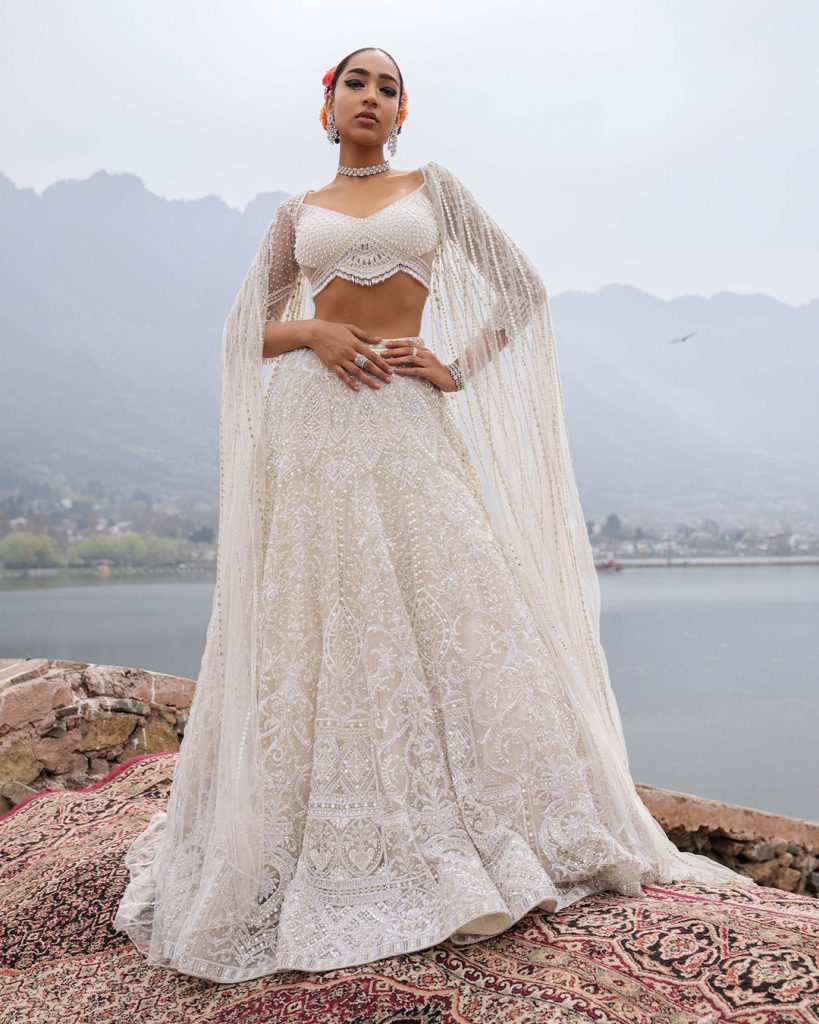 The Cordelia latest bridal lehenga set is for the unconventional bride who dares to stand apart from the rest. The beige-based ivory bridal lehenga for women is replete with intricate ivory threadwork creating architectural and foliage motifs adorned with sequins, pearls, beads and crystals. The lehenga is paired with a scalloped front and tassel and pearl details. The lehenga set is replete with a shoulder cape encrusted with crystals.
AILEEN BRIDAL LEHENGA SET
The Aileen latest bridal lehenga set is the true depiction of what Falguni Shane Peacock as a brand resonates with— vibrant colours, modern silhouettes and feathers. This pink contemporary-style bridal lehenga for women showcases chrome applique in traditional and architectural motifs. The lehenga skirt is paired with an embroidered half-sleeved cropped blouse adorned with sequins, crystals and tassels. The bright-coloured lehenga is replete with a matching feather shrug.