Get ready to be amazed by the dapper ivory sherwani collection by the celebrated designer brand, FALGUNI SHANE PEACOCK, curated especially for fashion-savvy grooms who want to feel and look their elegant selves on the big day.
Sherwanis are the quintessential traditional outfits worn by men at weddings and festive occasions. A sherwani usually comprises a long coat, matching pants, a dupatta and sometimes a kurta (long tunic) to wear underneath the sherwani.
In the last couple of decades, traditional menswear has undergone a major transformation to satisfy the fashion palette of the modern groom-to-be. The celebrated designer brand, Falguni Shane Peacock has vastly contributed to this transformation by giving a contemporary makeover to the traditional ensemble in order to make it more approachable for the newer generation.
Picking the right style and design for your sherwani can be a very daunting task, especially with so many colours, fabrics and silhouettes on display. When it comes to picking the most appropriate sherwani, most men gravitate towards bright colours as their pick. But with changing times, lighter colours such as ivory are becoming more and more approachable for fashion-forward grooms.
To make it easier for the grooms to be, we have compiled a list of the top 5 FALGUNI SHANE PEACOCK ivory sherwanis for men to dress up on their special day.
REMY SHERWANI SET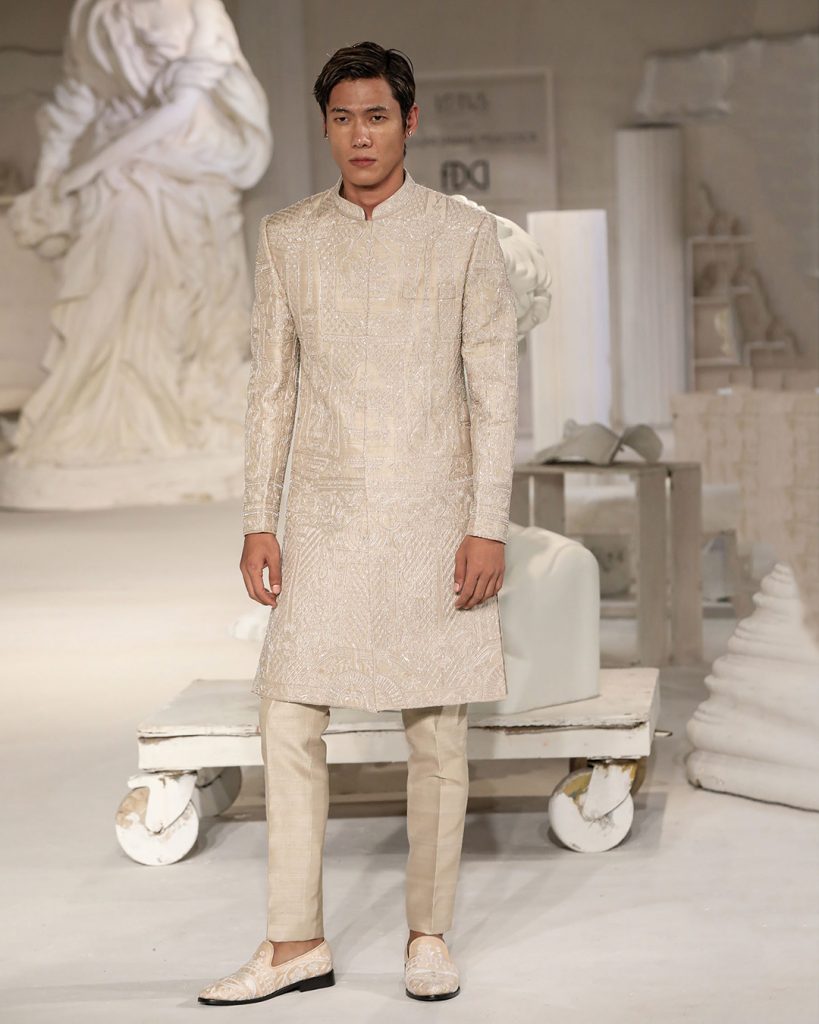 This beige-based ivory sherwani set exudes sophistication and classiness in every inch. The minimalistic sherwani set is replete with intricate threadwork details and sequins. The sherwani set comes with a pair of matching raw silk pants to create a monotone look which is both elaborate and understated.
PASCAL SHERWANI SET
This ivory colour sherwani adorned with intricate architectural motifs meticulously crafted onto raw silk is a perfect option for a sangeet or engagement outfit. The front-open, sequins-embellished ivory colour sherwani set is for men who want to wear something elaborate and keep it minimal at the same time.
YVES SHERWANI SET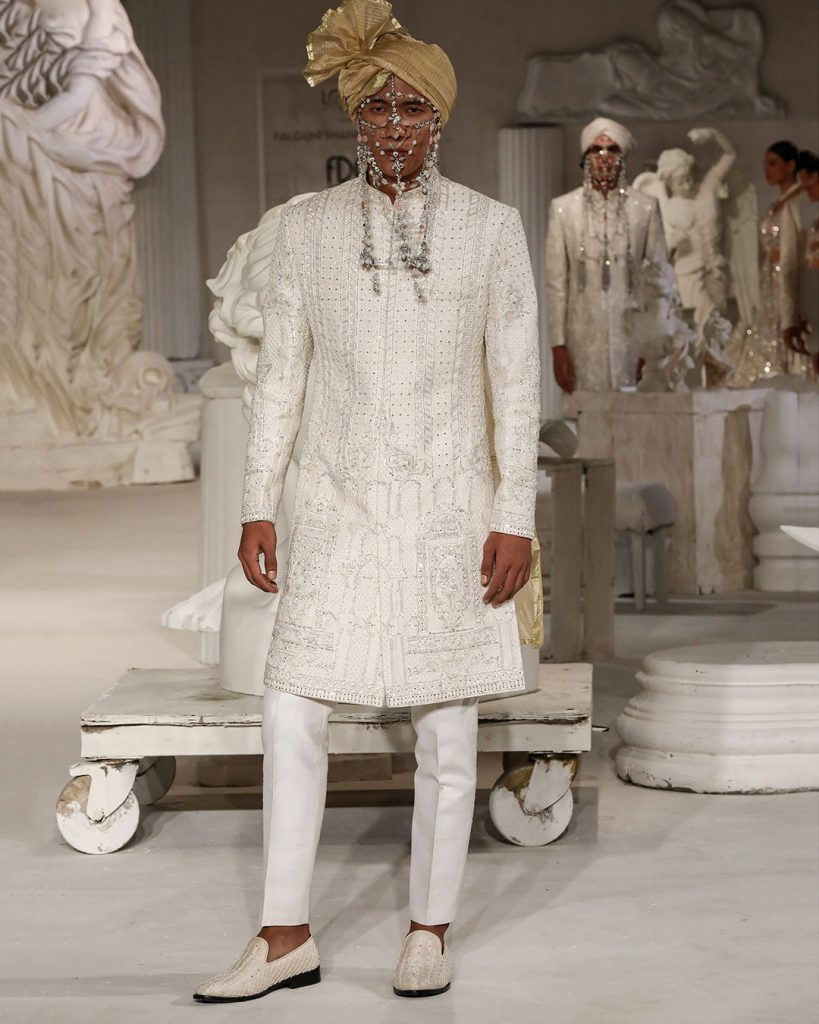 Another ivory colour sherwani set for grooms who want to ditch the traditional wedding colours and opt for something minimalist. This Falguni Shane Peacock open-front ivory colour sherwani is replete with sequins, mirrors and crystals adorned onto the raw silk and is the perfect ensemble for a daytime vineyard or beach wedding.
ROMAINE SHERWANI SET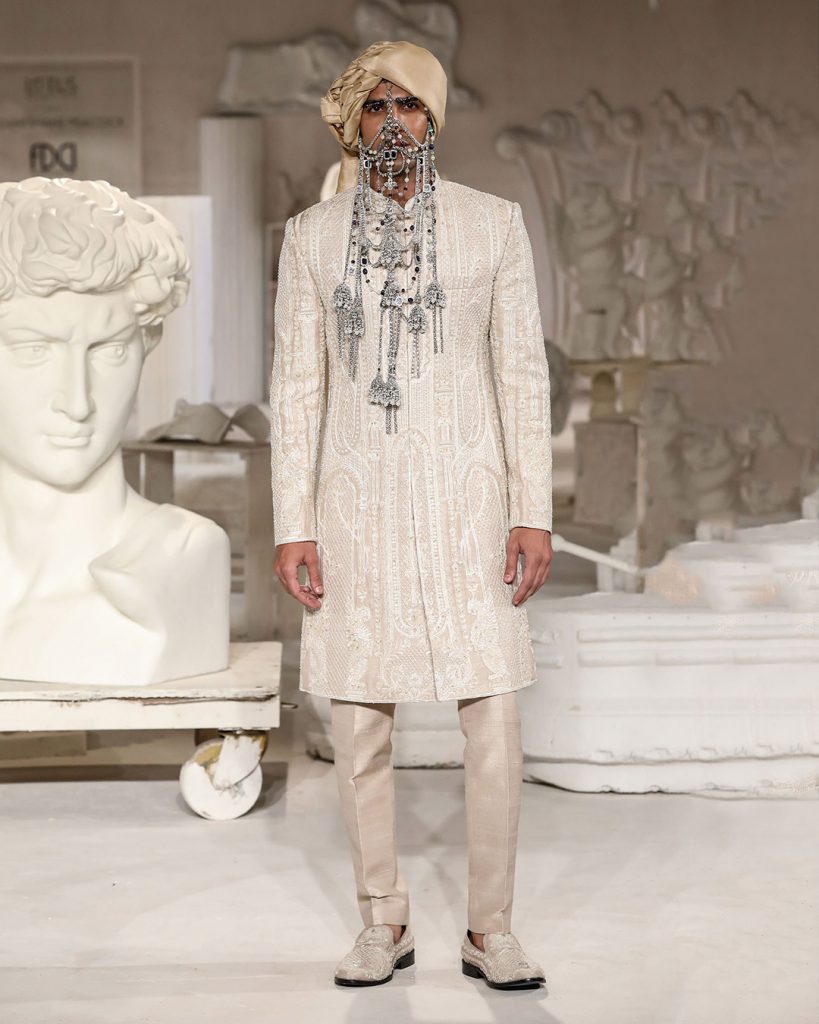 An elegant but elaborate sherwani set to dress up in for a friend's or your own wedding. This beige-based, ivory sherwani is adorned with fine threadwork details and comes with a matching pair of raw silk pants.
RONAN SHERWANI SET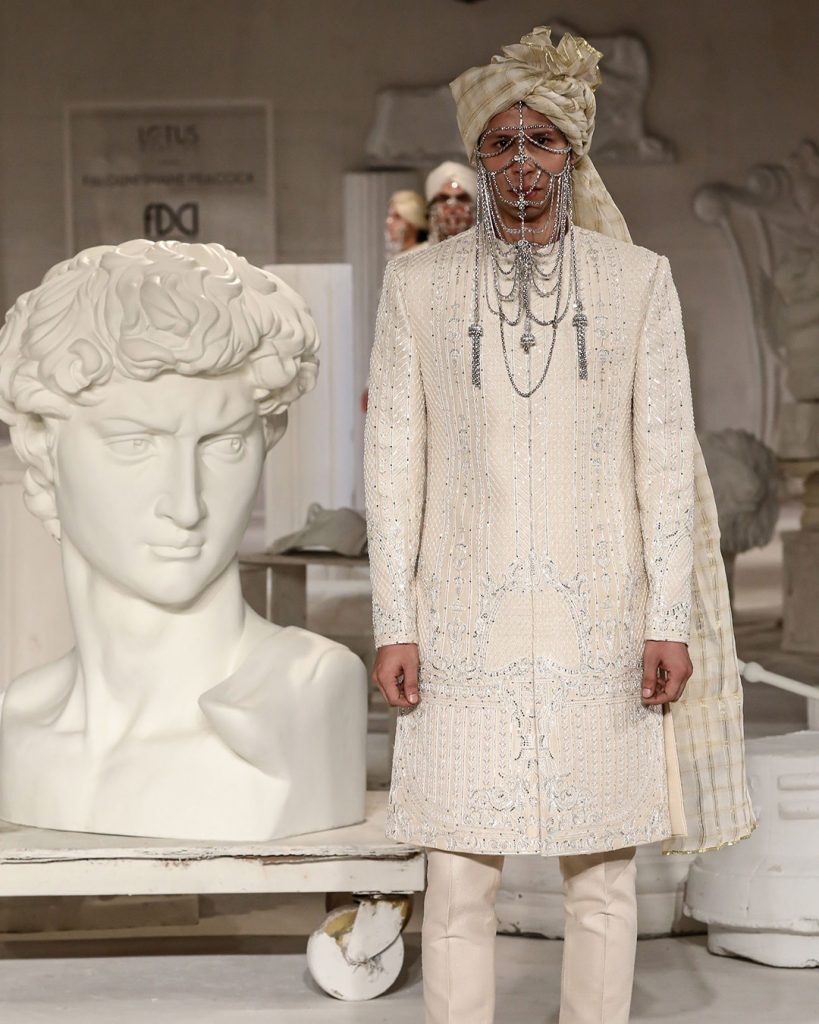 Another understated but elaborate sherwani design suitable to be worn on festive occasions and wedding festivities. This light peach-based, ivory sherwani is replete with architectural motifs adorned with sequins, beads and crystals to add a subtle bling. The sherwani set is styled with a matching pair of raw silk pants.