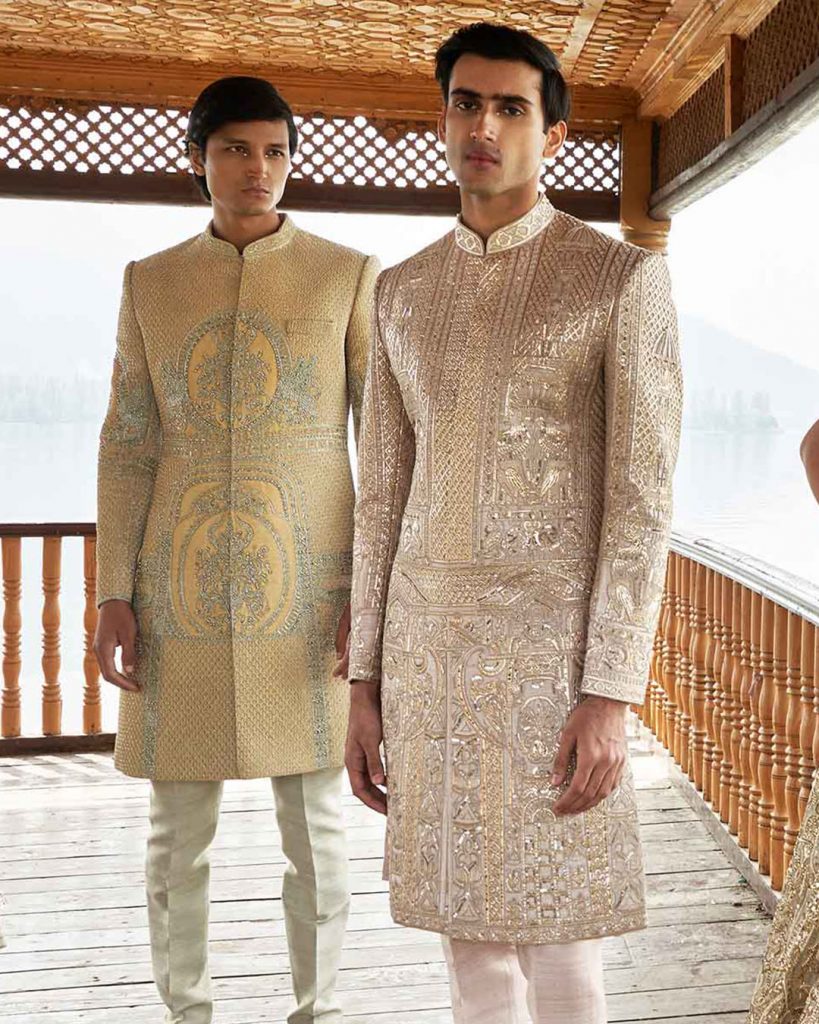 Looking for the most sought-after sherwani collection for the upcoming festive season? Look no further as the luxury fashion brand, FALGUNI SHANE PEACOCK unveils their A POÈME BY THE LAKE: KASHMIR wedding sherwani collection replete with exquisite sherwani designs curated for men who like to flaunt their sartorial choices confidently.
A common dilemma faced by men is not having enough options when it comes to fashion choices, especially when searching for elegant traditional wear. However, the scenario is changing owing to the creative efforts of brands like FALGUNI SHANE PEACOCK, which is determined to transform the face of men's traditional wear fashion globally.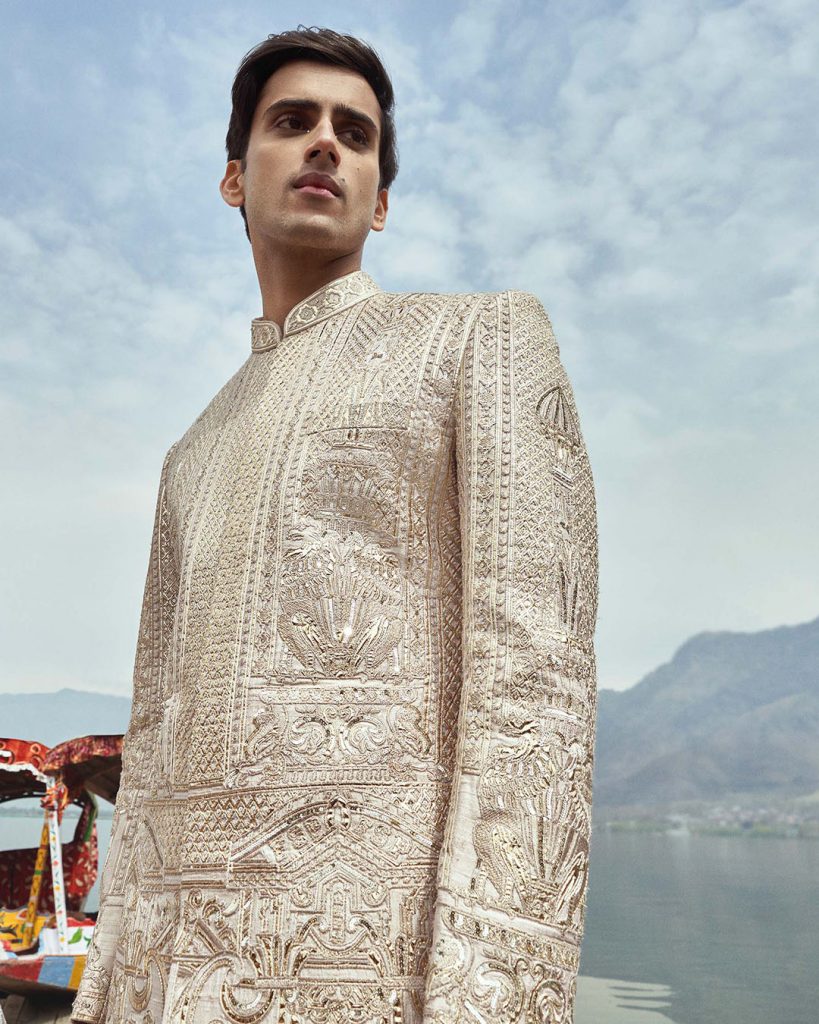 Sherwani is a popular men's traditional wear garment and is often worn at celebratory events such as weddings, festivals, etc. A sherwani set usually consists of a long coat, a long undershirt and well-fitted pants, sometimes accompanied by a dupatta or shawl. The simple, yet elaborate garment perfectly exudes comfort, sophistication and grandeur, and is a no-brainer choice for men who love to embrace Indian traditional wear in all its glory.
Wedding sherwani for men comes in a plethora of options in terms of fabrics, colours, embroidery and embellishments, and can often turn into a tedious task to find the one which suits your purpose. But with FALGUNI SHANE PEACOCK's sherwani collection, you can freely browse through designs which are relevant to the fashion-conscious crowd these days.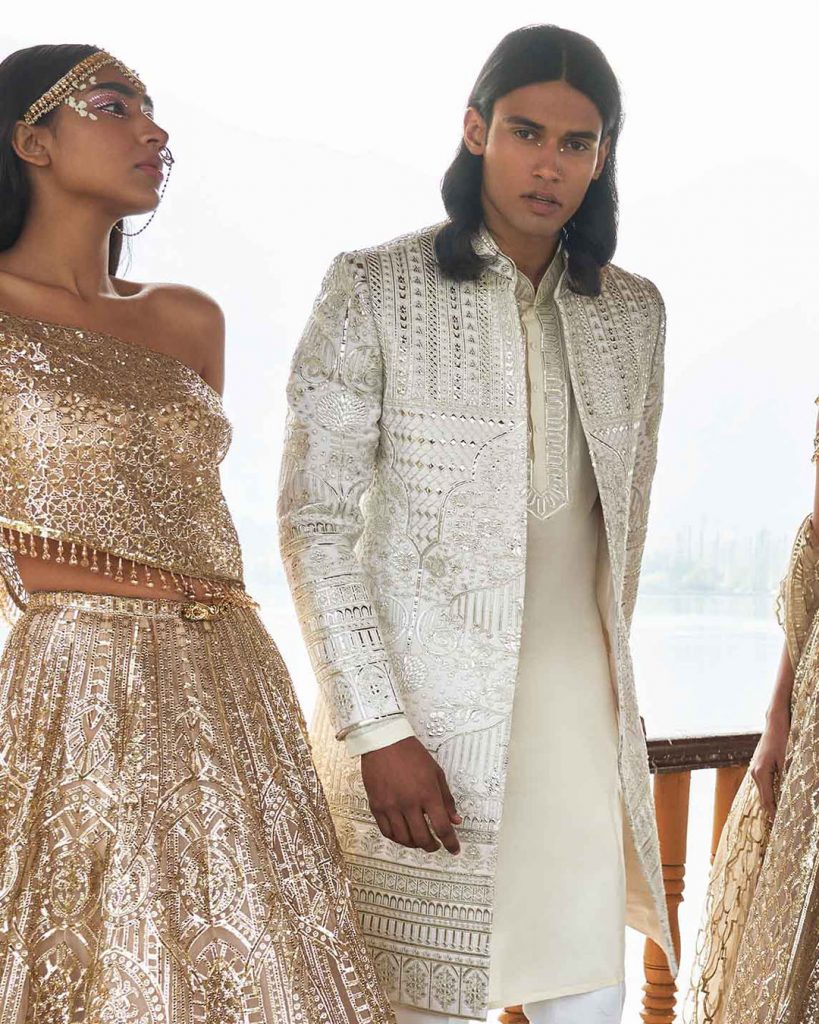 An ode to metallic hues, A POÈME BY THE LAKE: KASHMIR collection sherwanis are the true representation of luxe fabrics, dreamy pastel hues and intricate detailing bundled together into well-fitted silhouettes. The globally celebrated designer duo FALGUNI SHANE PEACOCK is redefining traditional men's wear in their signature contemporary style and we can't get enough of it. The modern-chic sherwani for men collection is replete with bandh-gala sherwanis in neutral hues such as beige, ivory, taupe, etc., adorned with chrome applique, sequins, ornate crystals and intricate embroidery in mesmerising foliage, floral and grid pattern imparting a royal look to the ethnic garment.
Scroll through our round-off of some of the most coveted sherwani for men designs from A POÈME BY THE LAKE: KASHMIR collection by FALGUNI SHANE PEACOCK to take inspiration for your next celebratory event ensemble.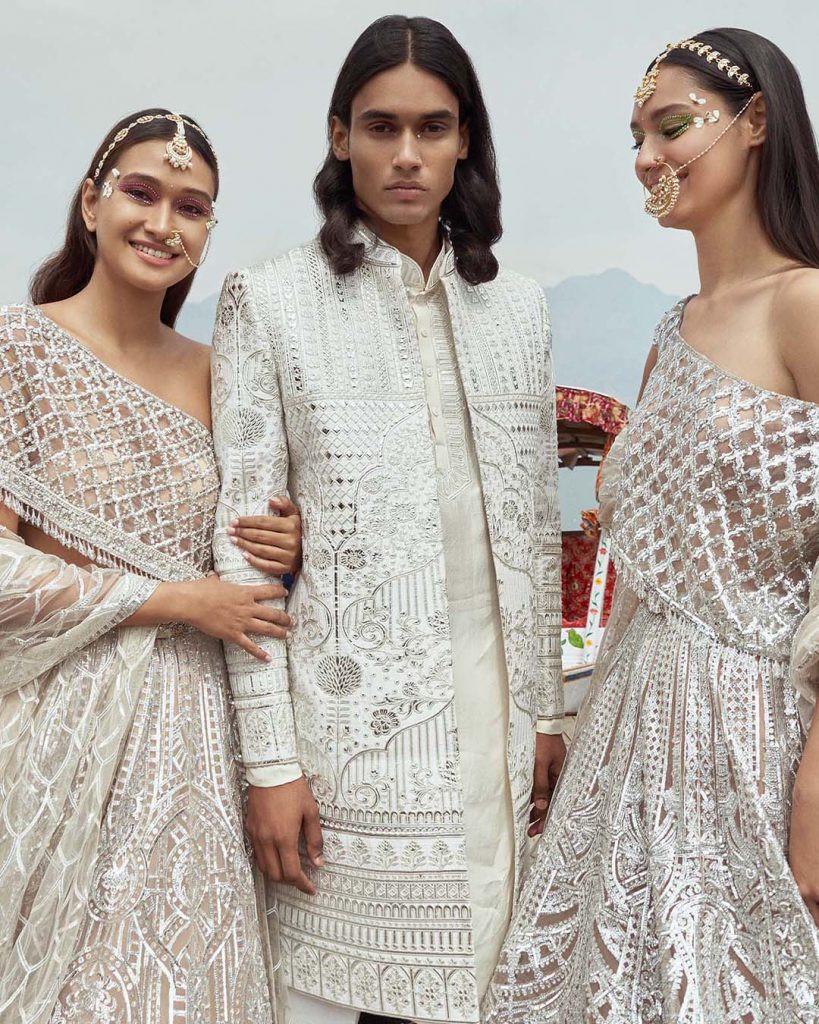 TOP 3 QUESTIONS RELATED TO SHERWANI FOR MEN
Which type of wedding sherwani is best?
Wedding sherwanis are available in various styles, cuts and silhouettes. Some of the most popular styles of sherwani styles are:
       

Achkan sherwani

       

Jodhpuri sherwani

       

Embellished sherwani

       

Front-open sherwani

       

Embroidered sherwani
Which colour sherwani is best?
Weddings in India are a royal and grand affair. To keep up with the extravagant vibe of the celebratory environment, vibrant and bold colours should be the preferred choice. But modern grooms are embracing lighter hues such as beige, ivory, taupe, etc. for their ethnic wear choices.
Which shoes look good with a wedding sherwani?
The preferred shoe options to pair with sherwanis for a sophisticated and polished look are:
       

Mojari Jutti

       

Loafer Shoes

       

Monk Strap Shoes

       

Nagara Shoes

       

Pathani Shoes

       

Moccasins

       

Brogue

       

Jodhpuri Shoes for Men

       

Leather Sandals