Let your individual sartorial choices be the talk of the town with avant-garde wedding couture creations by FALGUNI SHANE PEACOCK.
As a brand, FALGUNI SHANE PEACOCK has given Indian bridal couture a fresh face on the global forefront. The master couturiers have time and again received accolades for their creative brilliance and rightfully so. Their couture wedding pieces are the epitome of excellence, grandeur and unthinkable creativity, and have a niche fan base all across the world. The ardent fashion enthusiasts can never get enough of their opulent creations which are replete with their signature contemporary silhouettes and ornate embellishments.
FALGUNI SHANE PEACOCK couture lehenga collection has been the obvious sartorial choice for women across the globe who strive to look nothing less than a stunner on their wedding day. Feathered trails, humungous flair and creative patterns make the FALGUNI SHANE PEACOCK wedding couture lehenga collection a sight for sore eyes. Adorned in crystals, beads, sequins, stones and tassels, these elaborate creations exude glamour and timeless luxury at every glance.
Here is a sneak peek into the luxurious wedding couture lehenga sets collection by FALGUNI SHANE PEACOCK to inspire and influence your sartorial choices.
Maeve Bridal Lehenga Set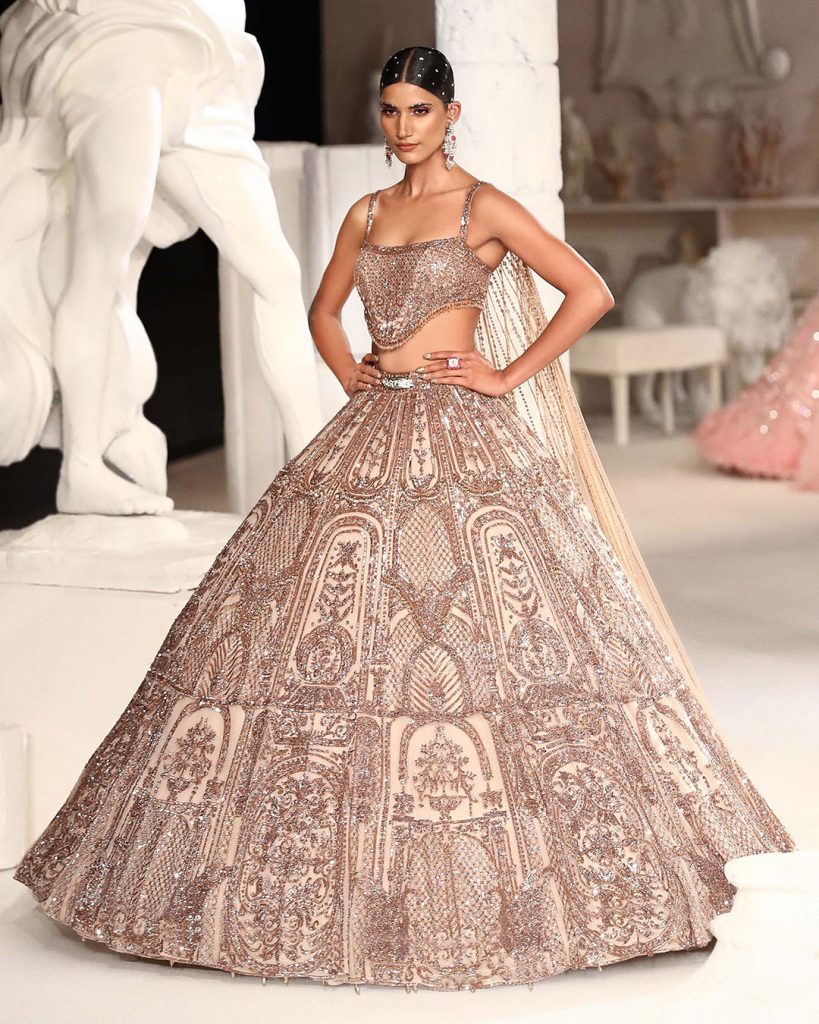 The stunning copper-toned, beige-based corset blouse lehenga is a fresh and contemporary take on traditional lehenga designs. The wedding couture lehenga is replete with crystals, sequins and beads creating intricate architectural motifs for that glistening effect and comes with a tulle embellished dupatta. But the focal point of this lehenga set has to be the corset-style blouse adorned with crystal tassels which gives it a distinctive look and feel.
Marina Bridal Lehenga Set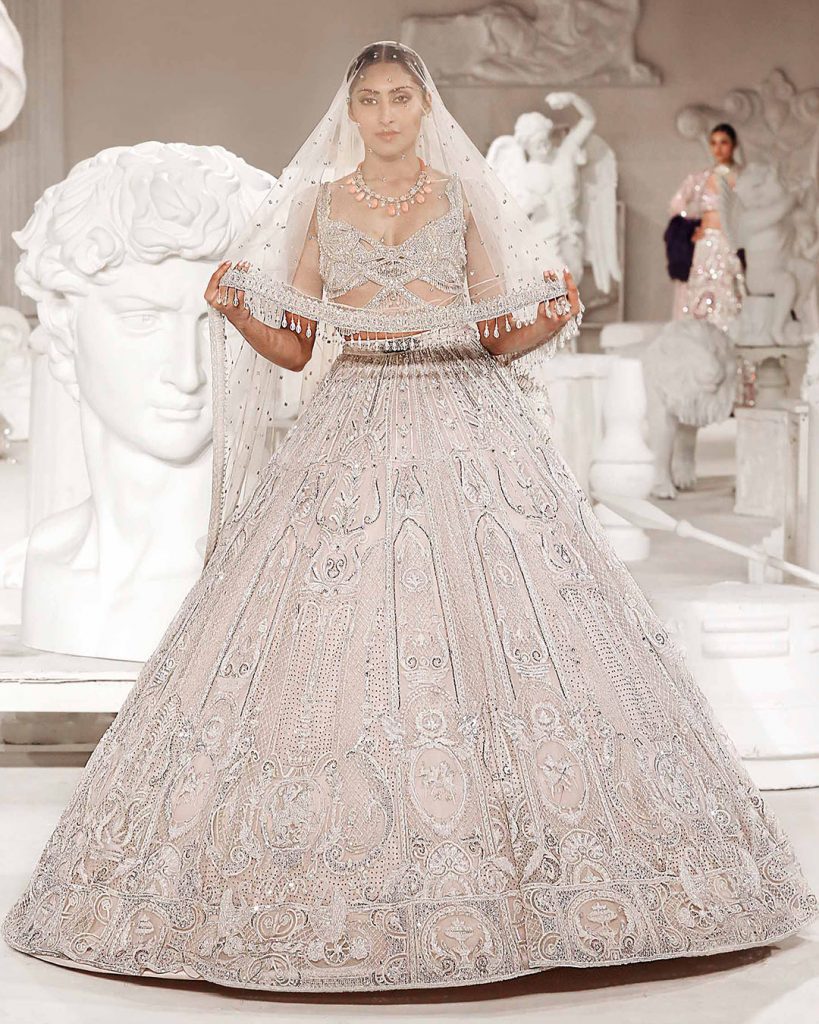 The powder pink-based silver lehenga with embellished cut-out blouse is a crowd-pleaser for sure. Replete with tassels, beads, sequins and crystals, the couture lehenga design is a vision to behold. The tulle dupatta with a matching border adorned with crystal tassels ties up the entire look cohesively.
Maya Bridal Lehenga Set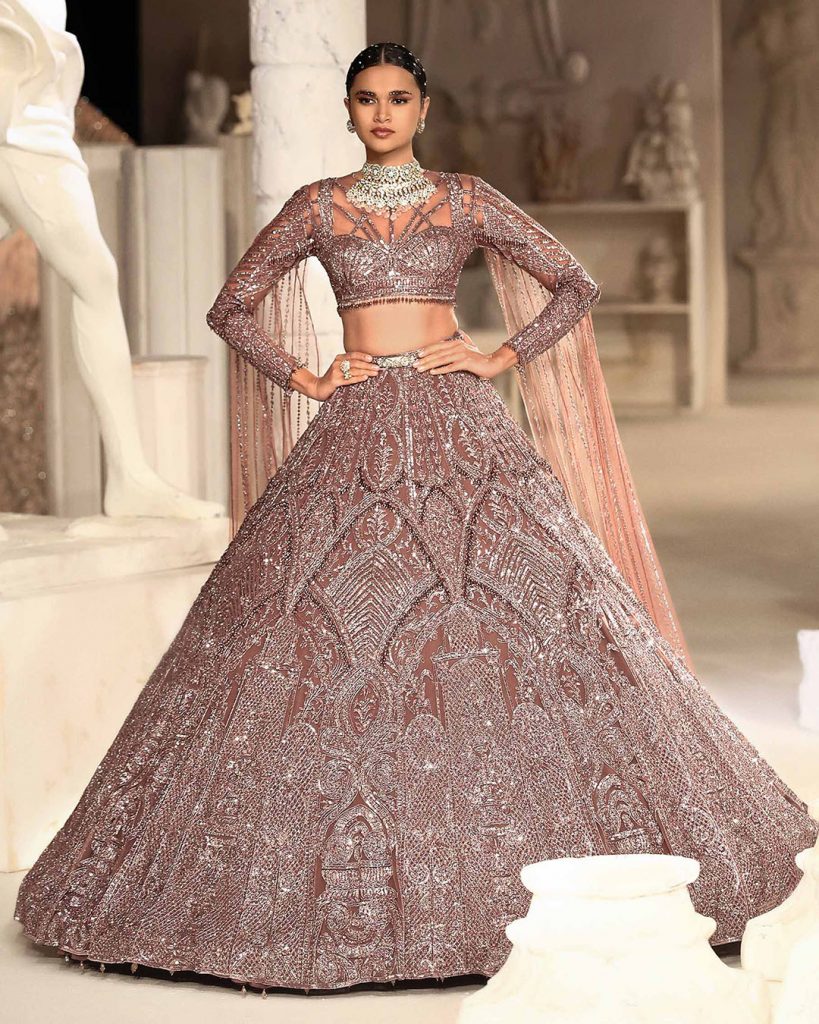 The dusty pink-based lehenga is an unconventional choice for a bridal lehenga but that's what makes it the ideal pick for daring fashionistas. Adorned with ornate crystals, beads, sequins and tassels, there is nothing minimalistic about this piece. This bold lehenga set comes with a tulle detailing blouse attached with a matching dupatta for that effortless look.