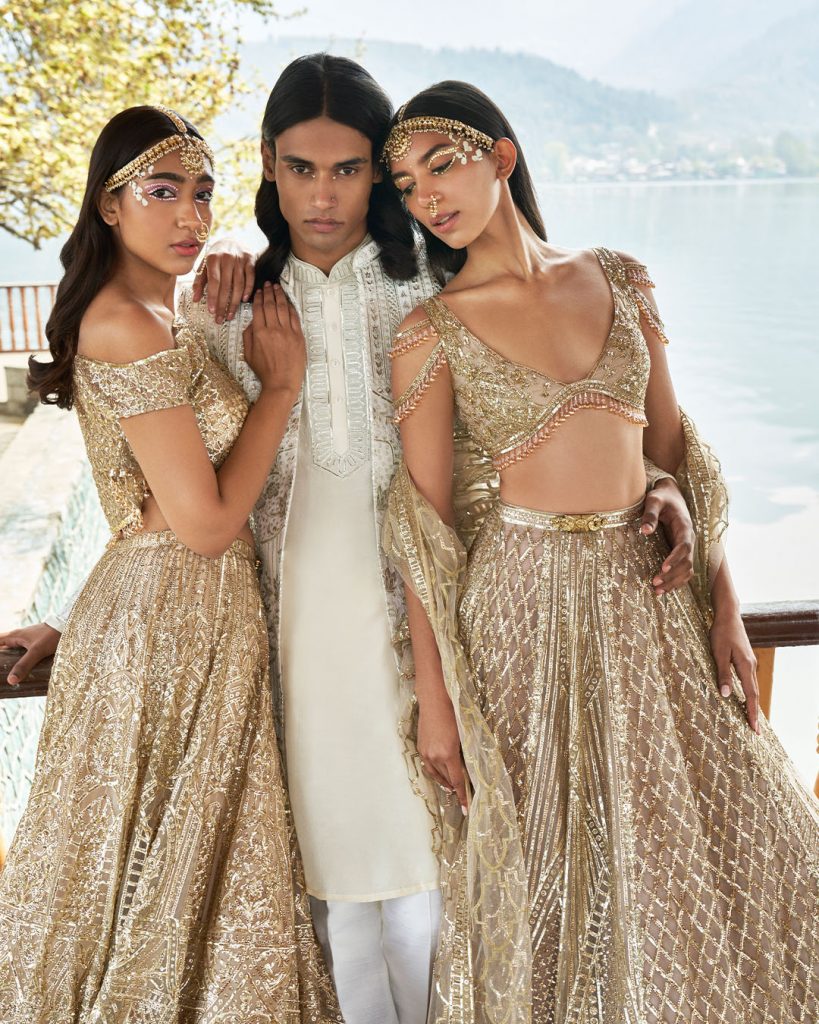 With FALGUNI SHANE PEACOCK, all that glitters is gold. One of the most celebrated hues in Indian traditional weddings, gold is the symbol of abundance and prosperity. Inspired by the warm hue and glimmer of gold, A Poème by The Lake- Kashmir Collection is a sophisticated, but opulent take on the metallic colour. Meticulously crafted golden lehengas, in modern silhouettes, are designed to woo modern brides and turn their designer bridal trousseau dreams into reality.
The collection showcases contemporary blouse styles including one-shoulder cape blouses, off-shoulder blouses and cropped blouses with plunging necklines for that modern contemporary style. Replete with crystal, beads, sequins and tassels, these magnificent lehengas display intricate, elaborate work, creating stunning architectural motifs and grid patterns for that ornamental look.
The globally loved designer brand—FALGUNI SHANE PEACOCK is the ultimate choice for fashion-savvy brides who are not willing to compromise on their dream bridal attire and want to experience the best of designer luxury clothing. The brand is celebrated for its contemporary take on traditional apparel and signature adornments such as crystals, sequins, beads and stones for that glistening effect.
Allow us to inspire you and present you with the most stunning bridal lehenga designs for your big day. Here is a list of some of the most breathtaking lehenga designs from A Poème by The Lake- Kashmir collection by FALGUNI SHANE PEACOCK. Scroll down to pick one that will bring your bridal vision alive.
COMMON QUESTION RELATED TO GOLDEN BRIDAL LEHENGAS: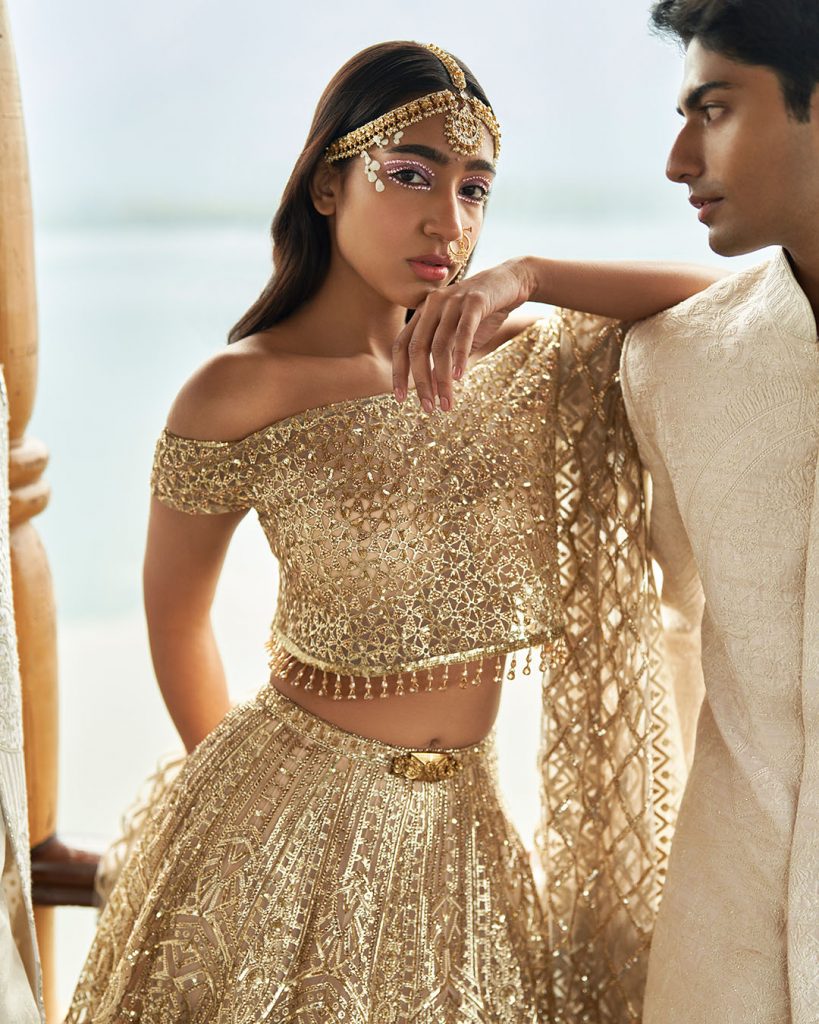 What are the best golden bridal Lehenga designs?
The best lehenga would be the one in which you feel the most confident. There is a vast range of bridal lehengas available both online and offline. Some of the most popular golden bridal lehenga designs are:
       

Bridal lehenga with cape

       

Bridal lehenga with a long trail

       

Bridal couture lehenga

       

Bridal lehenga with feather shrug

       

Bridal lehenga with poncho

       

Bridal lehenga with feathered shrug

       

Bridal lehenga with feathered veil

       

Mermaid cut bridal lehenga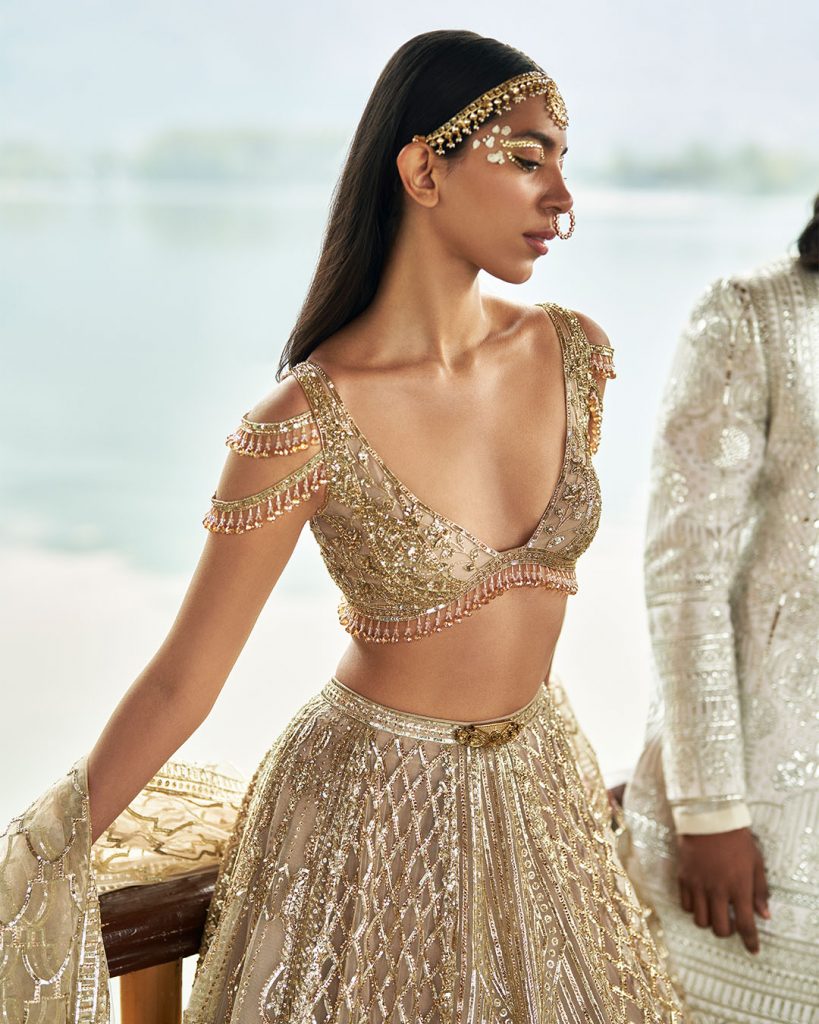 Which lehenga colour is the best?
For bridal lehengas, one of the most popular colours has to be red. But modern brides are embracing lighter colours such as pink, mauve, ivory, beige, etc. But one colour which has lately been a hit with brides has to be golden. Many brides are picking golden bridal lehenga as their wedding attire as the colour looks grand and splendid at the same time.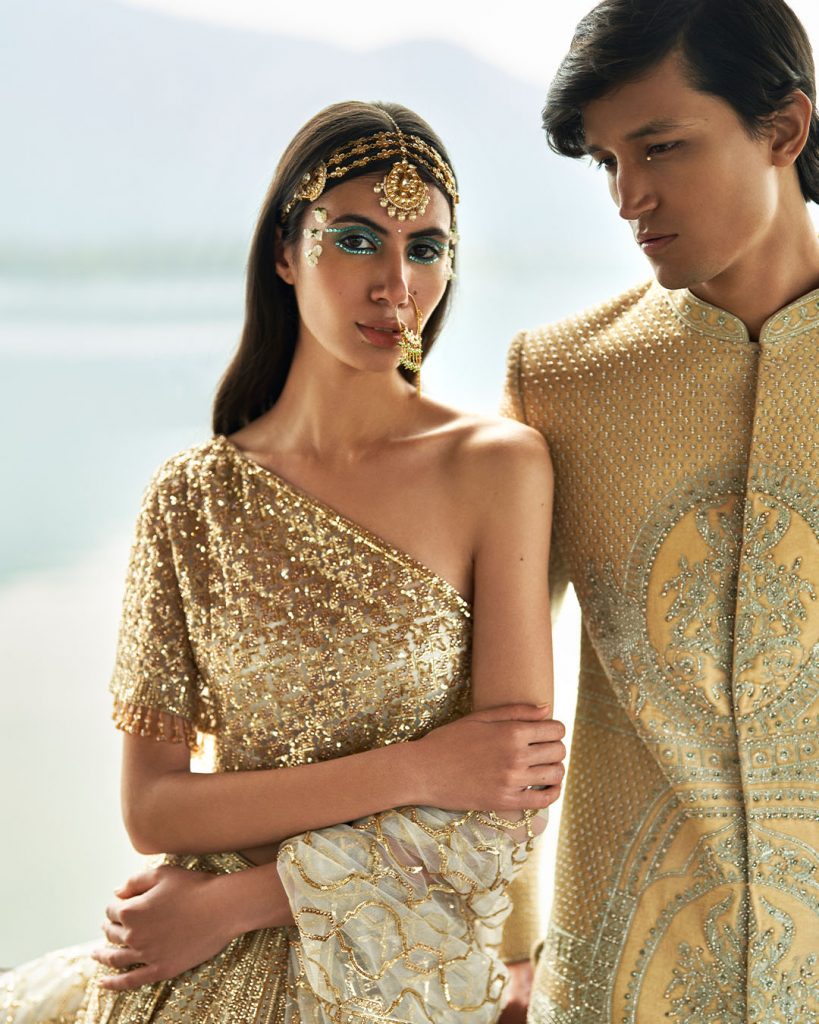 Which dupatta is best for a golden colour bridal lehenga?
A dupatta is one of the most important parts of a lehenga. Most lehengas come with one dupatta but bridal lehengas usually come with two dupattas. One is used for draping and the other one goes over the head of the bride. The dupatta that comes with the lehenga would either be of the same colour as the lehenga or in contrasting colours.
Golden colour bridal lehengas are super versatile when it comes to the colour of the dupatta. Most colours would complement the metallic hue. Some of the ideal colours to pair with your golden lehenga would be powder pink, emerald green, red, black, burnt orange, etc.