Ever since her debut in 2018, Janhvi Kapoor has been the talk of the town not only for her impeccable acting skills but also for her on-point fashion sense. With every public appearance, the talented actress has wooed fashion admirers with her minimalist, yet high-fashion choices.
A role model to many, Janhvi never shies away from experimenting with modern silhouettes and bold prints. Whether it is traditional Indian wear or Western wear, the actress has always been an inspirational force for the young fashionistas out there.
Let's take a closer look at what the award-winning actress loves and recommends from the coveted—FALGUNI SHANE PEACOCK bridal collection.
JANHVI KAPOOR PINK SAREE GOWN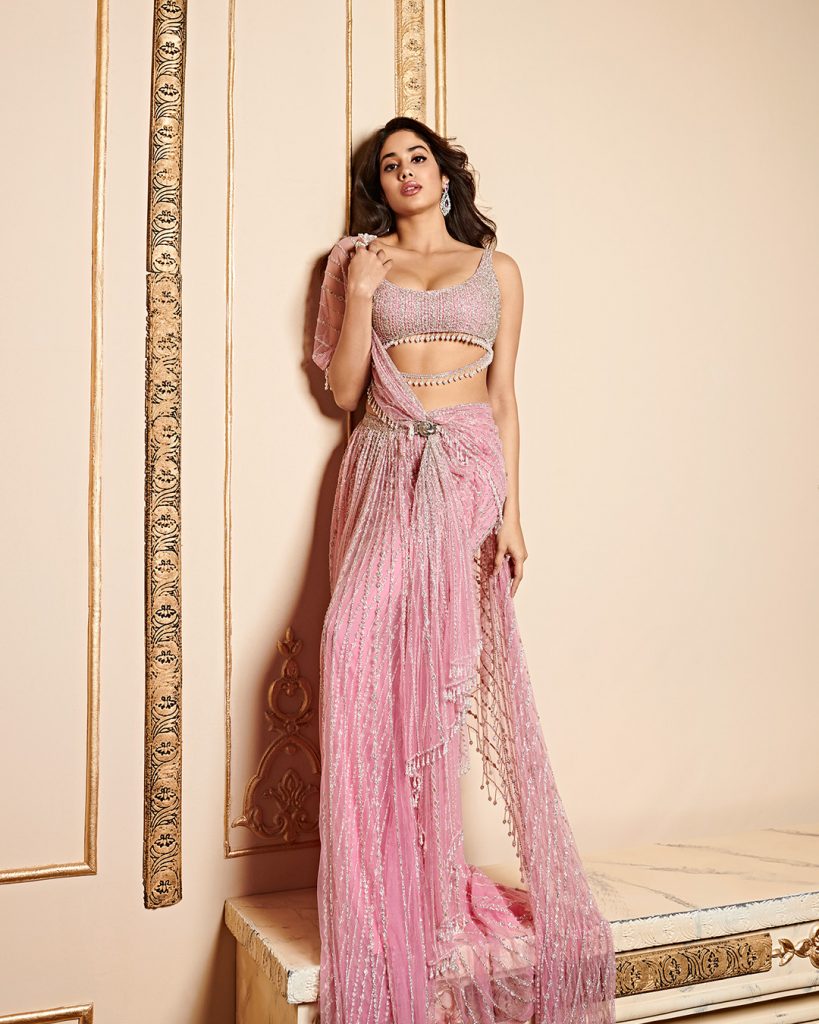 The actor looks resplendent in the blush pink saree gown paired with a matching cropped blouse with a vertical sequins pattern. The exquisitely designed saree gown is adorned with sequins, stones, crystals and beads in the signature—FALGUNI SHANE PEACOCK vertical sequins pattern imparting the saree gown an opulent look.
JANHVI KAPOOR MOCHA CORSET LEHENGA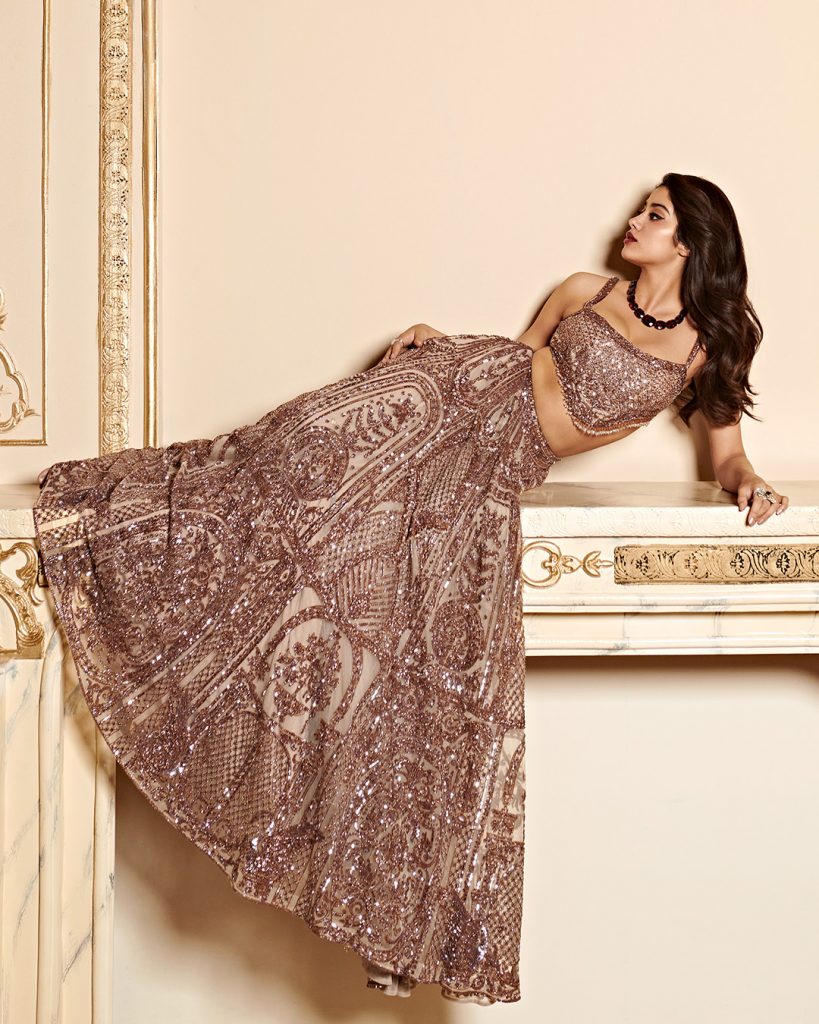 This creation worn by the celebrated actress looks straight out of a fairytale. The beige-based mocha lehenga is the perfect fusion of traditional and contemporary design. The heavily embroidered lehenga is replete with crystals, stones, sequins and beads creating an enchanting architectural pattern. The focal point of the lehenga though has to be the corset-style blouse with matching tassels.
JANHVI KAPOOR STEEL BLUE EMBELLISHED LEHENGA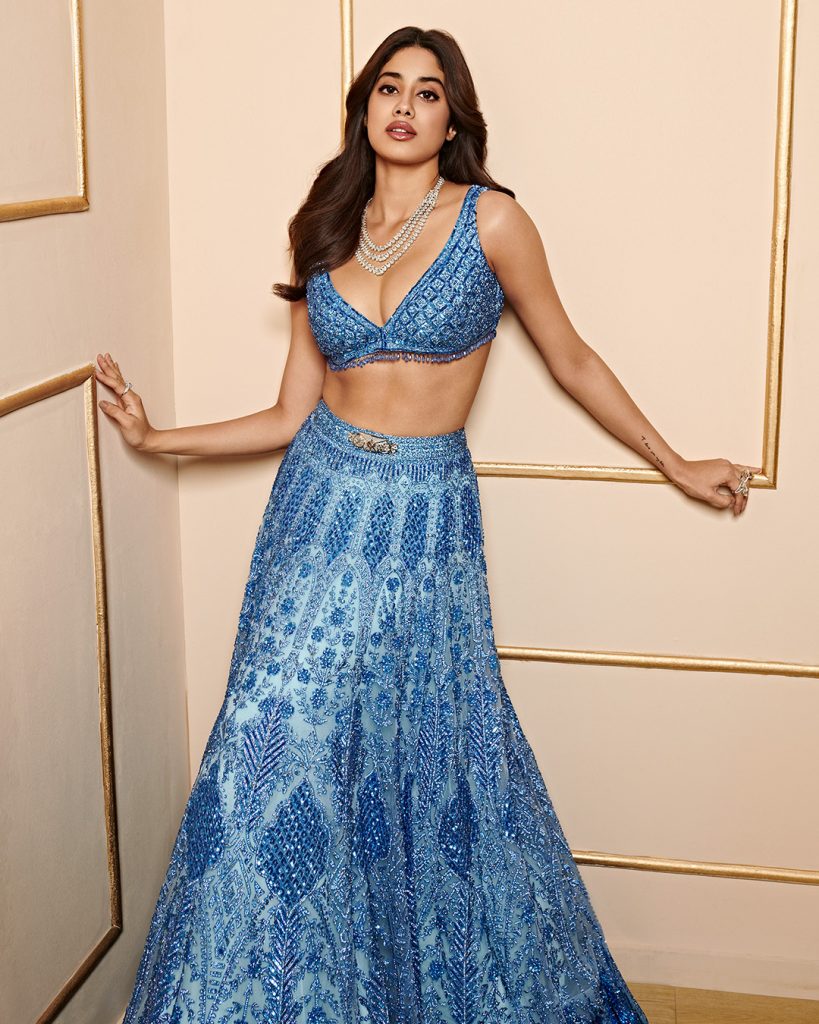 This alluring lehenga set by—FALGUNI SHANE PEACOCK with the cropped blouse is surely a crowd-pleaser. The steel blue embellished wedding lehenga showcases a grid-patterned, deep-neck blouse coupled with an embroidered lehenga, festooned with architectural and floral motifs.

Frequently asked questions about pink bridal lehenga:

Which lehenga colour is best?
One of the most beloved colours when it comes to lehengas is pink. It is a versatile colour which can be styled for any occasion. The colour palette offers a huge array of shades ranging from baby pink to fuchsia to magenta. The lehenga collection at FALGUNI SHANE PEACOCK houses some of the most sought-after and wearable pink wedding lehengas designed to fulfil all your fashionista checklists.
Are pink bridal lehengas still popular in 2023?
Pink has been a popular colour for lehengas for a long time and it is still a relevant colour in 2023. Whether you are a bride or bridesmaid, you can always rely on a pretty pink bridal lehenga. The shade exudes sophistication and elegance like no other and is a straightforward choice for when you are confused.
How can you look grand in a lehenga?
There are a few ways to elevate your lehenga look. The first and most important tip to achieve that is to pick a lehenga which has an elaborate work detailing on it. Another easy way to make your lehenga look grand is by styling it with statement jewellery pieces.
Which colour dupatta is best for a pink bridal lehenga?
If you want to opt for a monochrome look, a pink dupatta is the way to go. If you want to create a contrast, you can pair your pink lehenga with a turquoise, green, red, orange or peach dupatta.