It's time to surprise the crowd with your charismatic suave. Rely on the classic edit of sherwani for men by FALGUNI SHANE PEACOCK to create a lasting impression. 
When it comes to choosing the perfect outfit for a special occasion, men often face limited options. However, if you are looking for traditional and elegant attire for weddings, festivals or any other traditional celebrations, the sherwani is a great choice. 
Sherwani is a popular traditional attire for men and it is often worn for special occasions like weddings or festivals. It is a long coat-like garment that is usually paired with fitted trousers or churidar. It exudes grandeur, sophistication and royalty–making it a popular choice among men who want to make a lasting impression.
Sherwani for men's weddings come in a variety of designs, fabrics and styles which makes it challenging to choose the right one. But with the right guidance you can tackle the dilemma in style. Having a designer duo like FALGUNI SHANE PEACOCK, who masters the craft of excellence and brings the perfect balance of traditional and modern details at the highlight, is all you need by your side to pick exceptional sherwanis for the occasions that lie ahead. 
FALGUNI SHANE PEACOCK have held years of reputation for creating exquisite ethnic wear dresses. Their curated categories cater to a wider range of ethnic needs. From distinctive kurta sets to tailored-to-perfection sherwani for men—the luxury designers' atelier has it all. 
The best aspect of exploring the curated edit of sherwani for men's weddings by FALGUNI SHANE PEACOCK is that it perfectly brings the traditional and contemporary details to highlight, making the ensemble relevant and in-trend.
To help you make your pick of classic sherwani for men effectively, we have put down certain points that you must consider when picking sherwani for men. These points will ensure that you are making a smart pick that stylishly complements every occasion. Follow our lead to make your wisest choice.
Here's how to choose the right men's sherwani for a wedding:
Consider the occasion:
The first thing you need to consider when choosing sherwani for men is the occasion you are wearing the sherwani for. If you are attending a wedding or a formal event, you may want to choose a more elaborate and ornate sherwani. For less formal events, a simpler and elegant sherwani would be more appropriate.
Choose the right fabric:
The fabric of the sherwani plays a crucial role in its overall appearance and comfort. If you are attending an event during the summer season, you may want to choose a light and breathable fabric like cotton or linen. For winter events, you can opt for heavier fabrics like velvet, brocade, or silk.
Pick the right colour:
The colour of the sherwani is also an essential factor to consider. The most popular colours for sherwanis are ivory, gold, red and maroon. You can choose a colour that best complements the occasion.
Pay attention to the design and details:
Sherwanis come in a variety of designs and styles, ranging from traditional to contemporary. Look for a design that suits your personal style and complements your body type. The details like embroidery, buttons and collar design can add an extra touch of elegance to your sherwani.
In conclusion, choosing the right sherwani for men can be overwhelming but with the above-shared tips and tricks, you can find the perfect one that suits your style and occasion. 
Now that you have got your boxes of choosing the right sherwani for men checked, you can explore and shop for your favourites from the below-listed edit of classic sherwani for men to embrace the season of festivities. Keep scrolling!
Top 10 Sherwani for men's weddings to embrace the festive season in suave
BRETON SHERWANI SET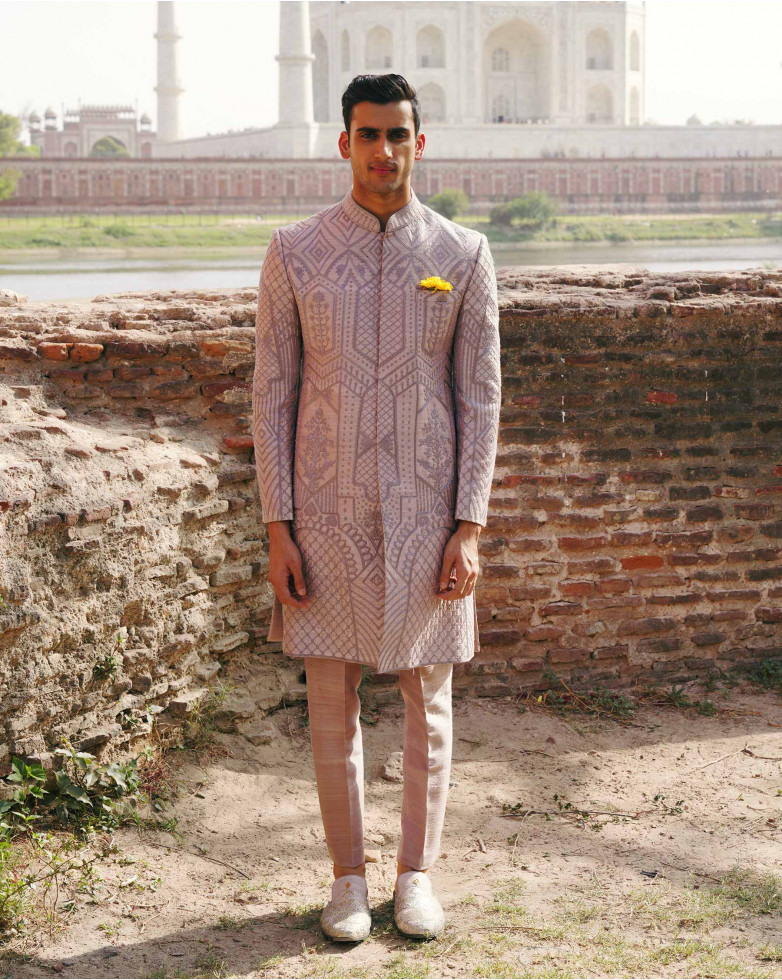 BURKE SHERWANI SET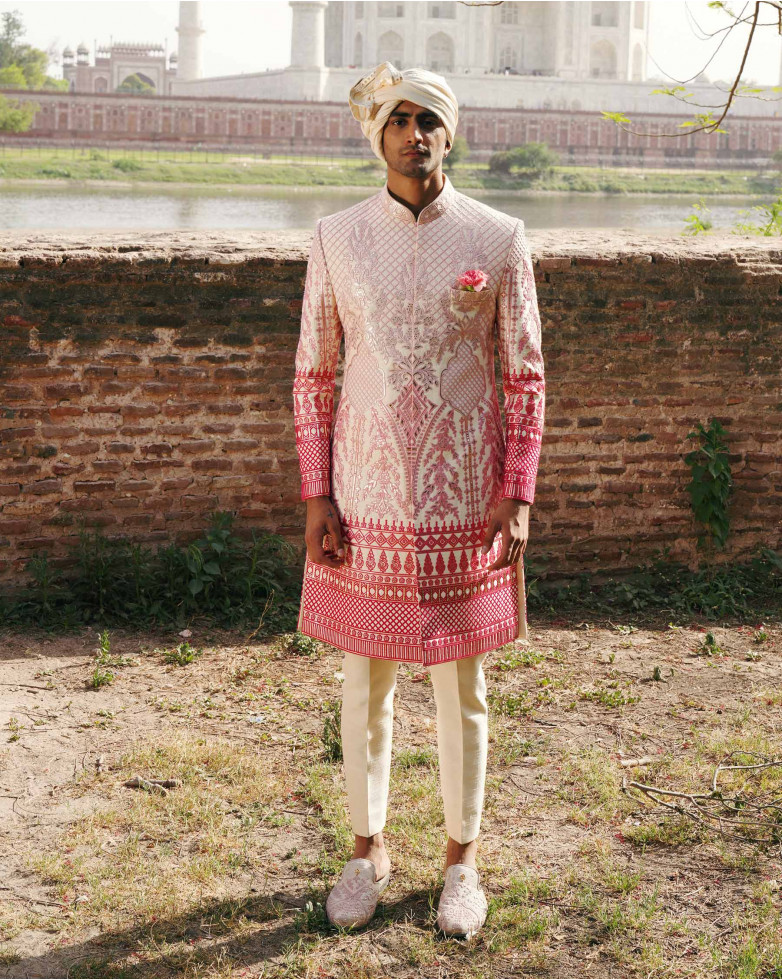 BASTIEN SHERWANI SET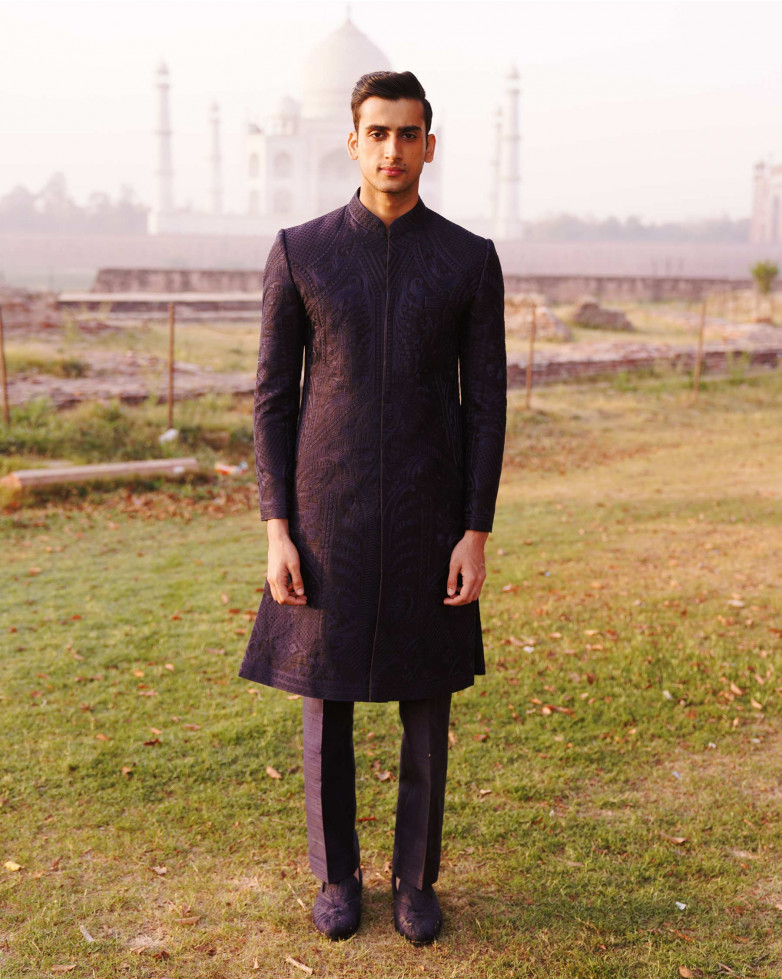 GERARD SHERWANI SET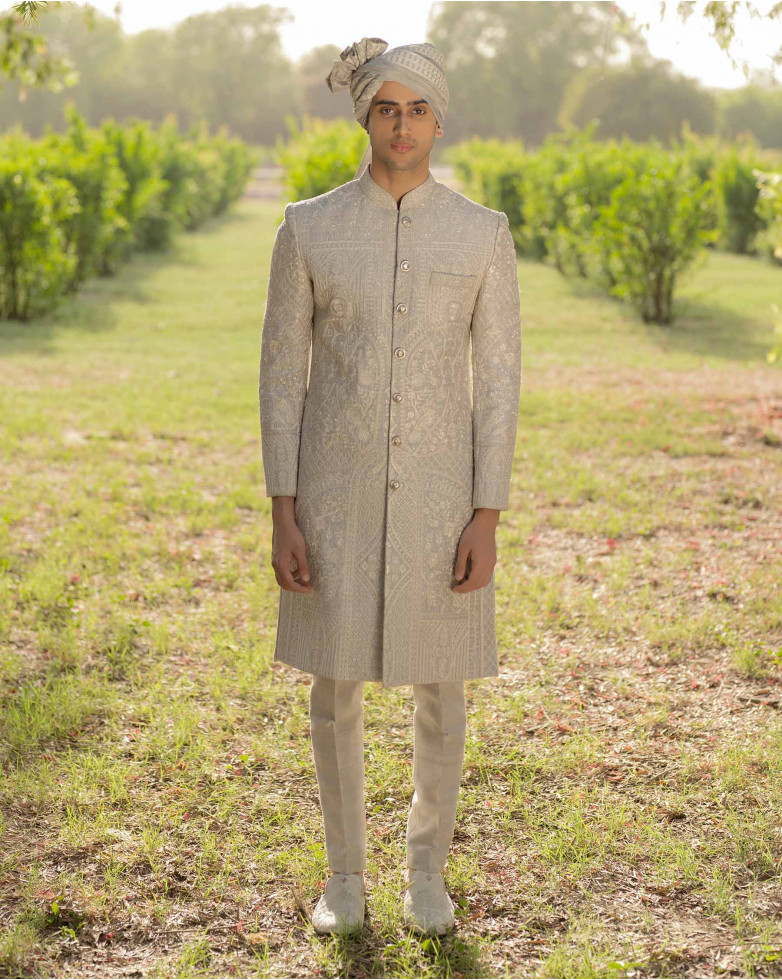 CHARNELL SHERWANI SET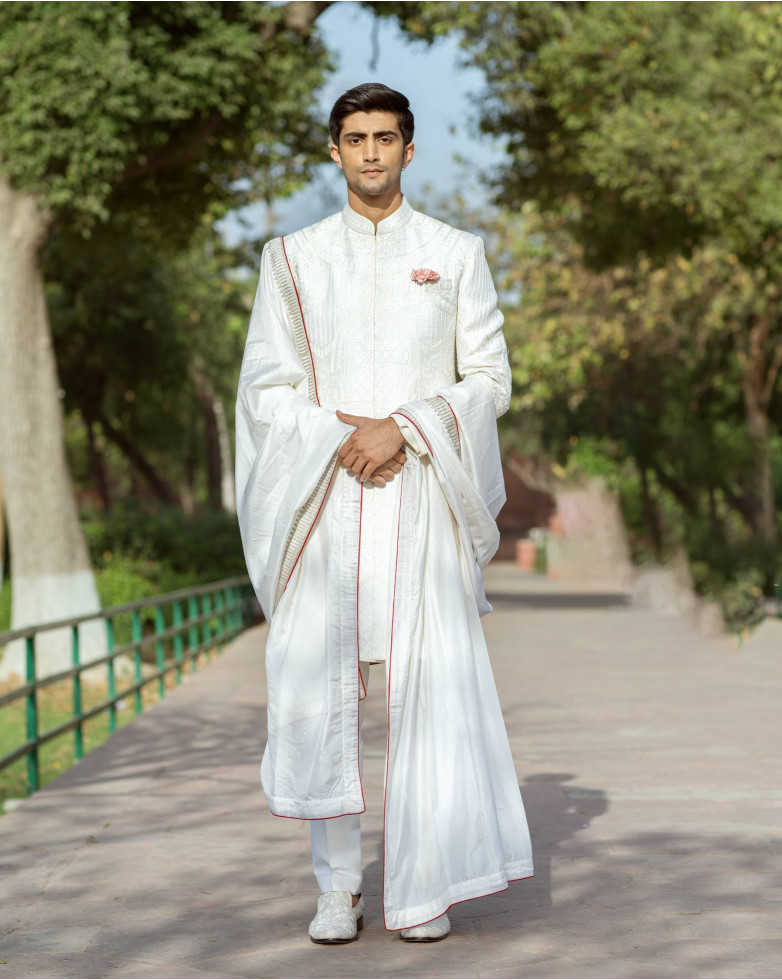 REGIS SHERWANI SET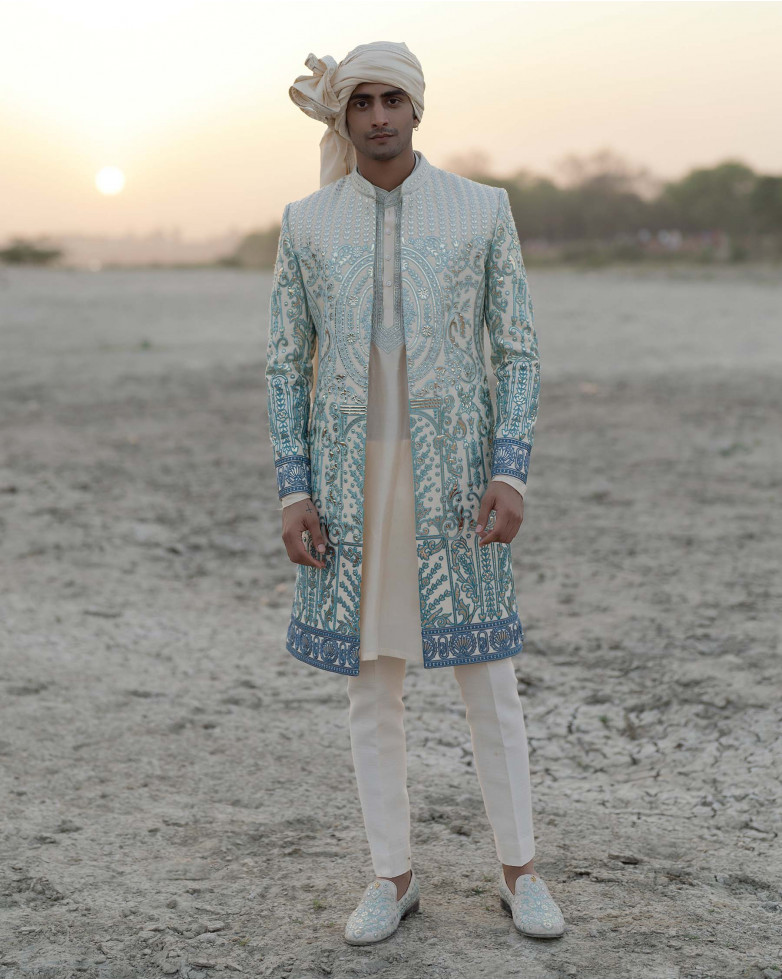 DANON SHERWANI SET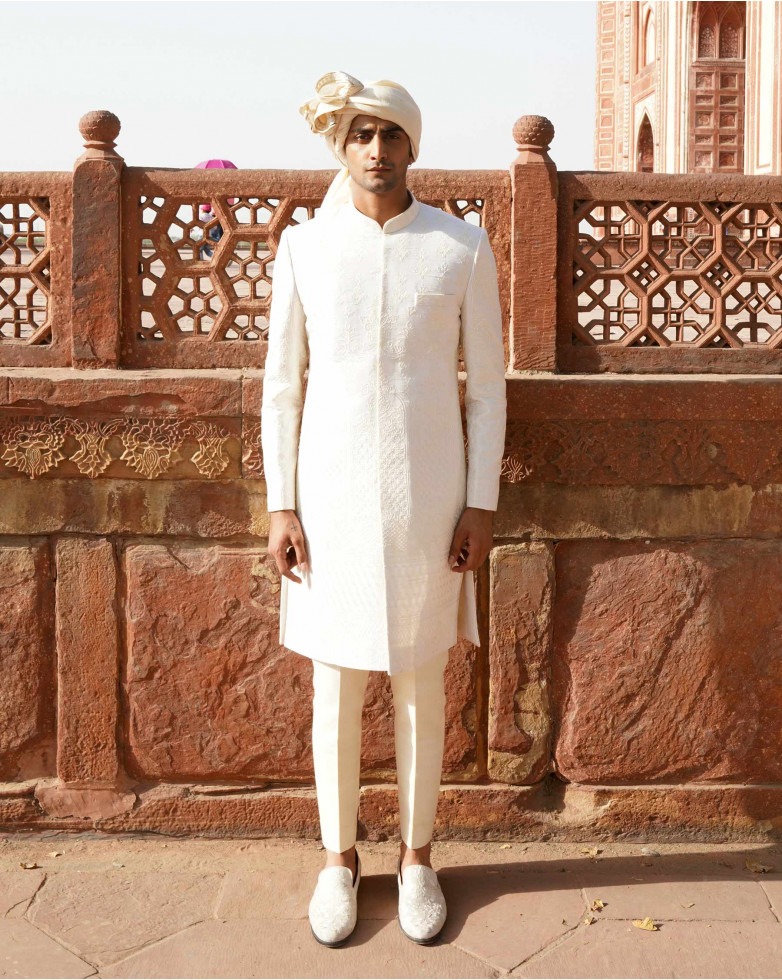 ANDRE SHERWANI SET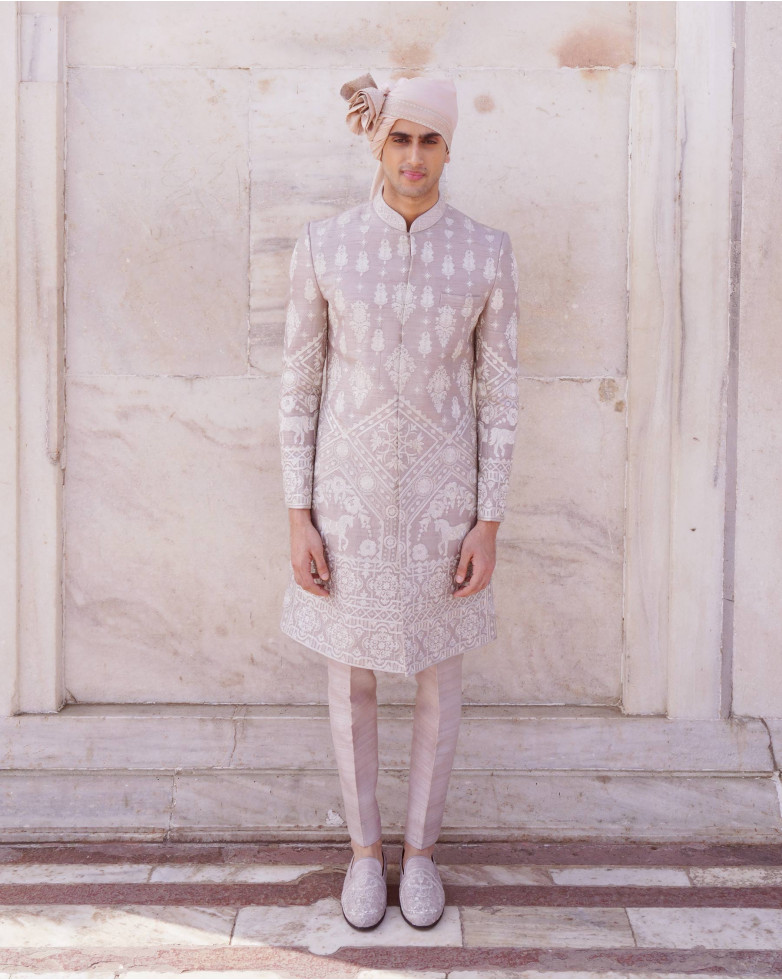 KANE BANDI SET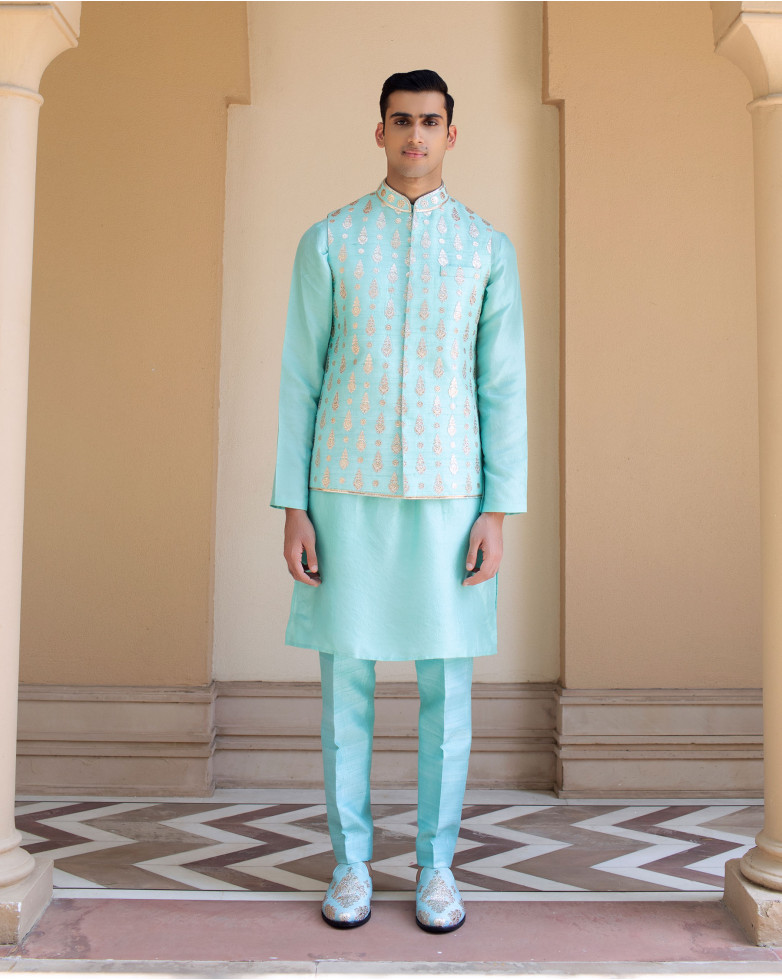 EVAAN BANDI SET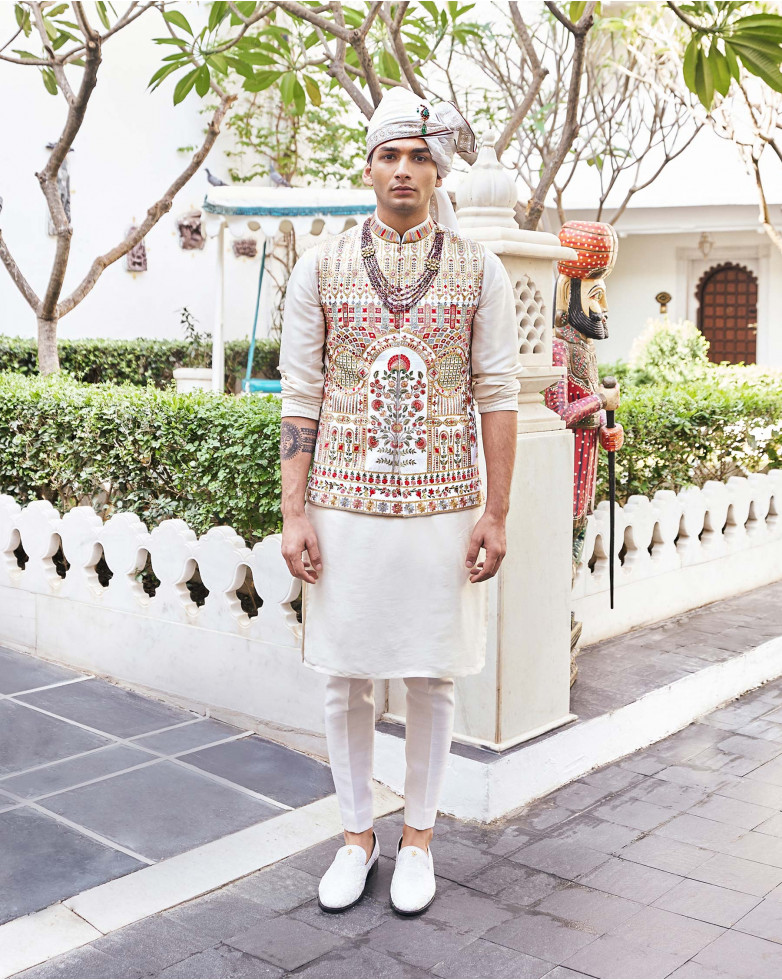 Everything about styling your favourite classic sherwani for men's wedding
Choose the right sherwani: 
Sherwanis come in various designs, colours and fabrics. You can choose from classic designs, modern designs, or a fusion of both.
Pair it with the right pants:
Sherwani is usually worn with pants called churidar or pyjamas. Choose a pair of pants that matches the colours of your sherwani. You can also pair it with trousers if you want a more modern look.
Accessorise it:
Add a touch of elegance to your sherwani with accessories like a turban, a stole, a brooch or a necklace. Make sure the accessories complement the colour and design of your sherwani.
Footwear:
Wear a pair of traditional shoes such as juttis, mojaris or Kolhapuris that match the colour of your sherwani.
Grooming:
Lastly, pay attention to your grooming. Style your hair neatly and maintain a well-groomed beard or moustache. Keep your nails trimmed and wear a pleasant fragrance.
By following these tips, you are sure to be able to style your sherwani to perfection and make a statement at any event on the card.