Brace yourself for you are about to discover the modern groom's most sought-after sherwanis by FALGUNI SHANE PEACOCK. The exquisite tailoring, lush fabrics and intricate detailing are sure to take you on a new, royal journey. Scroll along to join the one-of-a-kind experiential journey!  
Weddings are one of the most significant events and dressing up for the occasion is an essential aspect of it. For centuries, the sherwani for men has been a symbol of sophistication and elegance–predominantly in southern Asia. With its regal silhouette and intricate embroidery, the ensemble has become a staple for weddings, formal events and cultural celebrations. 
Sherwani for men is a traditional Indian garment that exudes elegance and regality. The outfit has gained popularity not only in India but all over the world, thanks to its unique design and versatility. 
In recent years, men's sherwani designs have undergone various transformations to cater to the modern-day groom's tastes and preferences. And FALGUNI SHANE PEACOCK, the celebrated bespoke designer duo are phenomenally adding their bits of expertise in giving the traditional ensemble a contemporary touch in order to keep it relevant, in trend and desirable. 
The designer duo is tapping into the segment with a variety of men's sherwani designs that are promising an elevated look for any and every approaching occasion. One is to find the designer duo's expert tailoring on sherwanis like open sherwani, closed sherwani and bandi sets. So, whether you are a groom-to-be or simply looking to elevate your wardrobe, these sherwanis are sure to make a statement and leave a lasting impression. 
But with so many styles and designs to choose from, finding that perfect sherwani for men can be a daunting task. Therefore we have put together a list of the top 10 classic men's sherwani designs, each with its own unique charm and timeless appeal. So let's dive in and explore the world of classic sherwanis! 
Top 10 trans-seasonal sherwani for men's wedding
OLIVIER SHERWANI SET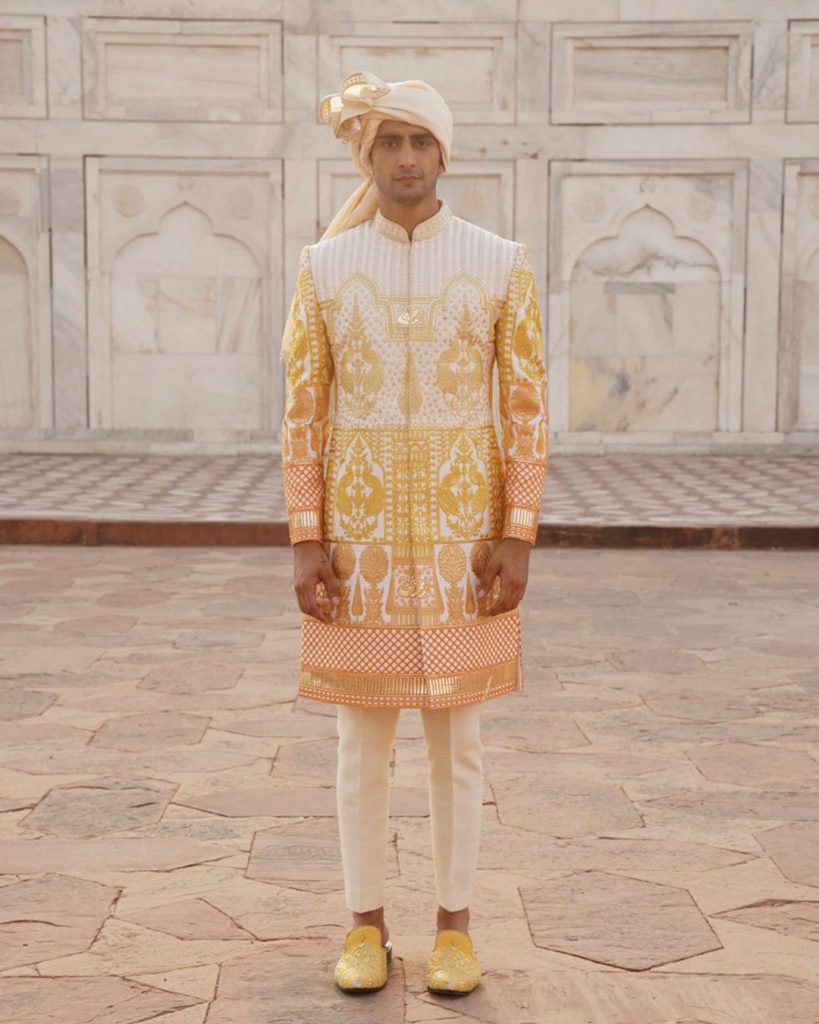 Off-white-based, yellow ombre, closed sherwani.
REGIS SHERWANI SET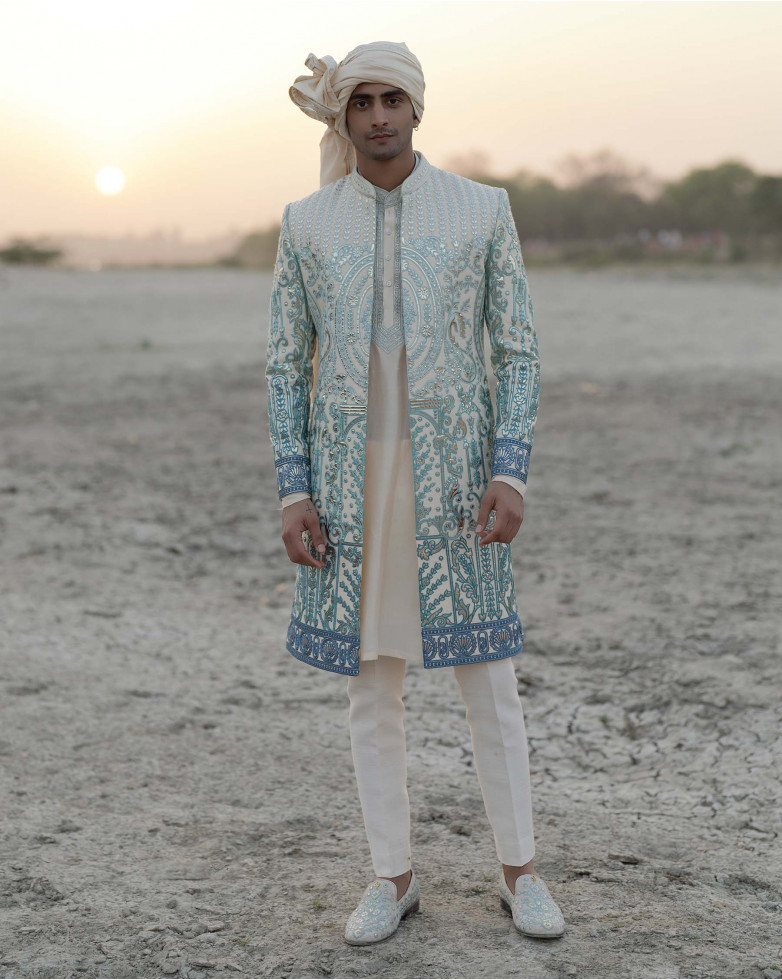 Ombre open sherwani set, teamed with raw silk kurta and pants.
CHARNELL SHERWANI SET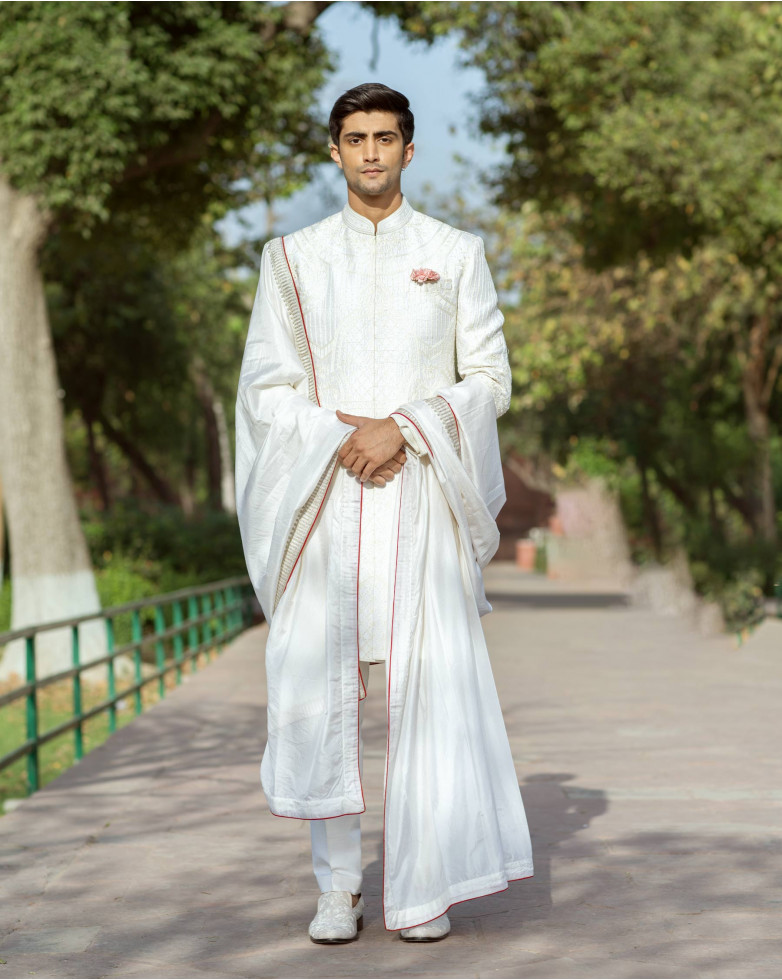 Ivory sherwani set paired with raw silk pants and a dupatta with chrome appliqué border.
BEAU SHERWANI SET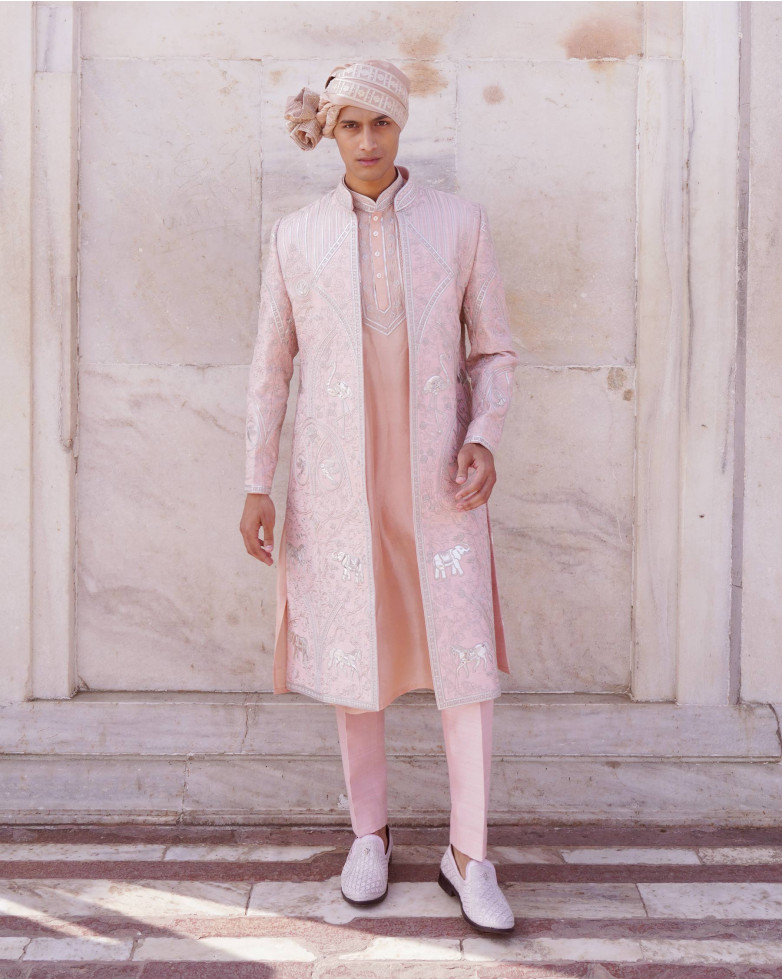 Light peach open sherwani set teamed with a light peach raw silk kurta and pants.
ELLIOTT SHERWANI SET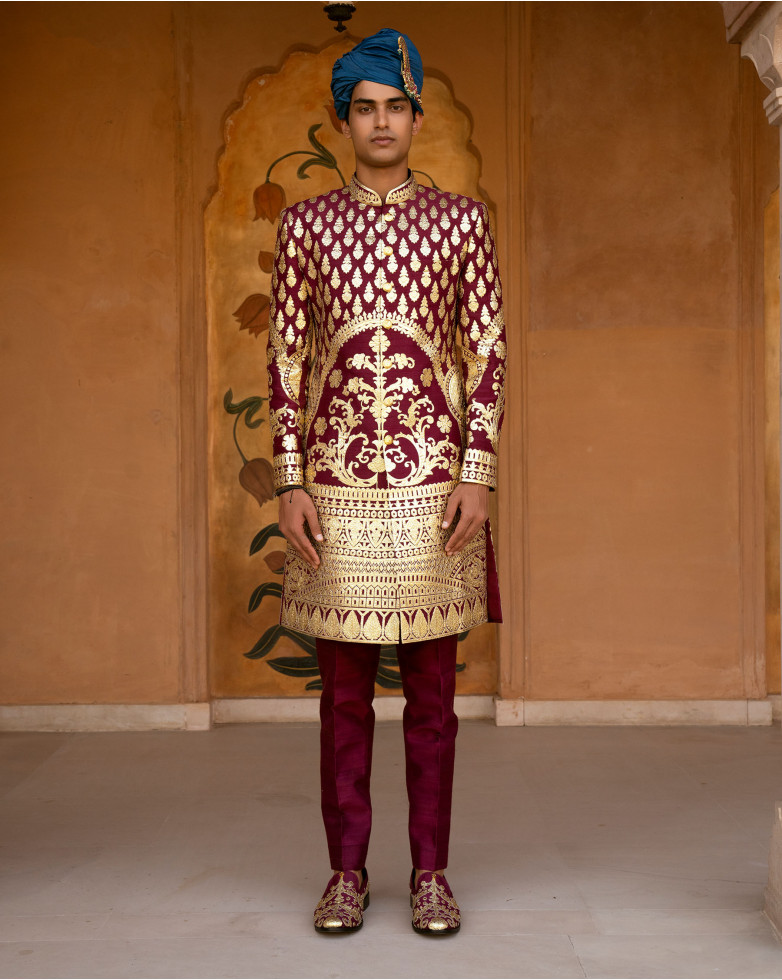 Maroon, chrome appliqué sherwani
KANE BANDI SET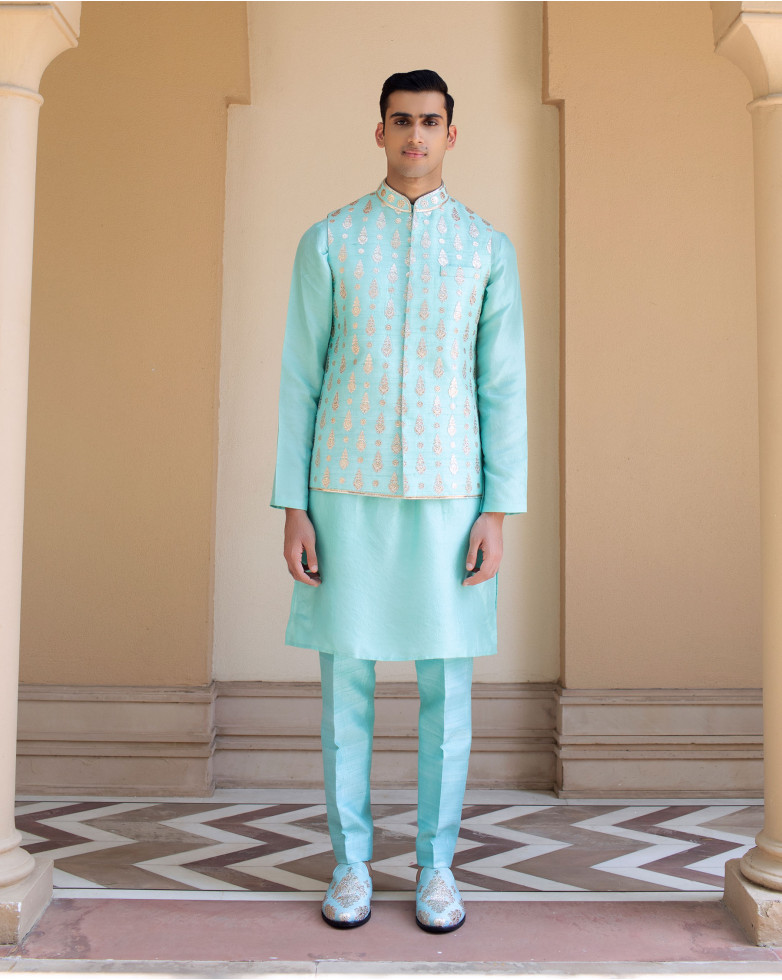 Light blue, raw silk chrome applique bandi set paired with a silk kurta and trousers.
NEEL SHERWANI SET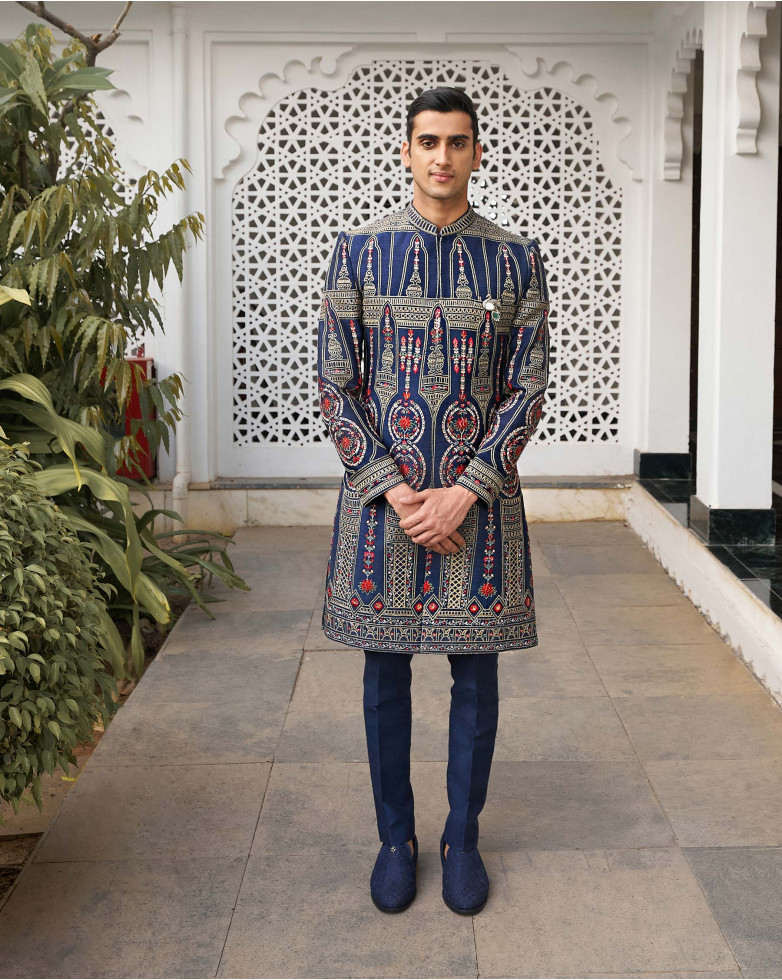 Light blue, raw silk chrome applique bandi set paired with a silk kurta and trousers.
DAMIEN SHERWANI SET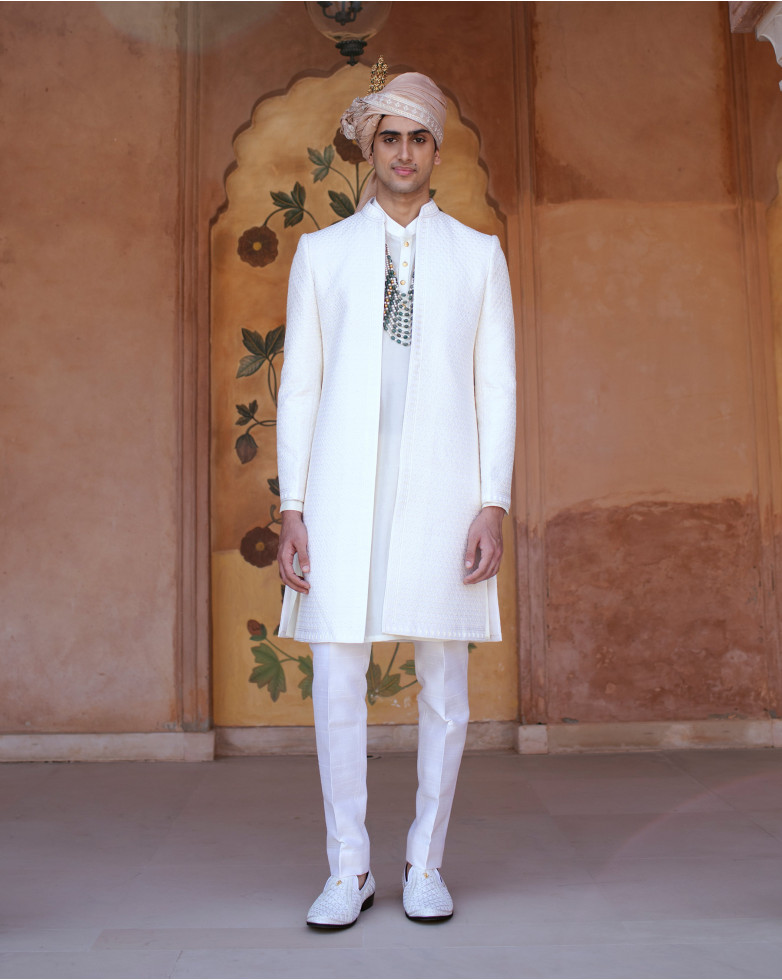 White, raw silk, embroidered open sherwani.
ANDRE SHERWANI SET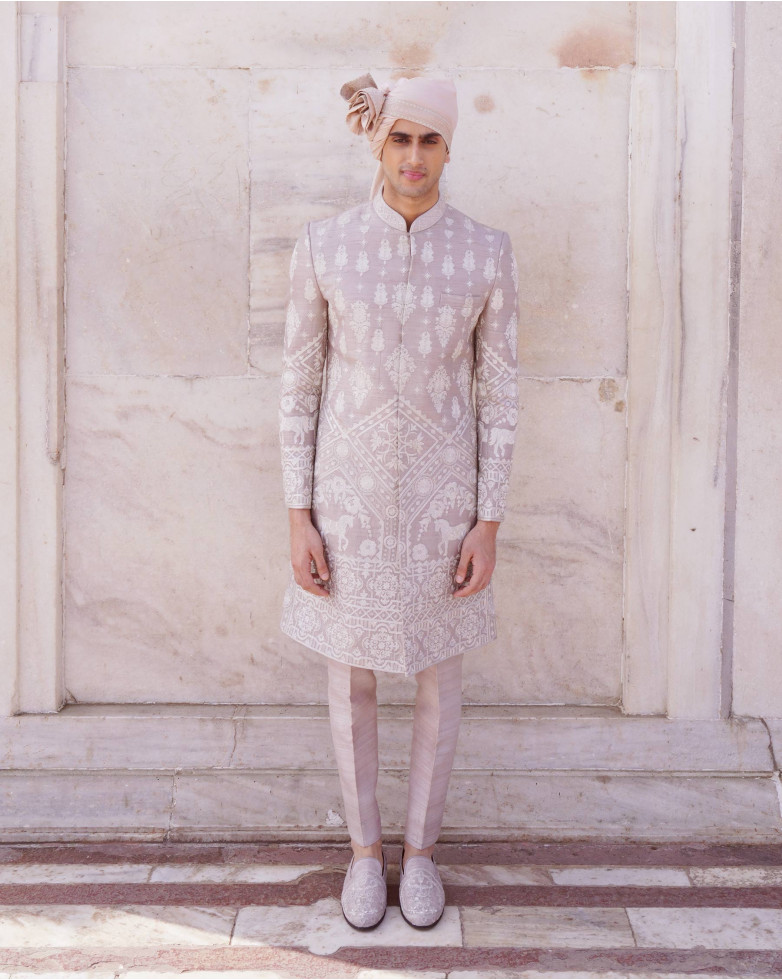 Mauve sherwani with intricate ivory threadwork details
SHAEROY BANDI SET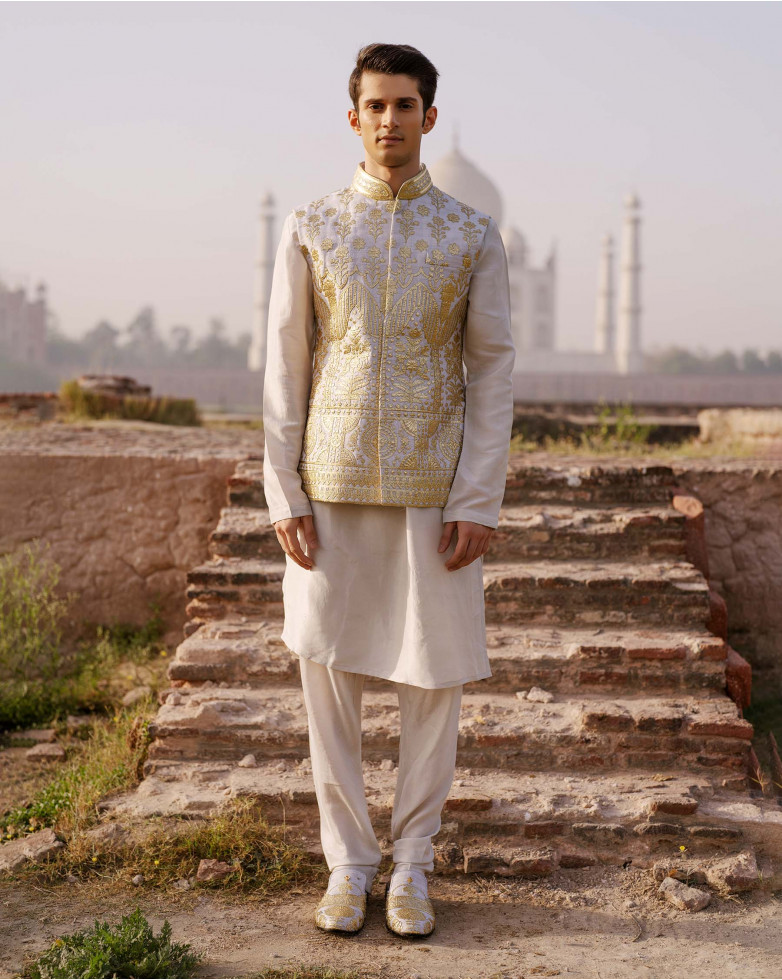 Light mauve raw silk bandi teamed with a beige silk kurta and trousers.
Everything about sherwani for men's wedding
1 )  Which sherwani is best for a groom?
Choosing the best men's sherwani can be a daunting task as it depends on personal preference and the style of the wedding. However, there are a few classic sherwanis that are popular choices for grooms:
The Jodhpuri sherwani

The Achkan sherwani

The Angrakha sherwani

The Indo-Western sherwani 
Some top men's sherwani designs to shop for are as follows: 
2 ) How much should sherwani cost?
The cost of a sherwani for men can vary greatly depending on several factors such as the fabric, design, craftsmanship and brand. Generally, a good quality men's sherwani can cost anywhere from a few hundred to several thousand dollars. However, if you are looking for a more intricate design or higher quality fabric such as velvet or brocade, the cost can go up significantly. Designer sherwanis made by well-known brands or with heavy embroidery or embellishments can cost several thousand dollars.
3 ) Which colour sherwani is best?
Here are a few popular colours that you must explore when looking for sherwani for men's weddings: 
Ivory/Off-White

Gold

Maroon

Navy Blue

Black

Beige
4 ) How do I choose a sherwani?
Choosing a wedding sherwani for men can be a daunting task, but with a bit of research and planning, you can find the perfect sherwani for your needs. Here are some tips to help you choose an ideal sherwani:
Occasion

Colour 

Fabric

Design

Fitting

Budget
By considering these factors, you can find a sherwani that is comfortable, stylish and appropriate for the occasion.