Exhibit every shade of glamour in FALGUNI SHANE PEACOCK'S exquisitely tailored wedding bridal lehengas. It's royal. It's rare. It's luxurious. And it's for you!
Attention brides! With the wedding season fast approaching we have got you some of the season's favourite ensembles to rev up your wedding wardrobe. Figuring out the best wedding ensembles for various occasions that lie ahead can feel overwhelming. But not when you have the trendiest ensembles available at your easiest click. 
FALGUNI SHANE PEACOCK — the perennial names of global luxury fashion, keep reinventing the wedding bridal lehengas season after season with uniquely intricate detailing. The creations by the designer duo wrap every traditional occasion in the finest silhouettes that are curated using luxe fabrics—perfect for occasions that are intimate or extravagant. 
So, follow along to explore and shop for the latest wedding bridal lehengas that are emerging as new favourites of the new-age, influential brides. 
Understanding Wedding Bridal Lehengas:
Wedding bridal lehengas are traditional Indian bridal outfits that consist of a long skirt, a blouse or choli and a dupatta or scarf. The lehenga is usually heavily adorned with intricate embroidery, embellishments and is made of luxurious fabrics such as raw silk, tulle and more. 
The blouse or choli can be designed in a variety of styles, including corset-style, one-shoulder and winged panel. It can also be decorated with similar embroidery and beadwork. The dupatta is typically draped over the head and shoulders. It is notably embellished to match the lehenga. 
Lehengas are an important part of ethnic wear and hold significant cultural and traditional values in Indian society. They are a representation of style, elegance and celebration—making them a cherished and beloved part of Indian weddings.
FALGUNI SHANE PEACOCK have held a reputation for creating exquisite and timeless ethnic wear, especially wedding bridal lehengas for women. The finesse with which they craft every outfit is commendable and highly aspirational. Be it showcasing elite craftsmanship or surprising the wearers with distinctive silhouettes—the designer duo have mastered the need of modern brides and how! 
Inclusion of embellishments like sequins, tassels, beads, Swarovski crystals; play of motifs like floral, foliage, architectural; conceptualised throw of hues like ivory, shades of pastel and more—compile together to create an experience that's celebratory and aspirational. 
When exploring various wedding bridal lehengas for women by FALGUNI SHANE PEACOCK, you are to be left in awe by the multiple offerings made. These wedding bridal lehengas differ in silhouettes, hues, craftsmanship and more. A few must-explore wedding bridal lehengas when scrolling through the online and offline stores of FALGUNI SHANE PEACOCK are as follows: 
Lehenga with a cape

Lehenga with a feather shrug

Lehenga with a bow

Lehenga with a mermaid cut

Lehenga with a thigh-high slit
Top 10 wedding bridal lehengas of 2023:
Your chance to break the conventional norms of fashion in terms of colours, silhouettes, detailings and more is just a scroll away. Pick your favourite to emerge as the breakthrough bride of the time, leaving back a legacy for all the other brides to follow.
MEGAN BRIDAL LEHENGA SET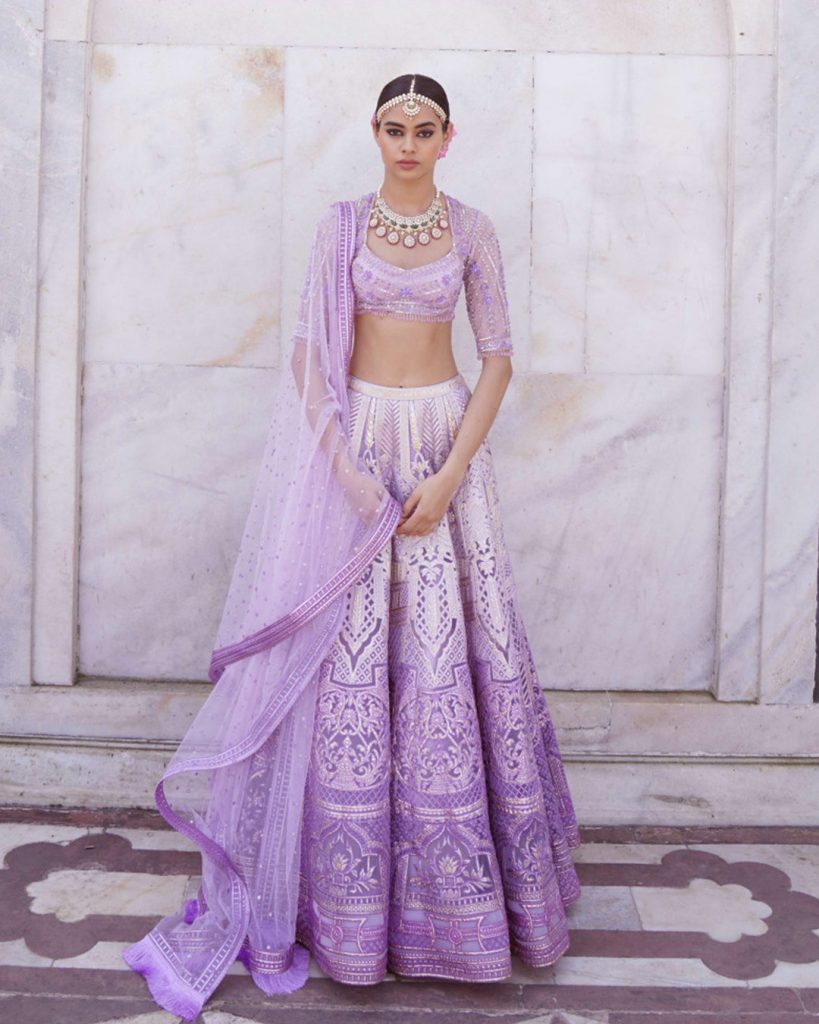 Lavender, ombre lehenga with architectural and foliage motifs in light silver chrome applique.
AUDE BRIDAL LEHENGA SET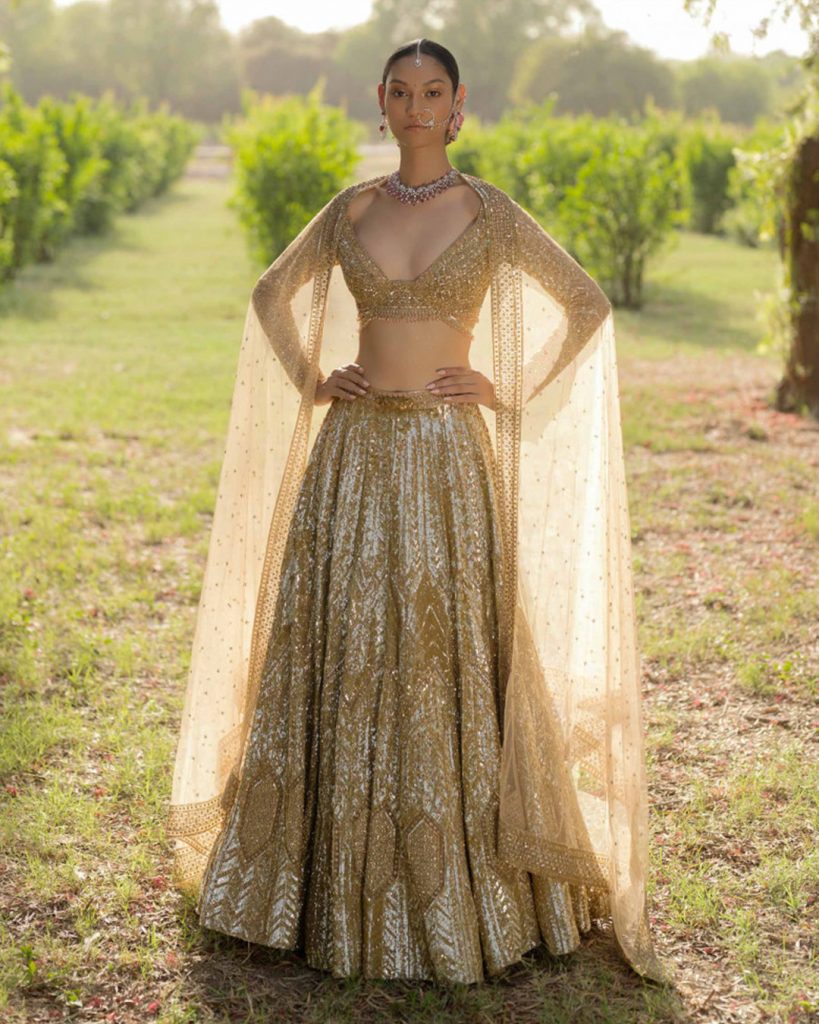 Light gold lehenga encrusted with sequins on geometric motifs and teamed with a handcrafted blouse with tassel detailing.
TATIANA BRIDAL LEHENGA SET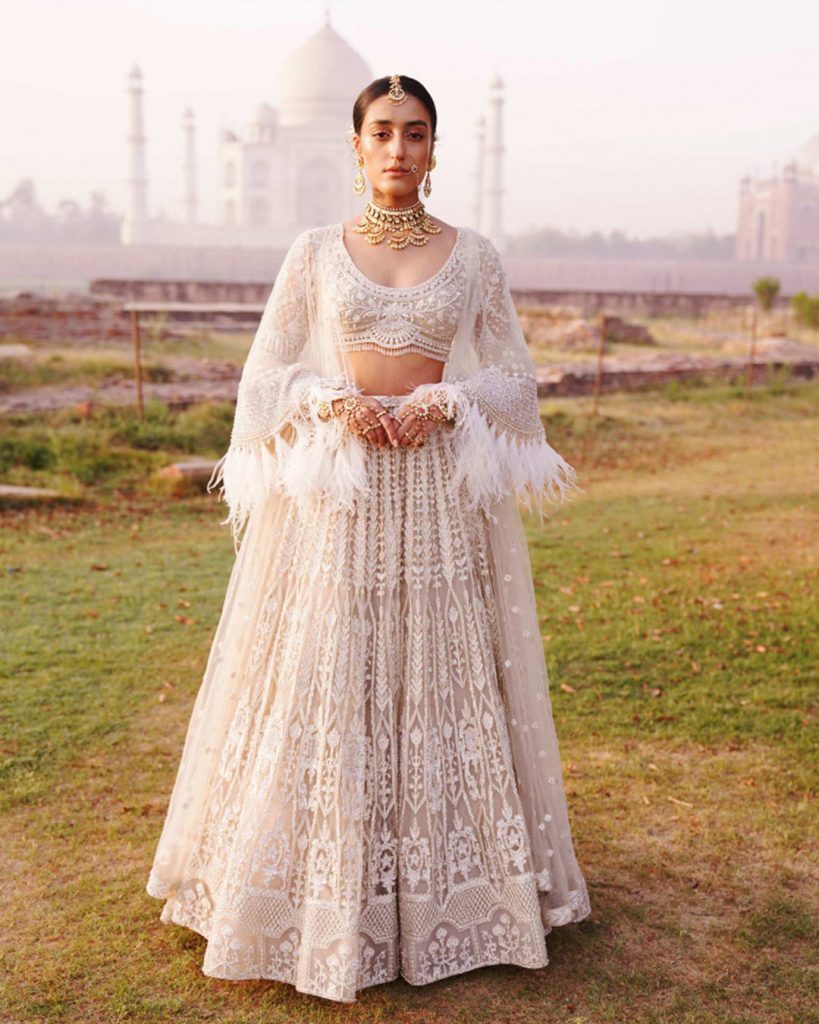 Light beige-based, ivory lehenga with intricate ivory threadwork foliage motifs and adorned with sequins, crystals and beads.
SARA BRIDAL LEHENGA SET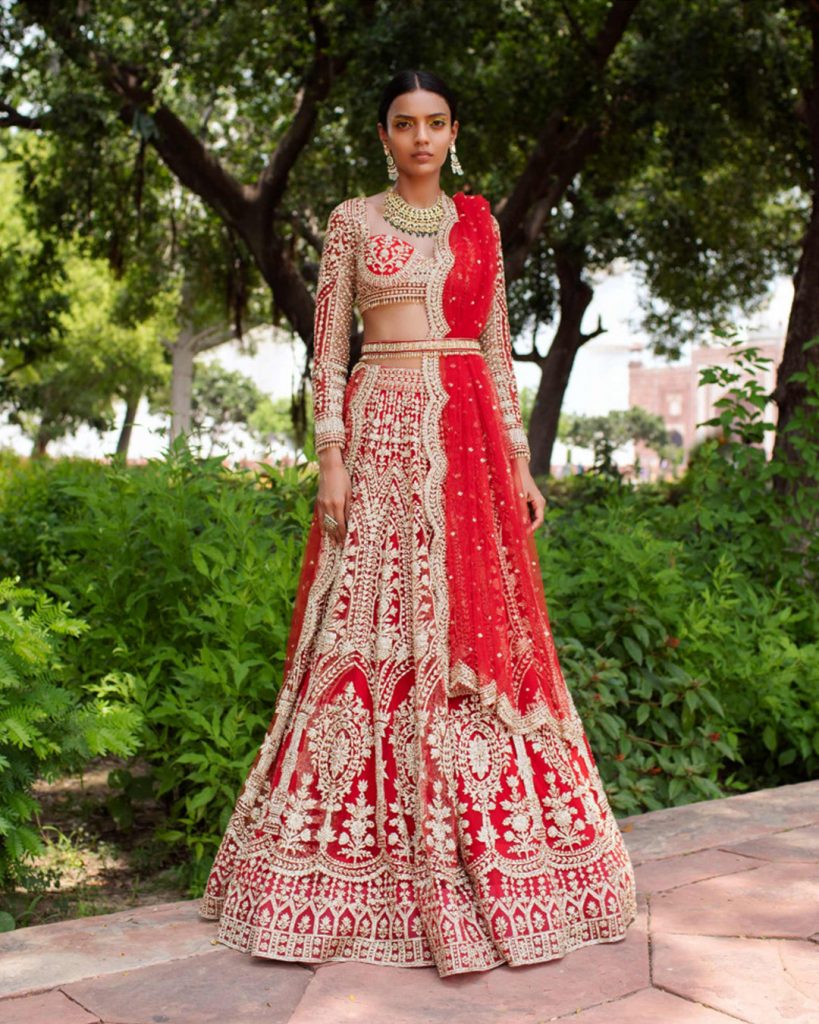 Red handcrafted lehenga with tone-on-tone, full-sleeved cropped corset in tassel detailing with sequins and stones on gridwork motifs.
DESIREE BRIDAL LEHENGA SET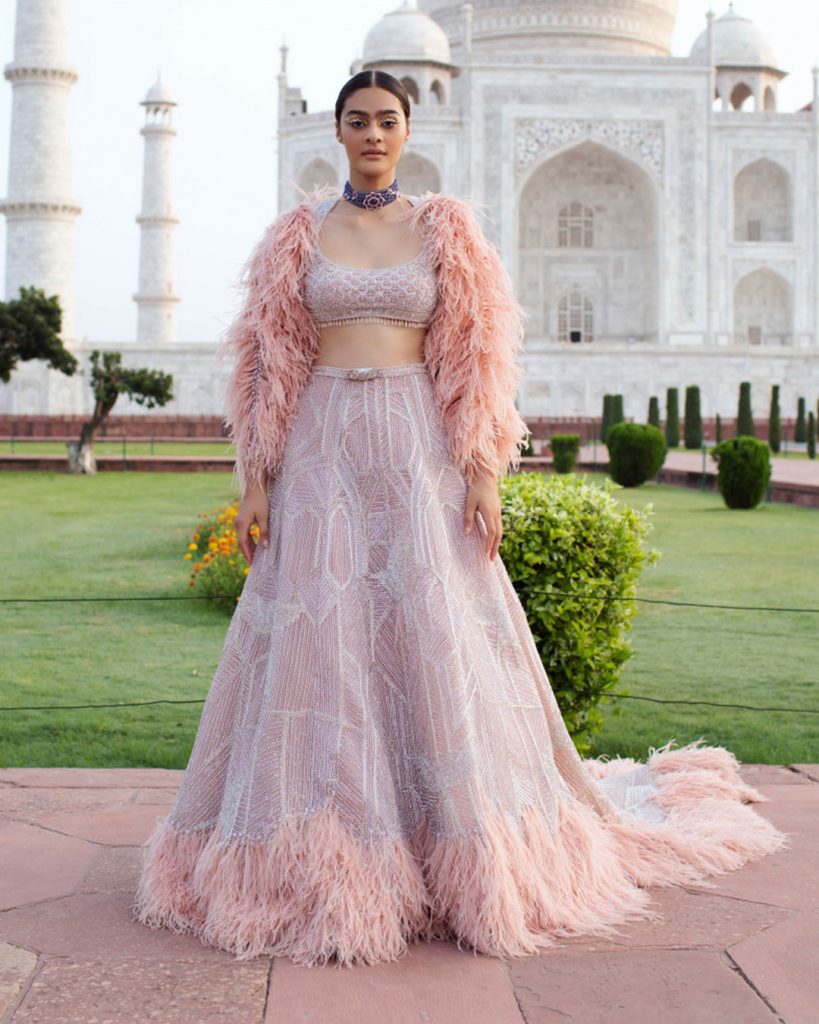 Peach trail lehenga handcrafted with sequins.
NAUSICAA BRIDAL LEHENGA SET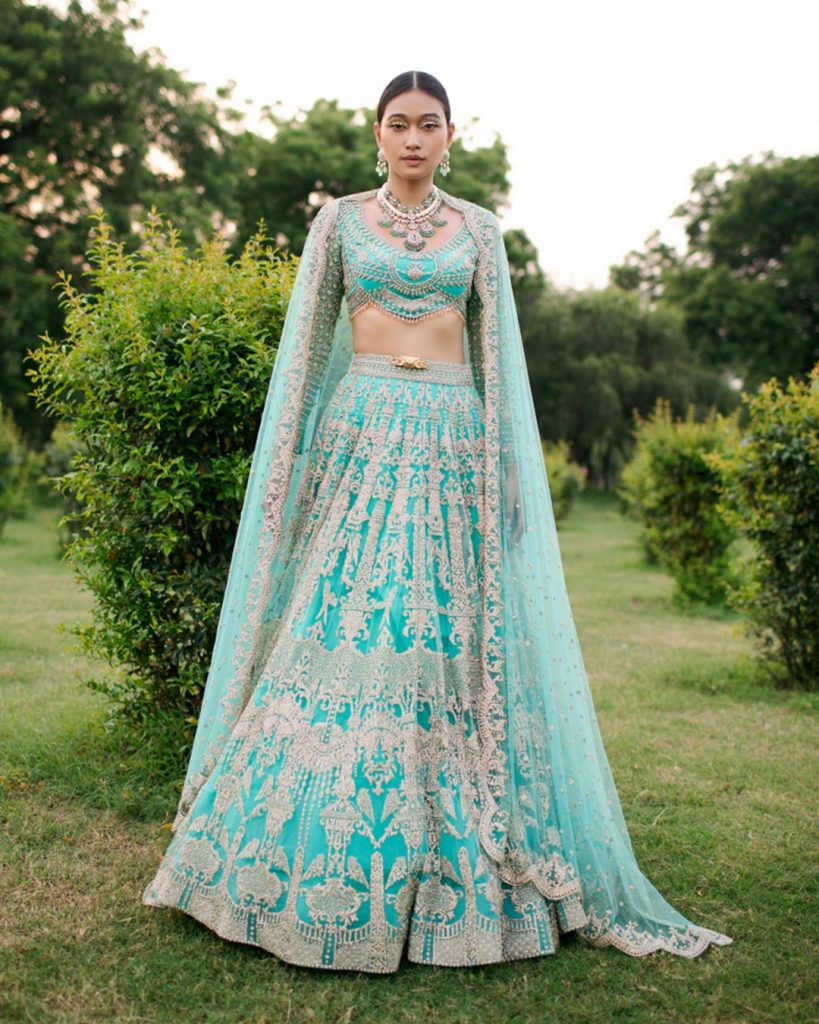 Turquoise embroidered lehenga handcrafted with light golden threadwork detailing.
QUESTA BRIDAL LEHENGA SET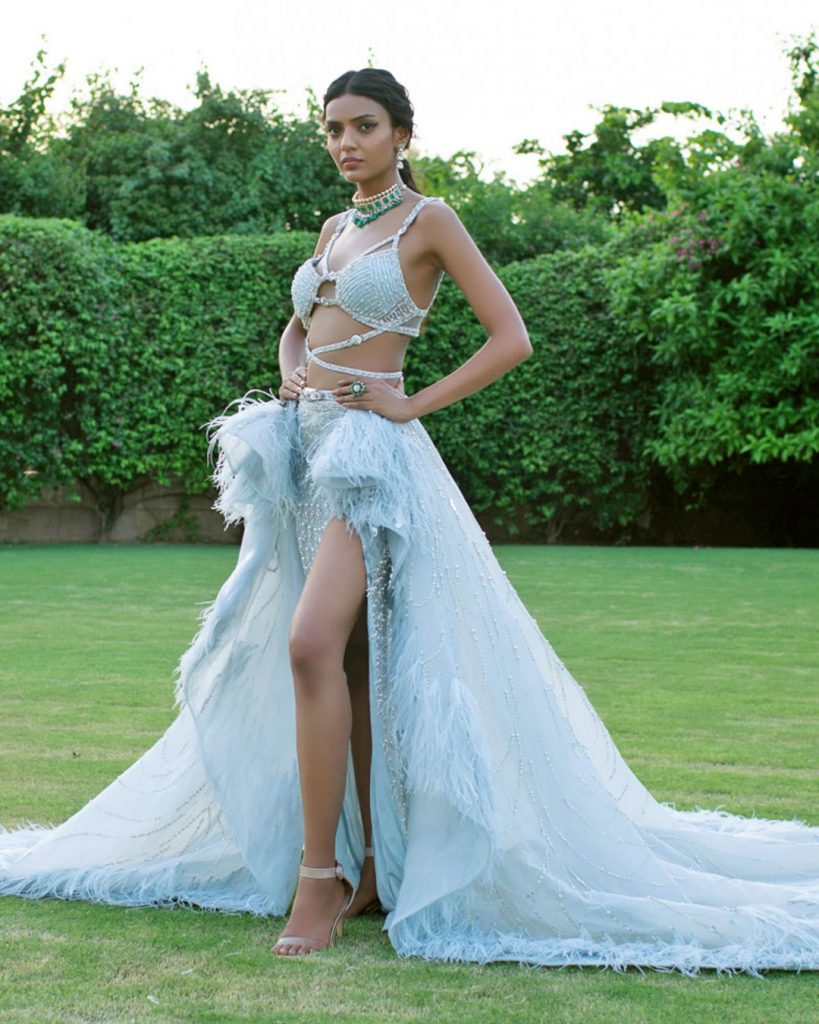 Powder blue trail lehenga with a thigh-high slit that is handcrafted with beads and sequins and styled with a bralette blouse.
CAROLINE BRIDAL LEHENGA SET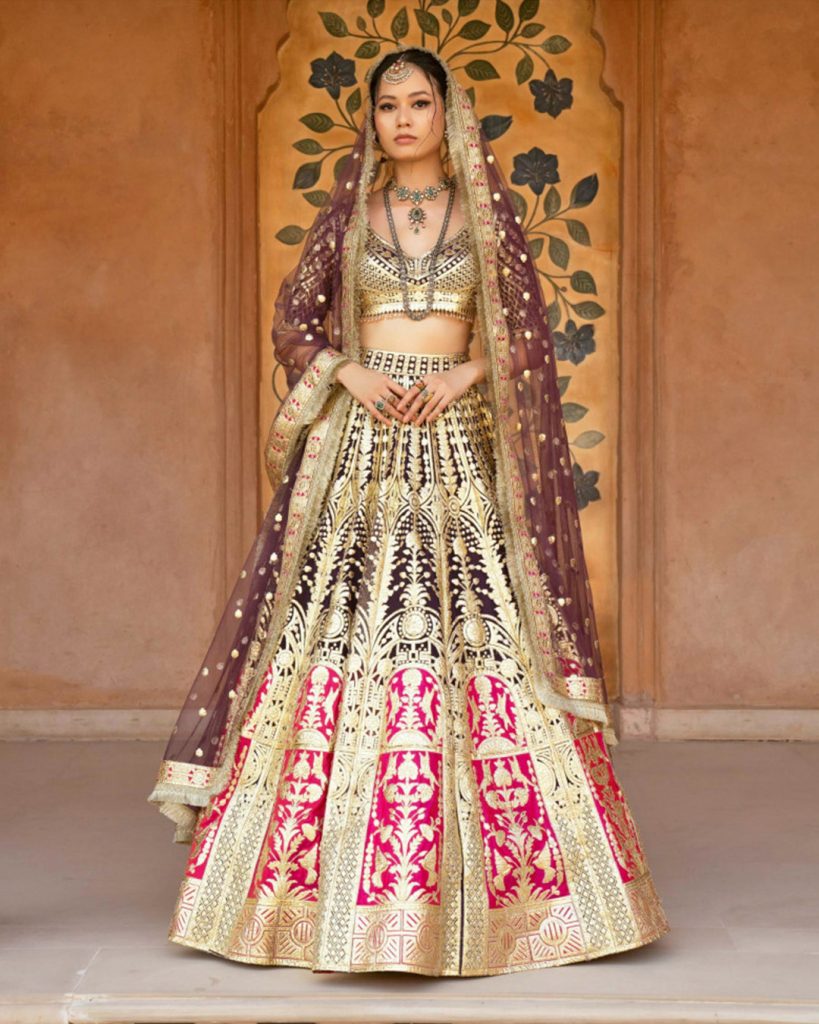 Purple-hued, golden and pink lehenga featuring foliage motifs using chrome applique work.
EULALIE BRIDAL LEHENGA SET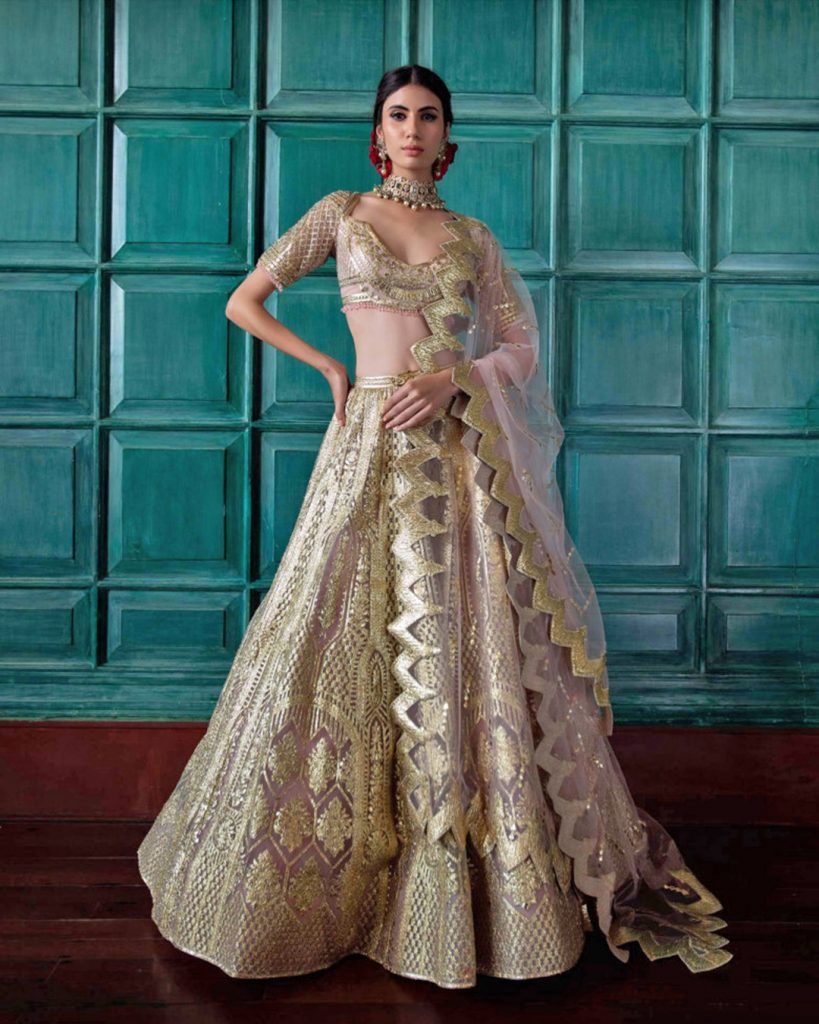 Pastel pink-based, golden chrome applique lehenga featuring grid work and ethnic motifs.
LEKHA BRIDAL LEHENGA SET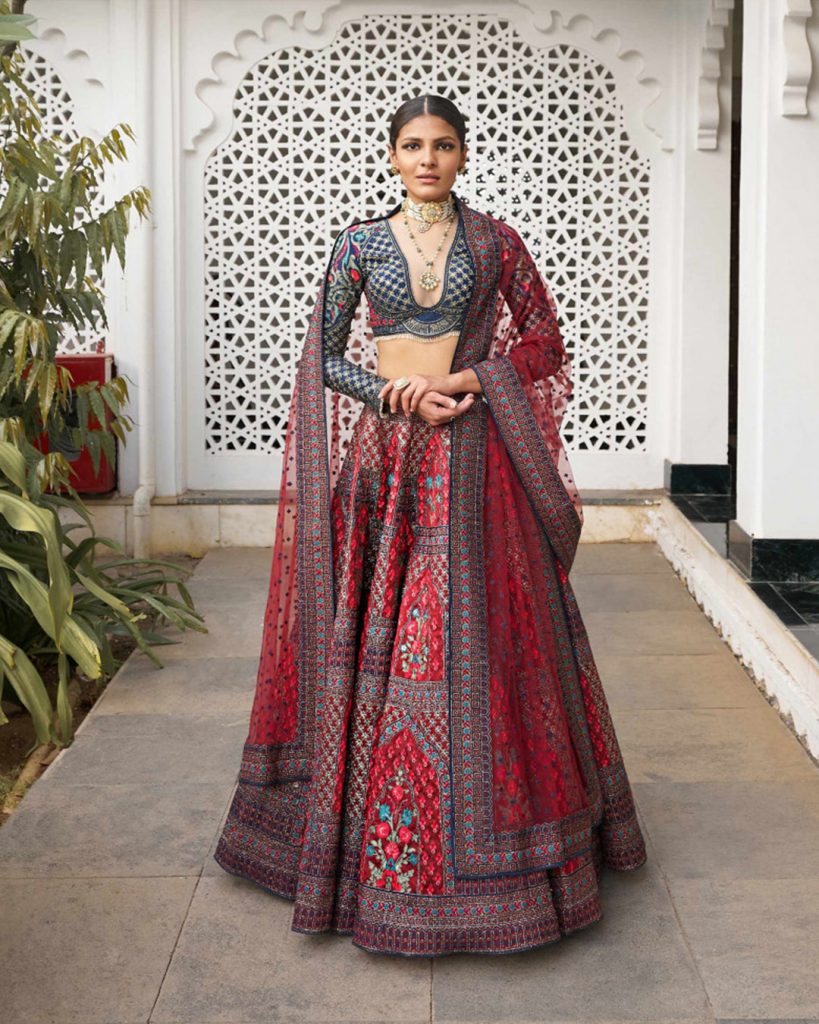 Maroon lehenga with multicoloured silk threads embroidery over arch and foliage motifs, teamed with a full-sleeved navy blue blouse embroidered with gold metal thread-work details.
Everything about the latest wedding bridal lehengas:
1 ) Which fabric is best for bridal lehenga?
When it comes to selecting the fabric for a bridal lehenga, there are several options to consider and the final decision will depend on factors like personal preference, destination and budget. Here are some of the most popular fabrics:
Silk

Velvet

Georgette

Chiffon

Tulle (net)
2 ) How much does a bridal lehenga cost?
The cost of a bridal lehenga can vary widely depending on several factors, including the fabric, design, embellishments and the reputation of the designer or boutique.
3 ) Which colour lehenga is best for marriage?
The choice of colour for a bridal lehenga can depend on several factors, including personal preference, cultural and traditional significance and the overall wedding theme. However, some colours are more commonly associated with bridal wear and are considered traditional choices for a wedding lehenga. Here are some of the most popular colours for bridal lehengas:
Red 

Pink 

Gold 

Maroon 

Ivory
4 ) Top bridal lehenga for reception.
Marissa lehenga set

Macy lehenga set

Maeve lehenga set

Joy lehenga set

Astrid saree-gown

Tempeste saree-gown
5 ) Latest bridal lehenga designs 2023
Kamilah lehenga set

Josephine lehenga set

McKinley lehenga set

Kendra lehenga set

Kayden lehenga set