Create a lasting impression with our curated edit of the most suave-worthy bandi sets by the globally celebrated designer brand—FALGUNI SHANE PEACOCK.
Bandi sets are a popular choice among men for Indian traditional wear. The three-piece garment has gained massive popularity amongst the modern crowd for its comfort and style. The highly regarded and elite piece of clothing is an integral part of the traditional wedding culture. A bandi for men is a fairly minimalistic choice compared to a sherwani, but more elaborate than a plain kurta pyjama, which makes it perfect for people who are looking for an in-between option. A bandi for men typically comprises a long kurta, a matching pair of pants and a waistcoat which is often referred to as a 'Nehru' jacket which became popular in the mid-1900s.
In the last few decades, Indian traditional menswear has evolved drastically in terms of designs and the scale of variety. There was a time when men faced difficulty finding chic traditional wear. But thanks to new-age designers, fashion-loving men are spoilt for choices now. One such designer brand is FALGUNI SHANE PEACOCK which has been the torch-bearer of modern contemporary fashion and is redefining traditional designer menswear globally but with their signature style.
The bandi sets curated by the luxury fashion brand depict the perfect union of luxe fabrics, classic colours and innovative design patterns, and are sure to take you on a traditional sartorial soiree. Scroll along to unveil the most coveted round-off of designer bandi sets for men and redefine your style.
EDWARD BANDI SET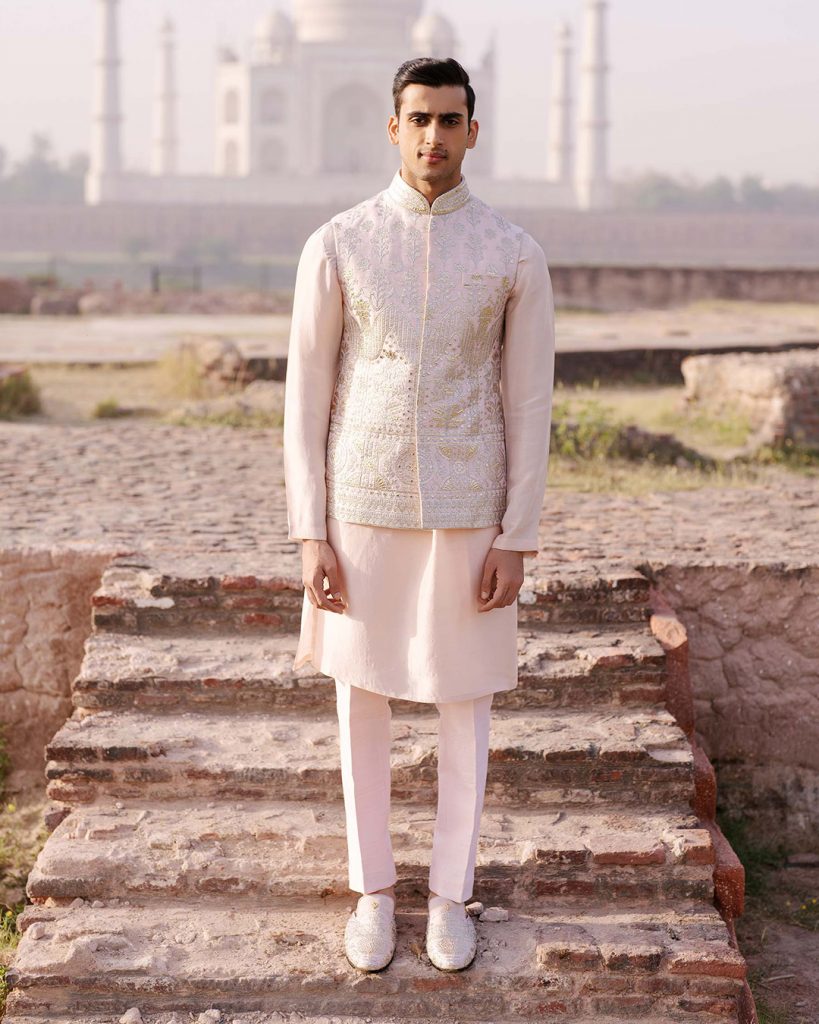 Ideal for a daytime event, this light peach bandi for men is a minimalistic yet intricate take on the traditional outfit. Meticulously tailored from raw silk, this sophisticated set is replete with chrome applique in floral and architectural motifs, paired with a matching silk kurta and pants.
IVEN BANDI SET
This light green bandi set will add a pop of colour which is the perfect addition to your festive ensemble. This vibrant set is seamlessly curated on a raw silk base, replete with chrome applique in ethnic butti motifs on the bandi jacket. The jacket is accompanied by a matching silk kurta and pants.
KANE BANDI SET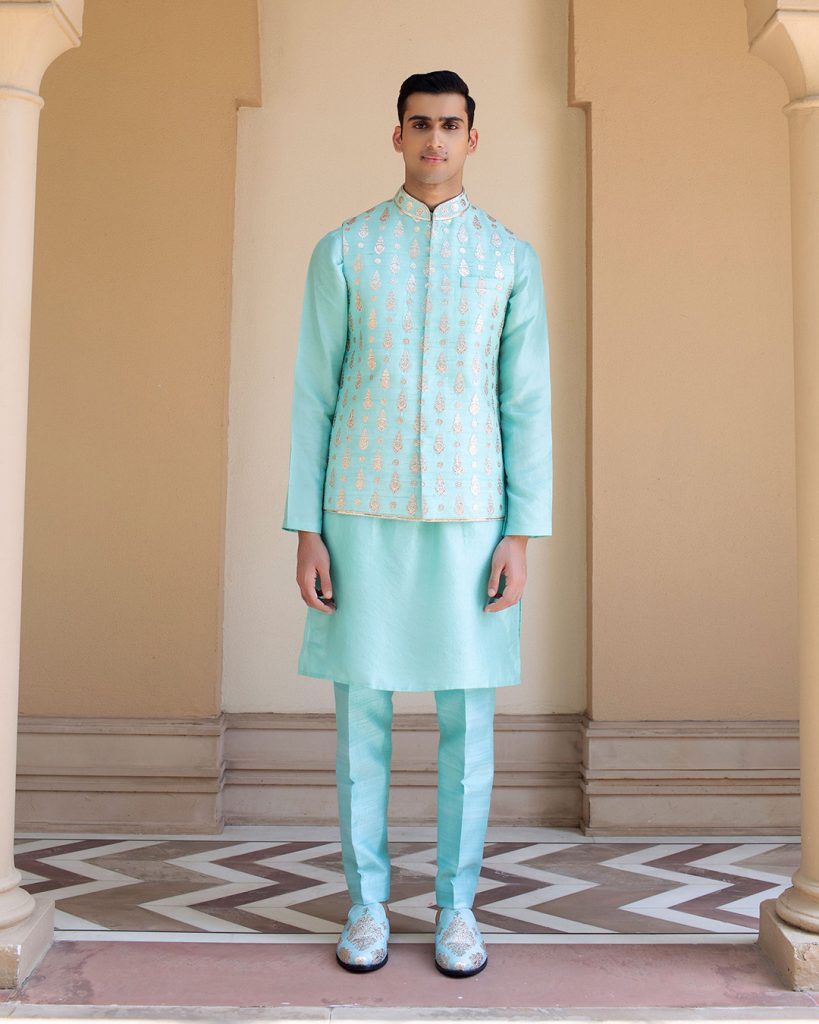 This stunning light blue bandi for men is the ideal wedding guest attire for you if you're confused about what to wear. The bandi is adorned all over with ethnic chrome applique buttis for a royal and festive look, paired with a matching silk kurta and pants.
LUDOVIC BANDI SET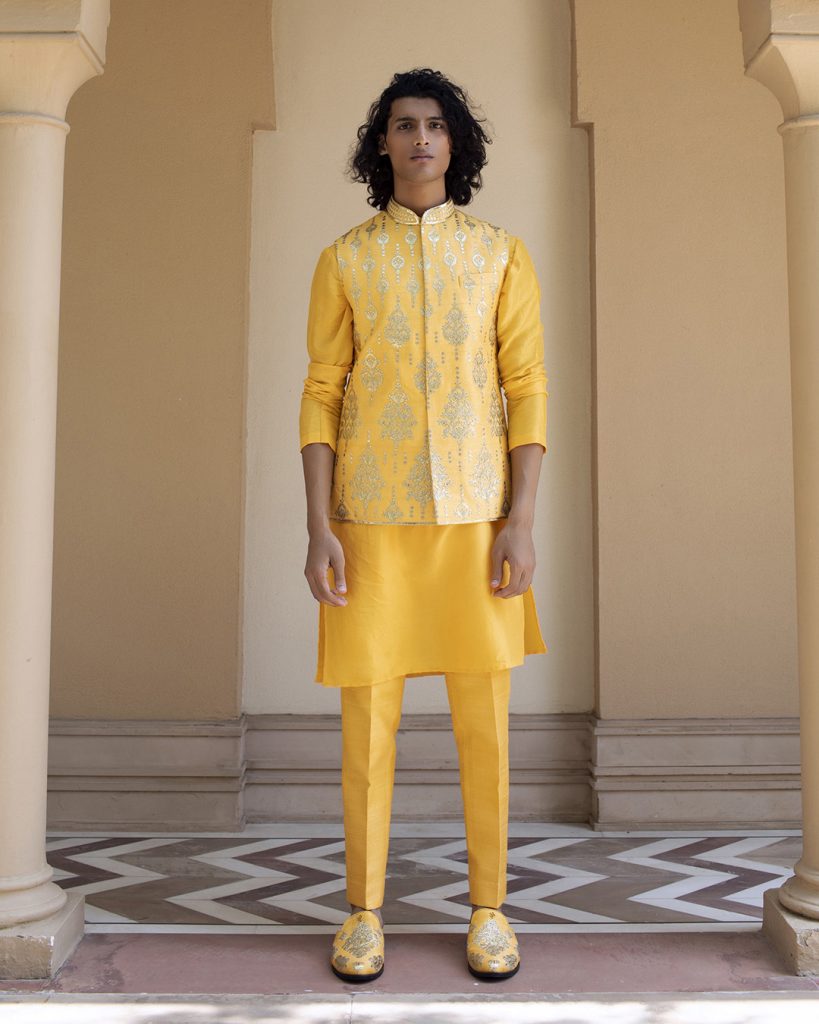 The Ludovic bandi set by Falguni Shane Peacock is the perfect haldi outfit for the groom or even for those attending. The mustard yellow dapper bandi set is adorned with ethnic chrome buttis all over for a regal yet sophisticated look.
SHAEROY BANDI SET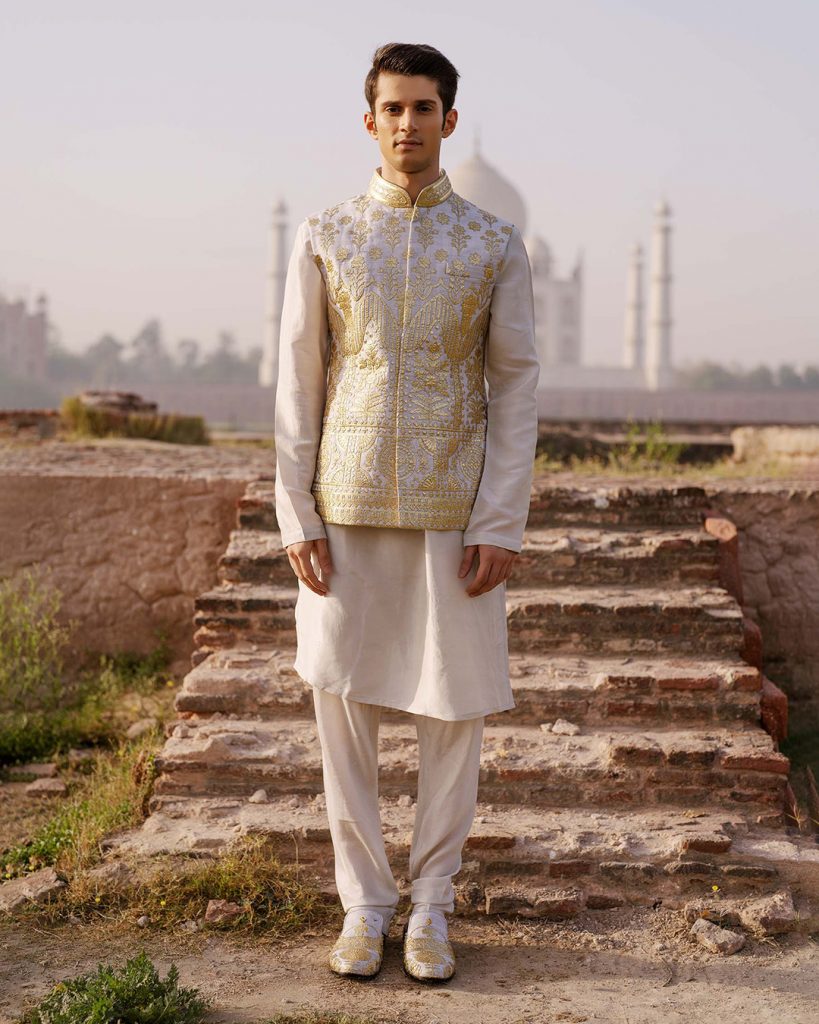 For those who want to go the pastel route, this light mauve raw silk bandi for men should be on your Wishlist. The bandi set is replete with chrome applique in floral and architectural motifs creating a sophisticated look ideal for a pre-wedding celebration.