Unique silhouettes, authentic colours and glimmering chrome prints—the enchanting foil lehenga collection at FALGUNI SHANE PEACOCK is one which will elevate your fashion quotient to the next level.
A lehenga will always be the first choice for women when it comes to dressing up for celebratory gatherings such as weddings or festive occasions. The traditional yet classy garment never fails to add the grace and elegance you need when attending such pompous events.
Foil lehengas are a great choice if you're looking for lighter, more wearable options compared to your regular heavily embroidered and embellished pieces. These lehengas are easier to move around in but look just as opulent.
The foil lehenga collection by FALGUNI SHANE PEACOCK is a melange of vibrant colours and distinctive motifs such as foliage, architectural, chevron, animal, ethnic, etc., in chrome applique. The lehenga collection showcases cropped, embellished blouses adorned with sequins and beads in creative patterns and cut-out styles.
The globally renowned luxury fashion brand, FALGUNI SHANE PEACOCK is celebrated for its creative brilliance when it comes to Indian traditional wear and their foil lehenga collection is a testament to that. So, hold up tight and scroll along to get inspired by the stunning foil lehenga collection by the fashion-makers themselves.
Myra bridal lehenga set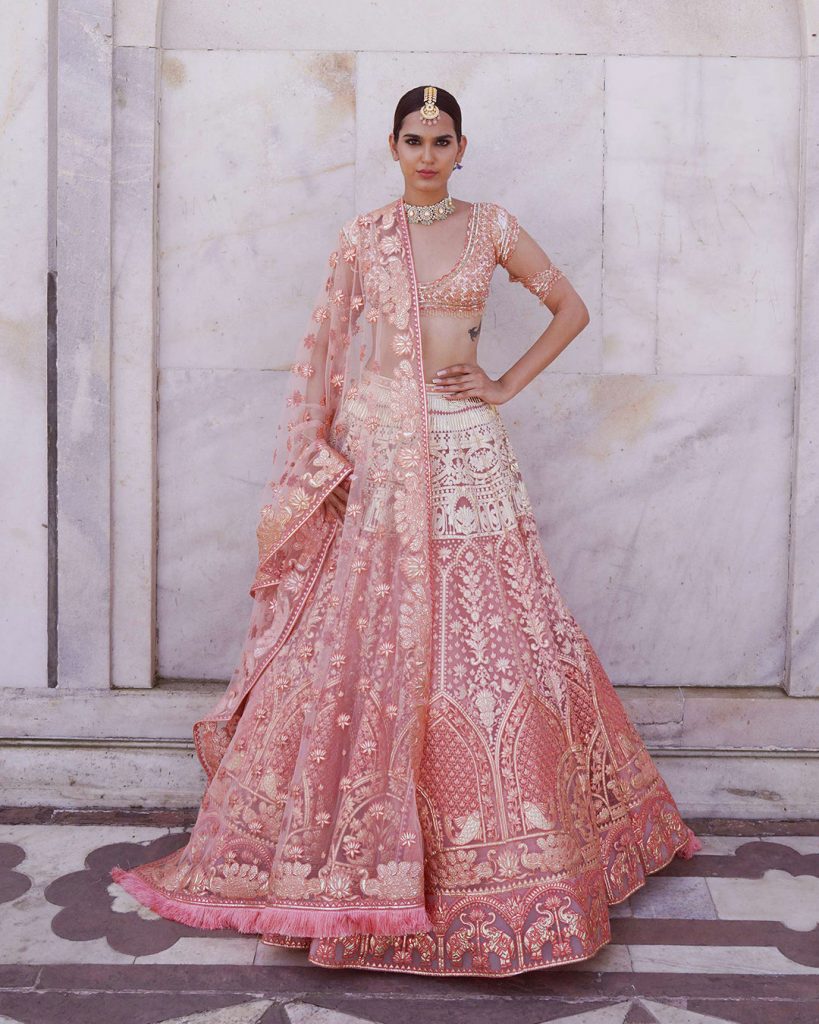 The perfect coral ombre lehenga adorned with light gold chrome applique in foliage, animal and architectural motifs. The bright-hued foil lehenga set is coupled with a matching cropped blouse with sequin gridwork, tassels and cut-out sleeves.
Megan bridal lehenga set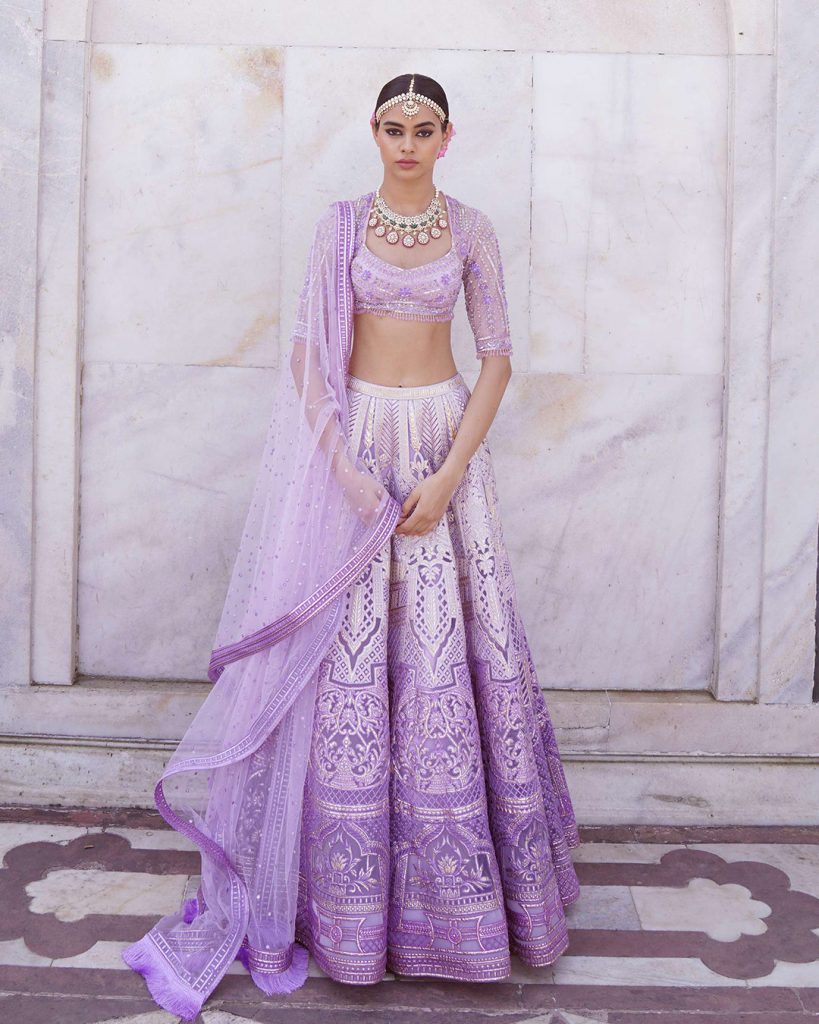 Hands down the perfect outfit for the bridesmaids. This lavender ombre foil lehenga is curated on tulle with light silver chrome applique in foliage and architectural motifs. The captivating lehenga is paired with a cropped embellished blouse with tassel details.
Natasha bridal lehenga set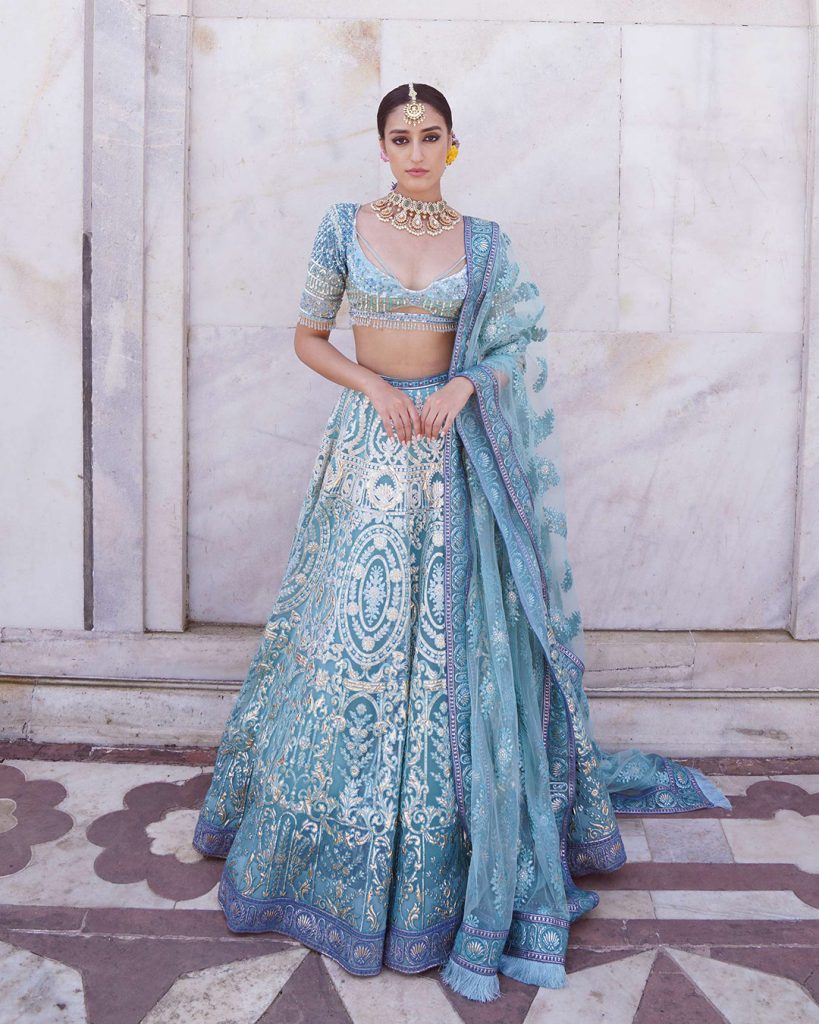 The plush sky-blue ombre lehenga can be the perfect pre-wedding festivities ensemble for an opulent yet comfortable look. Adorned with light gold chrome applique creating foliage motifs the foil lehenga comes with a matching, sequin and beads embellished, cut-out blouse with tassel detail on the sleeves.
Nadia bridal lehenga set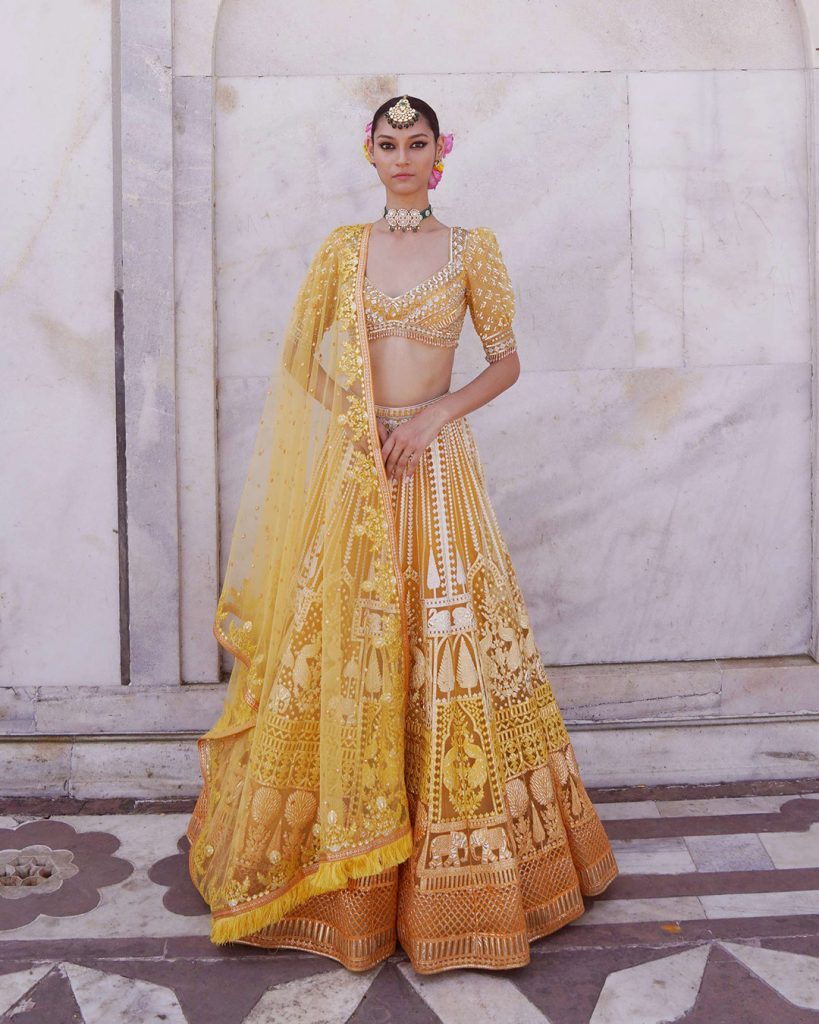 Bright like the morning sun, this marigold yellow ombre lehenga is the ideal outfit for a haldi ceremony. The vibrant lehenga is replete with chrome applique in animal and architectural motifs, paired with a sequin embellished cropped blouse with puffed tulle sleeves and tassel details.
Virginia bridal lehenga set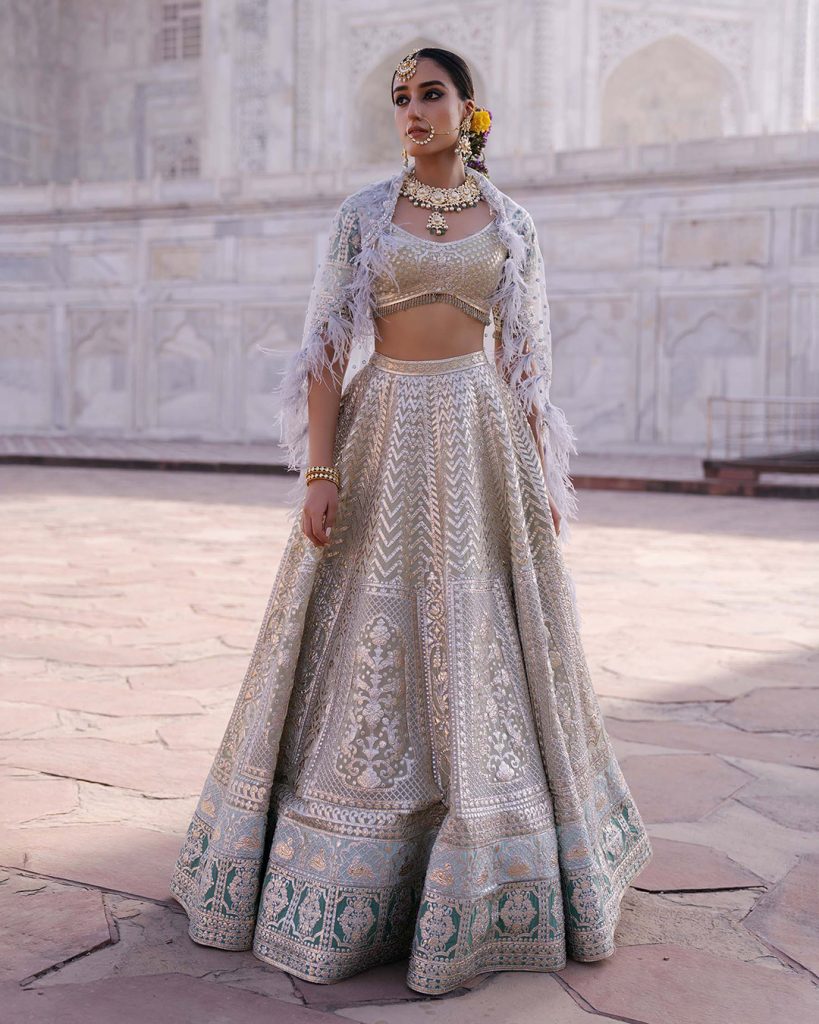 This magnificent foil lehenga on a light beige base is the perfect addition to any bridal trousseau. The lehenga skirt is adorned with elaborate foliage, architectural, chevron, dove and traditional motifs in light gold chrome applique and is coupled with a multicoloured chrome applique blouse and a tulle dupatta with feathered border.