The colour red is associated with love, passion and prosperity. It holds great significance in traditional Indian weddings which is why you see a lot of this bold hue in decorations, rituals and of course, the bridal ensemble.
For ages, red has been an auspicious colour for Indian traditional weddings and time and again, brides have been choosing red bridal lehenga over any other colour. Apart from its significance, red is one of those colours which is bold yet imparts a comforting feeling when worn. Modern brides are embracing their culture by wearing red-coloured lehengas for their weddings but of course, with a modern take on it.
Master couturiers, FALGUNI SHANE PEACOCK have revived the face of Indian traditional wear like no other. Their creative excellence knows no bounds and it is reflected in their designer bridal wear lehengas. Crafted for the traditional, yet experimental brides, their red bridal lehengas are a dreamy affair.
Replete with threadwork embroidery, beads, sequins, crystals, tassels and stones, these elaborate red bridal lehengas are the true embodiment of tradition, fashion and glamour combined in stunning pieces of creative brilliance.
Scroll through our curated edit of the best 5 bridal red lehengas by FALGUNI SHANE PEACOCK and get ready to be inspired by their exceptional collection of fashion.
AURORE BRIDAL LEHENGA SET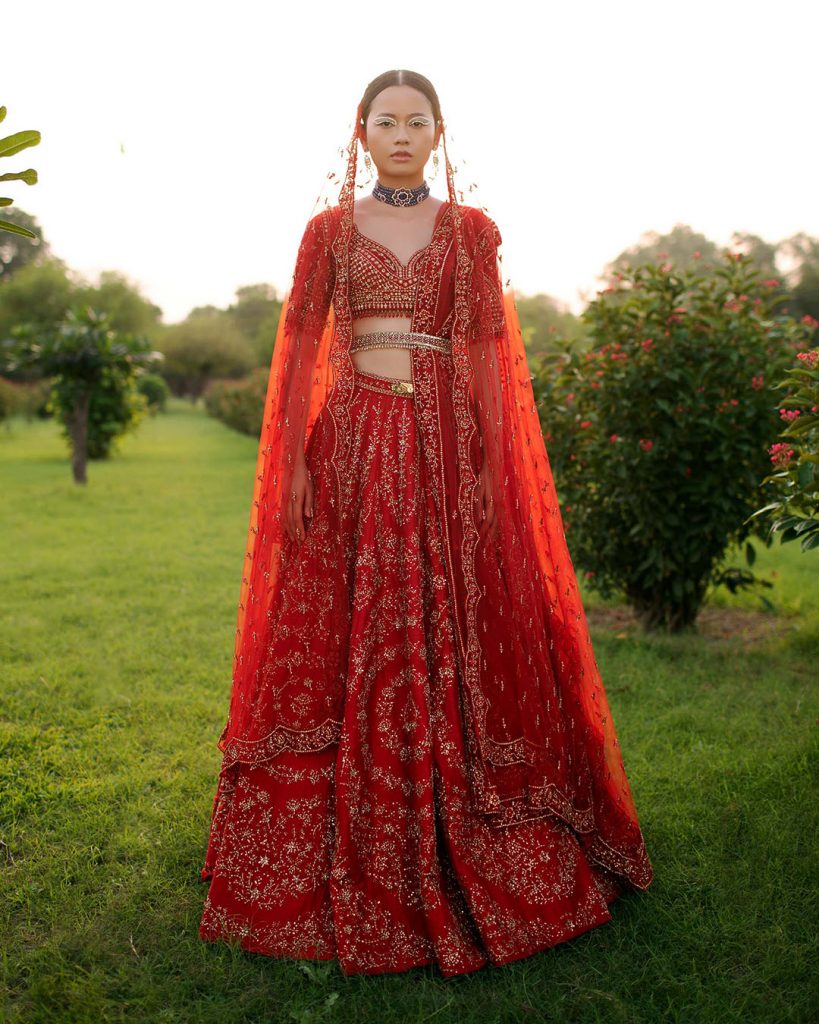 This embellished red bridal lehenga is the quintessential choice for every bride-to-be. The bright-hued lehenga is adorned with gold embellishments and threadwork for that splendid bridal look. The lehenga set is replete with an embellished waist belt and a cropped corset blouse decked up with sequins, stones and crystals, and double tulle dupattas.
HOLLY BRIDAL LEHENGA SET
This heavily embellished red bridal designer lehenga set by Falguni Shane Peacock exudes glamour and panache like no other. The decked-up bridal lehenga is replete with multicoloured motifs, beads, sequins and crystals in a grid-work, floral and architectural pattern. The inclusion of two dupattas and a matching waist belt takes the entire look of the lehenga set to a different level altogether.
RIVKA BRIDAL LEHENGA SET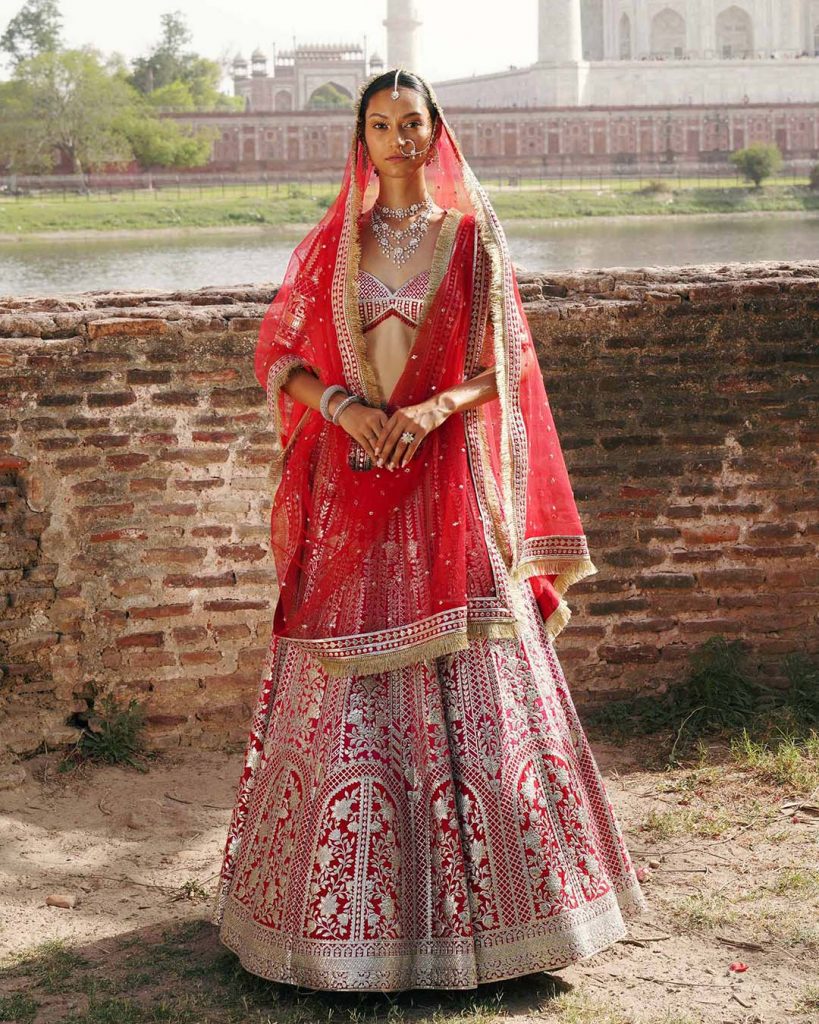 This gorgeous, ruby-red gold chrome applique lehenga with architectural and foliage motifs is the ideal lehenga for brides who want to look opulent without being weighed down by a heavy lehenga. The lehenga comes replete with a matching cropped blouse with chrome and tassel detailing, coupled with a matching tulle dupatta with a fringed border.
SARA LEHENGA SET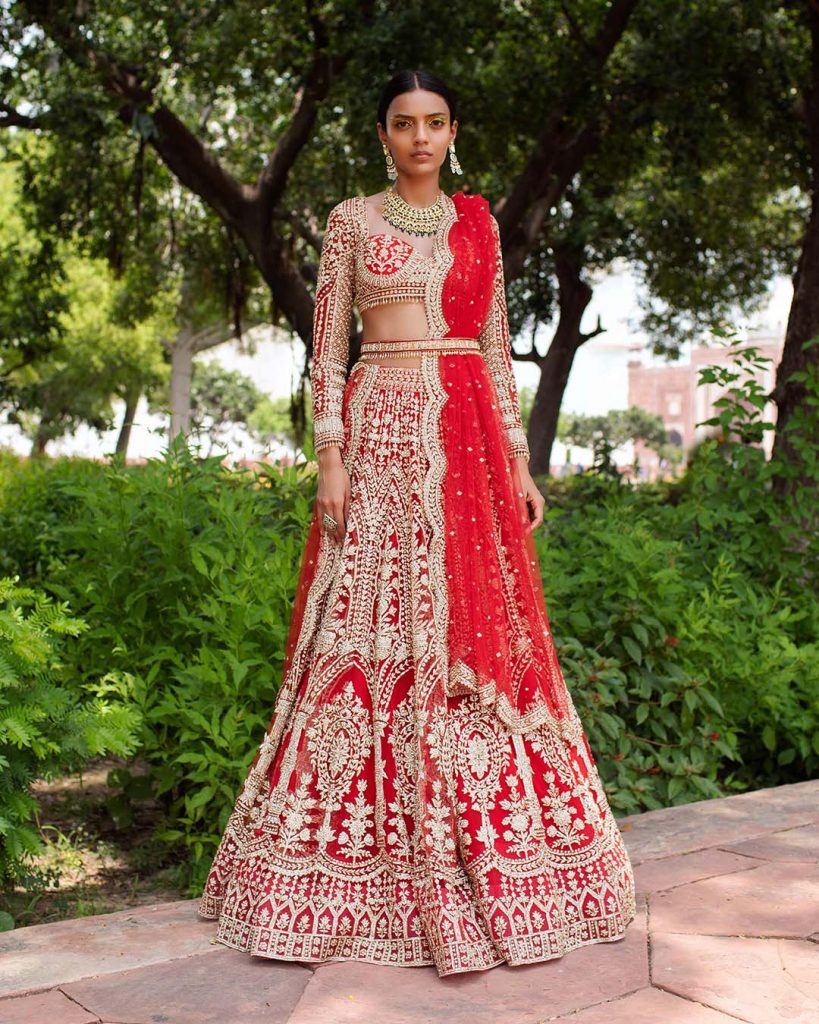 The seamlessly handcrafted red bridal lehenga is adorned with golden embellishments including sequins and stones on jharokha motifs. The lehenga set features a full-sleeved, cropped corset blouse with intricate gold detailing. The lehenga set is replete with a matching tulle dupatta with a scallop-cut border and overall butti motifs.
ZELIE LEHENGA SET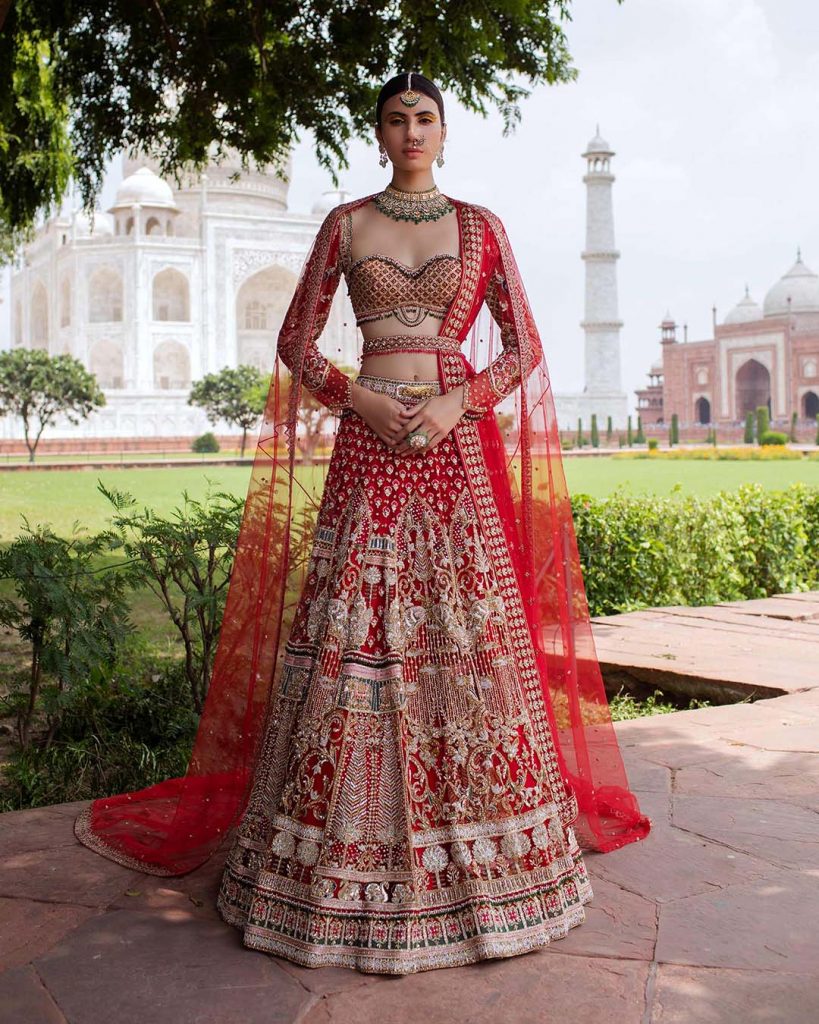 This regal red bridal lehenga set is the perfect fusion of traditional craftsmanship and contemporary silhouette. This exquisitely designed lehenga showcases multicoloured threadwork embroidery creating ethnic motifs along with ornate embellishments such as tassels, crystals, beads and sequins to create a vision to behold. The magnificent lehenga set is replete with a tulle embellished full-sleeved, cropped corset blouse with grid-work motifs and bead tassels to elevate your fashion quotient.