Bridal gowns are the new dress code for Indian modern brides. Usually, for an Indian wedding ceremony, the bride needs to get dressed in a traditional attire such as a lehenga or a saree and so for the additional ceremonies, brides nowadays are choosing contemporary options such as designer bridal gowns.
A decade or two ago, gowns were not a popular choice among Indian brides as their wedding festivity outfits. But the contemporary outfit has gradually paved its way to becoming a go-to option for many brides as their pre or post-wedding festivities attire such as engagement, sangeet and even reception. The one-piece garment is comfortable to wear and is just as elegant and opulent as a lehenga. From saree gowns to massive ball gowns, fashion-loving brides are going all out with this garment, exploring all the silhouettes, embellishments and fabrics.
The couture bridal gown range at Falguni Shane Peacock will leave you in awe of the designer duo. Their elaborate collection of bridal couture gowns catalogues mesmerizing silhouettes, humongous flare and ornate embellishments bundled into creative masterpieces. The Magnificent creations are sure to elevate not only your bridal quotient but will also leave a trail of admiration for your sartorial choices.
Let's browse through some of the most coveted pieces from the FALGUNI SHANE PEACOCK bridal gown collection.
LAURA BRIDAL GOWN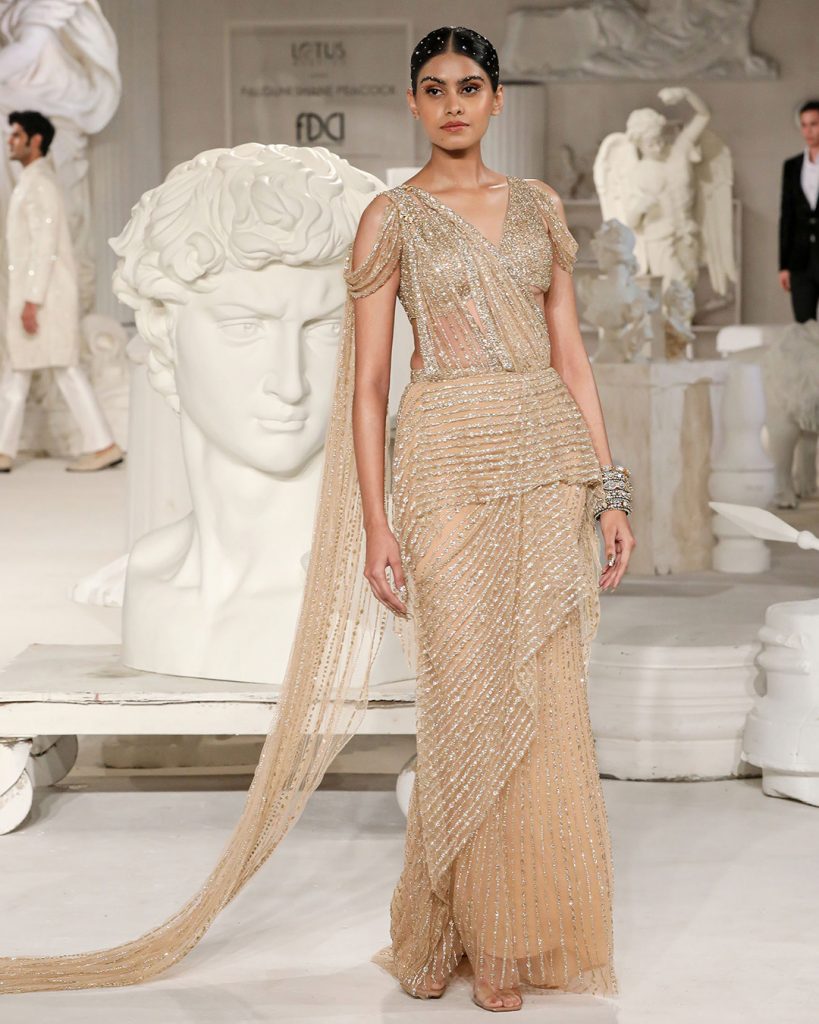 All things elegant and sophisticated, this beige-based light golden pre-draped saree gown is the perfect reception or engagement outfit if you're looking for something minimalistic. Replete with cold-shoulder sleeves and a long one-shoulder cape, this one-of-a-kind saree gown is the ideal one for an engagement or a reception party.
MARISSA BRIDAL LEHENGA SET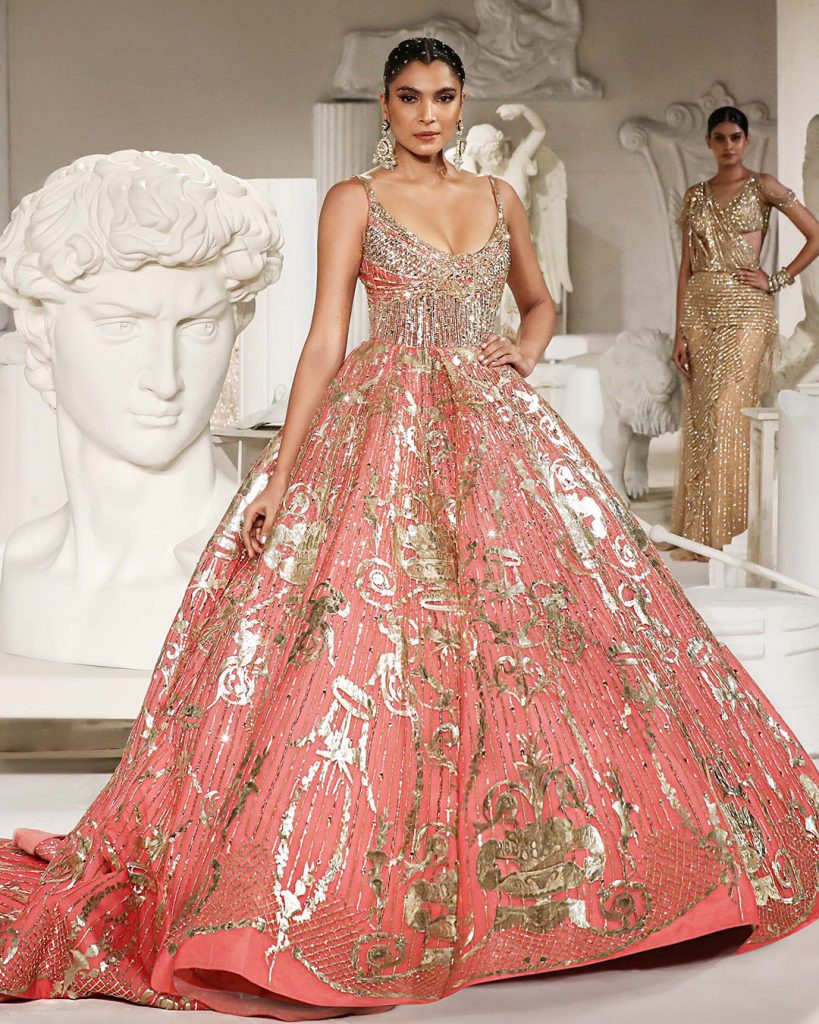 Straight out of a fairytale, this coral-hued ball gown is surely a dreamy affair. The bridal gown design is adorned with a foliage motif in light gold chrome applique along with a corset embellished top with sequins and beads.
LORIA BRIDAL LEHENGA SET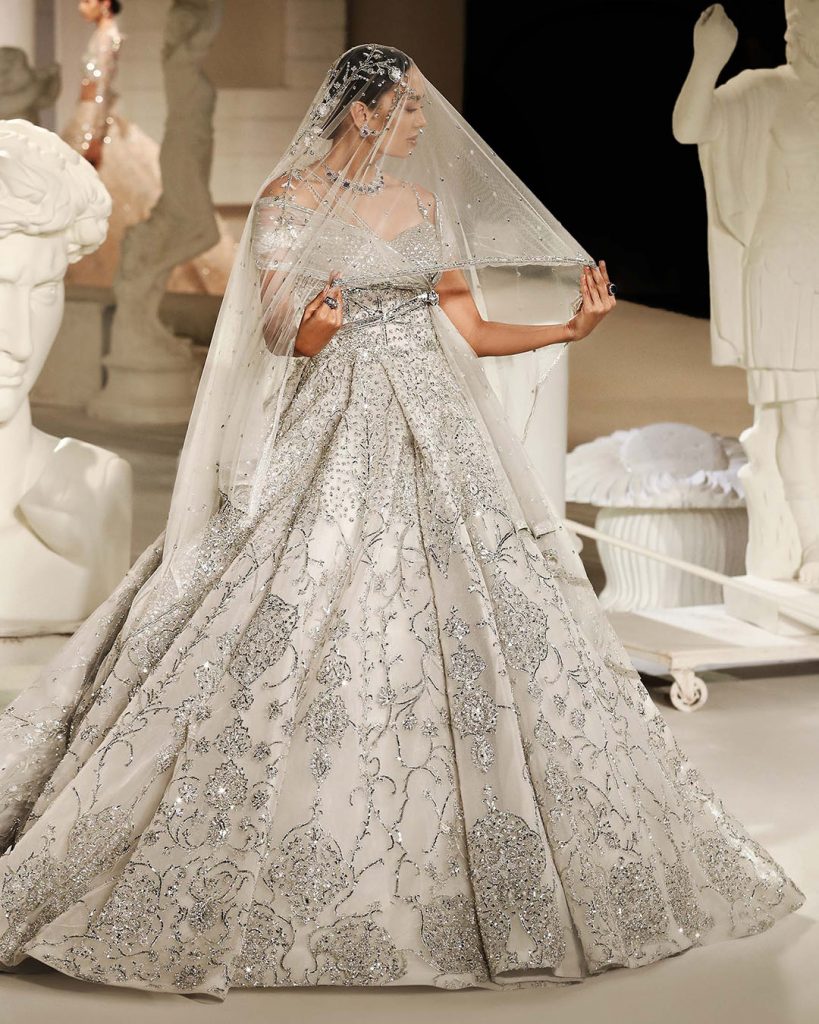 Another stunning ball gown option but this time in ivory-based. Replete with foliage motifs, this silver bridal gown design is festooned with sequins and crystals all over. The flattering sweetheart neckline, knotted dupatta and FSP buckle add to the beauty of the opulent gown.
LARA BRIDAL GOWN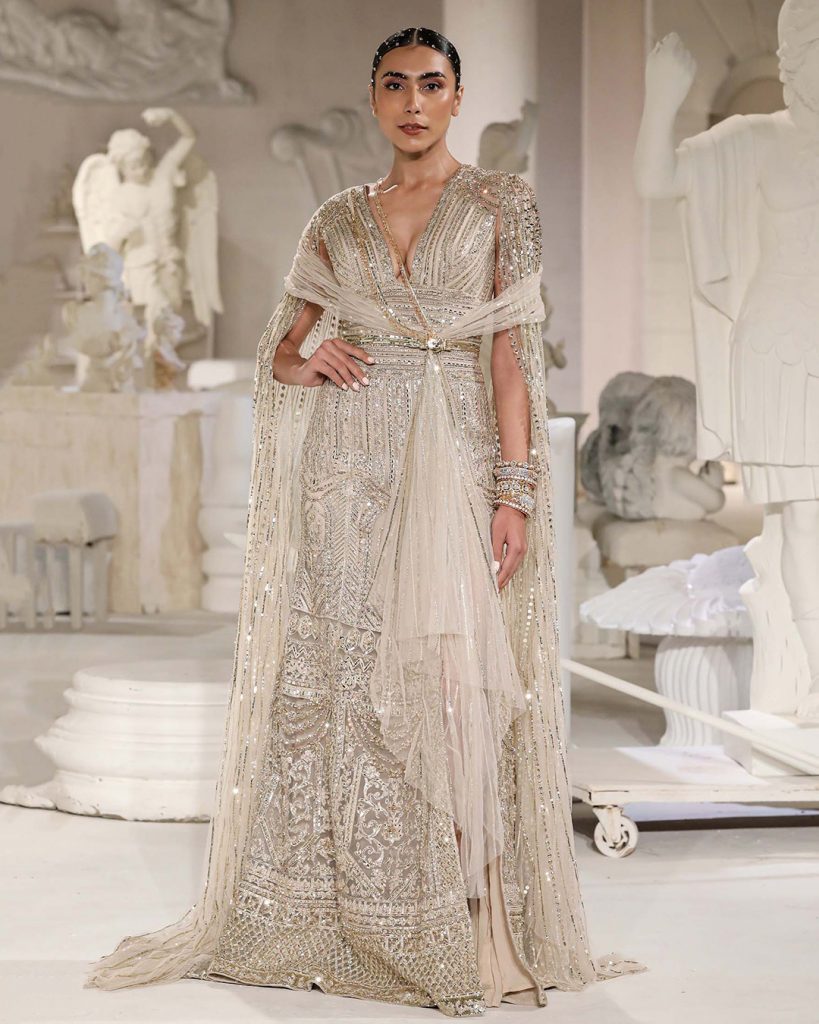 The exquisite light beige-based, light golden gown will make you feel like royalty without overdoing it. The contemporary bridal gown design is replete with foliage and architectural motifs adorned with chrome applique and sequins and comes with a knotted dupatta and FSP buckle.
LENA BRIDAL LEHENGA SET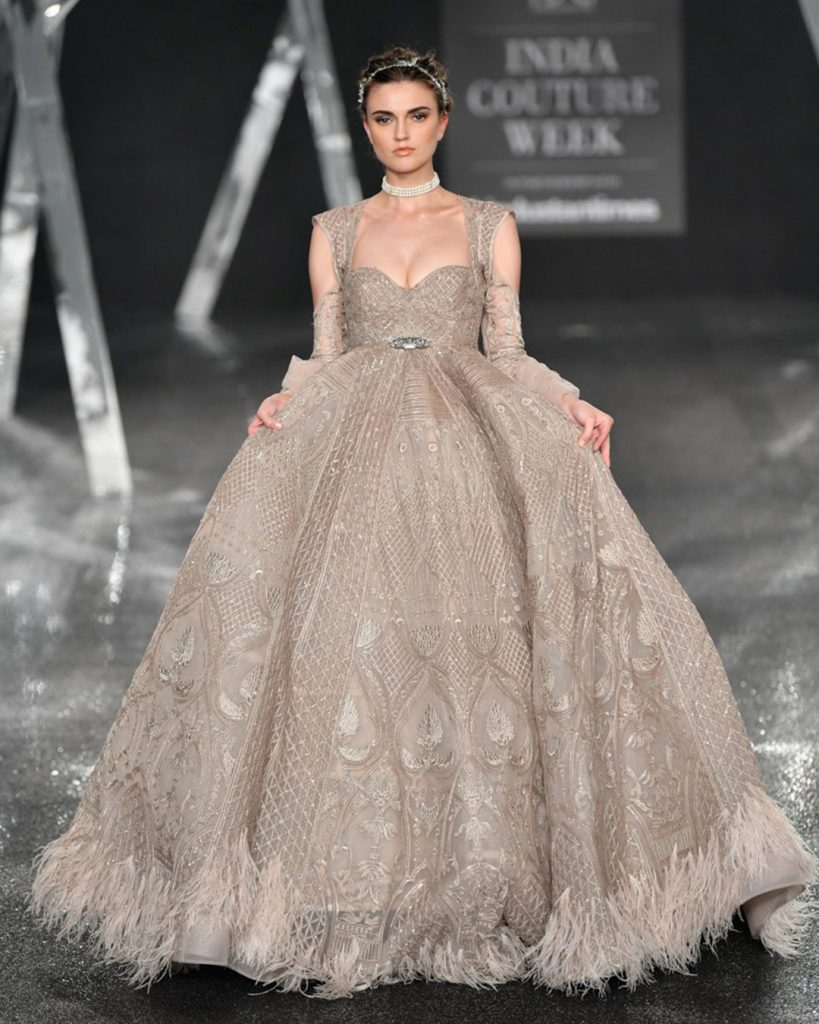 The most opulent of all, this Falguni Shane Peacock creation is straight out of your bridal dreams. This beige-based ball gown is adorned with crystals and beads in stunning architectural and gridwork patterns. The swoon-worthy couture bridal gown design is replete with cut-out tulle sleeves, a plunging sweetheart neckline, feathered flare and FSP buckle.