A haldi ceremony used to be an intimate affair where close family and friends would gather to celebrate the beginning of the wedding festivities. But nowadays, haldi ceremonies are an elaborate affair just like a wedding ceremony and obviously, you need an extravagant outfit to match the pomp and show.
Yellow is the most worn colour for haldi ceremonies as haldi (turmeric) is yellow in colour. Though there is no hard and fast rule to this, people prefer to dress up in yellow-hued clothes for this particular event. Yellow lehengas have become fairly popular as brides prefer to wear yellow outfits for haldi ceremonies.
The designer yellow lehenga collection at Falguni Shane Peacock is a melange of distinctive silhouettes, fabrics and embellishments. No matter what your bridal style is, you're sure to find something special for your haldi ceremony.  Let's browse through our curated edit of our top 5 yellow bridal lehengas for your wedding festivities.
Amira bridal lehenga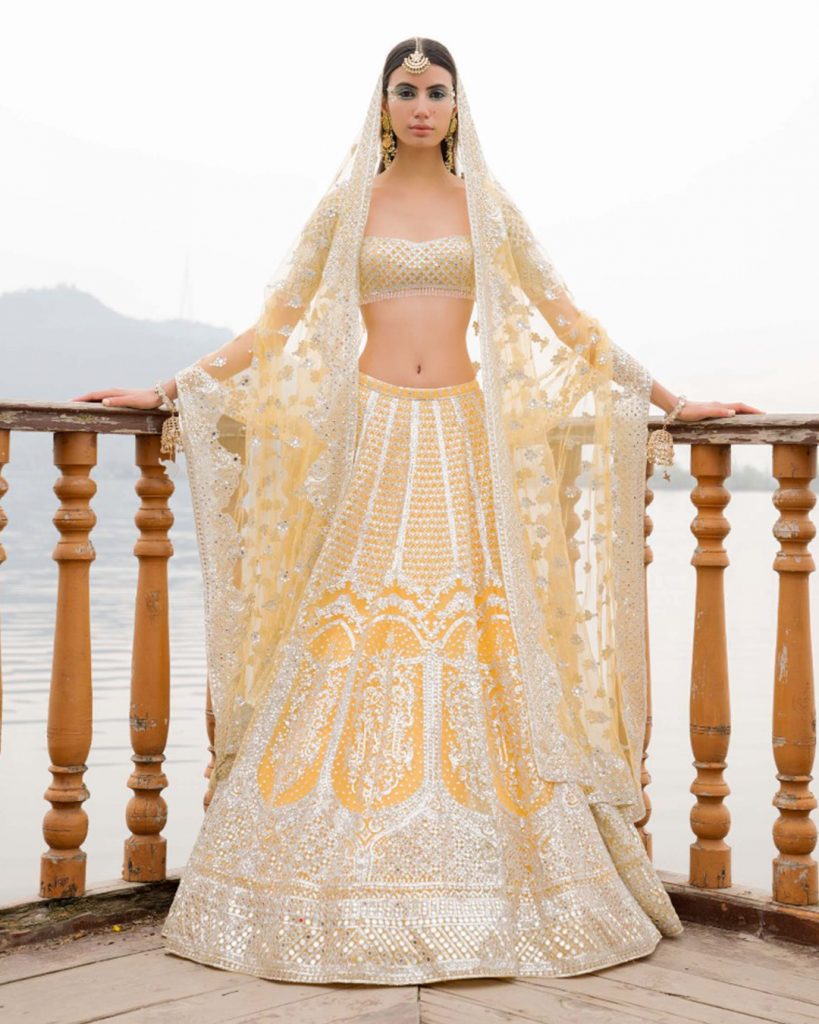 This stunning mimosa yellow lehenga is the quintessential lehenga choice for a haldi ceremony. The glimmering yellow bridal lehenga showcases chrome applique in architectural motifs, adorned with sequins and mirror work details. The lehenga skirt comes with a cropped blouse replete with mirror work and tassels for a polished look. The lehenga set comes with a matching tulle dupatta adorned with sequins and mirrorwork.
Nadia bridal lehenga set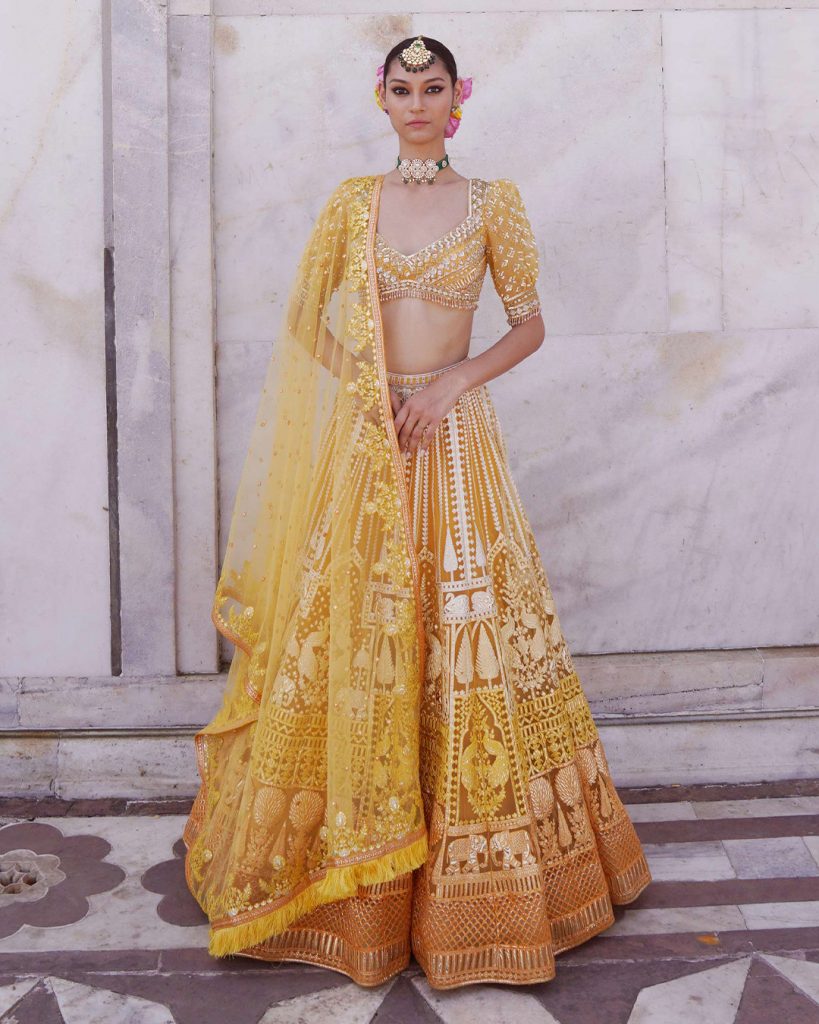 This chrome applique, ombre marigold yellow lehenga set showcases detailed animal and architectural motifs in chrome applique. The lehenga skirt is accompanied by a cropped embellished blouse adorned with sequins and tassel detailing. The yellow bridal lehenga set comes with a matching tulle dupatta with a chrome border along with thread tassel detailing.
Fabienne lehenga set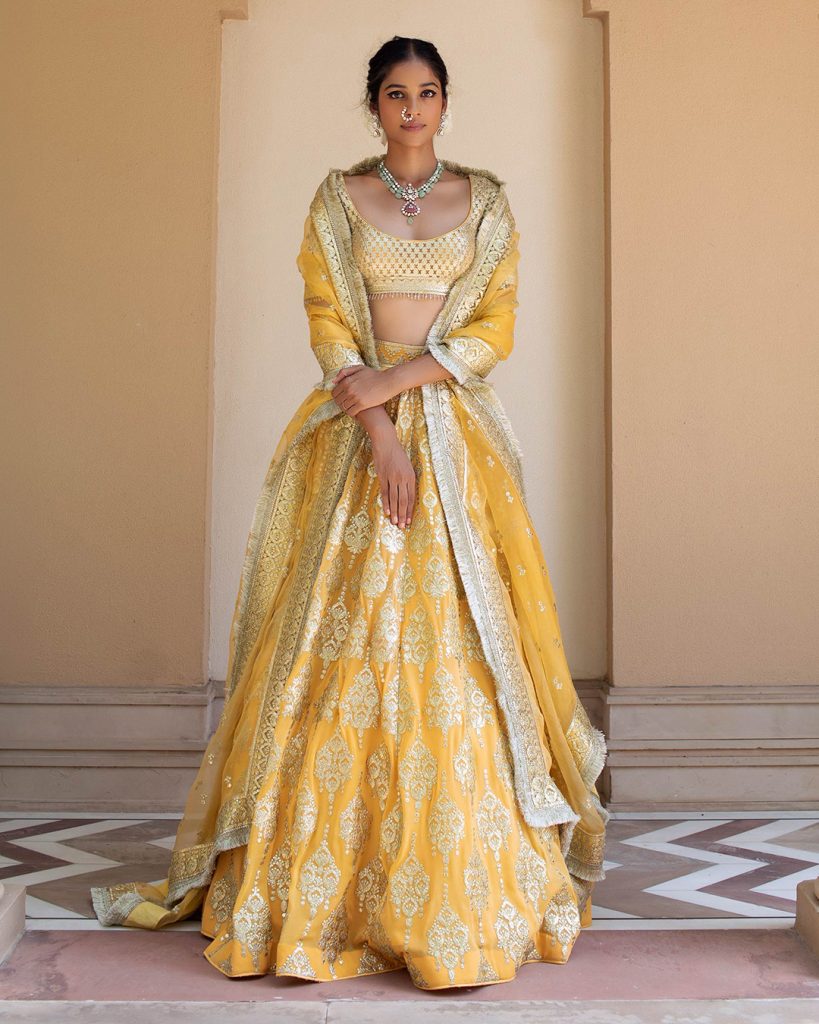 This one is the perfect lightweight yellow lehenga to dress up for a haldi ceremony. The Fabienne lehenga set is ideal for a would-be bride or even to be worn by a guest. The yellow chrome applique lehenga is adorned with traditional motifs, along with a cropped blouse featuring grid-work motifs and tassels. The lehenga set comes with a tulle dupatta replete with butti motifs and fringed borders.
Rosamonde lehenga set
Something different from your average yellow lehenga, this Rosamond lehenga set is a mix of yellow and pink along with other colours to create a multicoloured effect. The mustard yellow lehenga skirt is adorned with elephants, floral and foliage motifs embroidered with multicoloured silk threads. The yellow bridal lehenga features a pink blouse showcasing foliage and gridwork pattern along with a tulle dupatta with butti motifs and a fringe border.
Lila lehenga set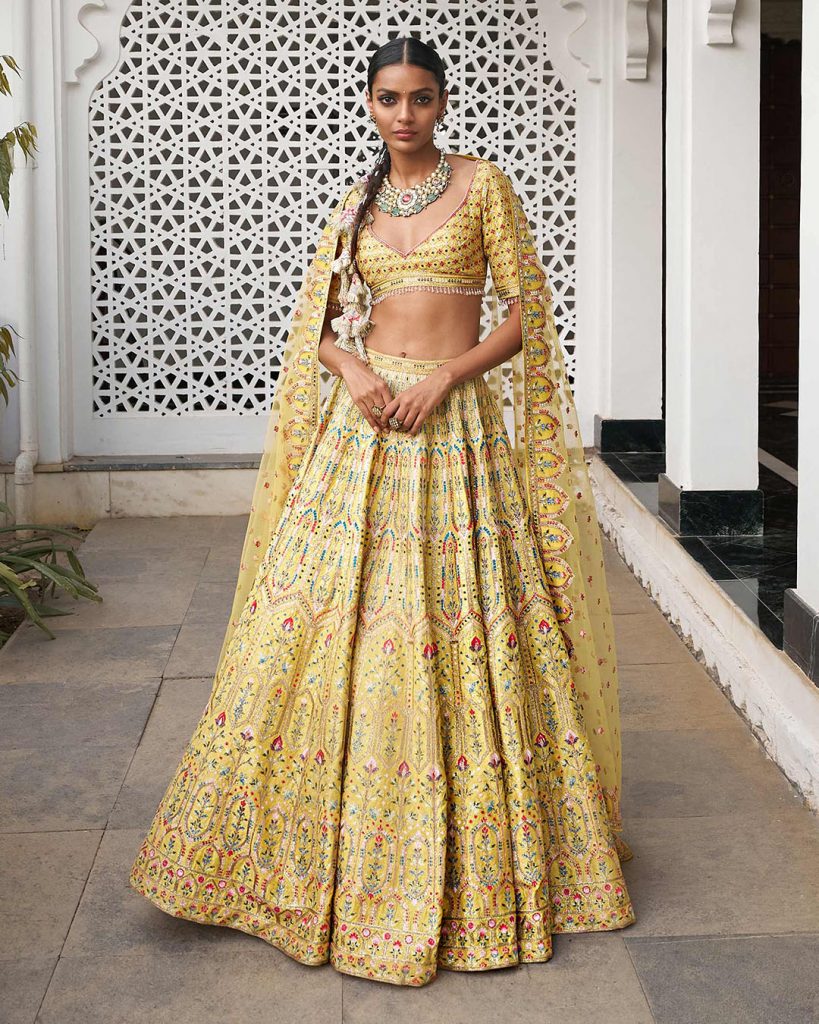 The mustard yellow embroidered lehenga is a melange of multicoloured foliage motifs using silk thread. The elaborate lehenga showcases a detailed and intricate silk thread embroidery pattern on the lehenga skirt as well as the blouse which is adorned with matching tassels.