Attention soon-to-be brides! Are you looking forward to experiencing a refreshing union of tradition and contemporary designs? Look no further.
At FALGUNI SHANE PEACOCK, you can't help but get mesmerised by the enormous range of ivory bridal lehengas crafted especially for the trendsetting bride. Considering the fast-changing preferences of new-age women, the globally renowned designer duo have curated an elaborate collection of ivory bridal lehenga.
In Indian traditional weddings, the bride, more often than not dresses in a deeper colour Lehenga, preferably red, during the wedding nuptials. But with changing times, the newer generation is trying to adapt traditions in a more advanced approach.
Lighter, pastel colours have become a preferable choice for the modern-day brides. Powder blue, mauve, baby pink and beige-coloured lehengas are gaining popularity amongst the fashion-savvy crowd. But one uncustomary colour that many brides gravitate towards is—ivory.
FALGUNI SHANE PEACOCK ivory colour bridal lehengas are thoughtfully conceptualised and are the perfect amalgamation of intricate embellishments such as sequins, beads and crystals, precisely stitched onto plush fabrics for that luxe bridal attire.
With the wedding season fast approaching, we have compiled a list of the most whimsical ivory bridal lehenga designs for the unconventional brides of 2023. Finding the perfect outfit for each occasion may feel like a mammoth task, but with our à la mode collection of skilfully curated FALGUNI SHANE PEACOCK ivory colour bridal lehenga collection, you have one less task to stress about.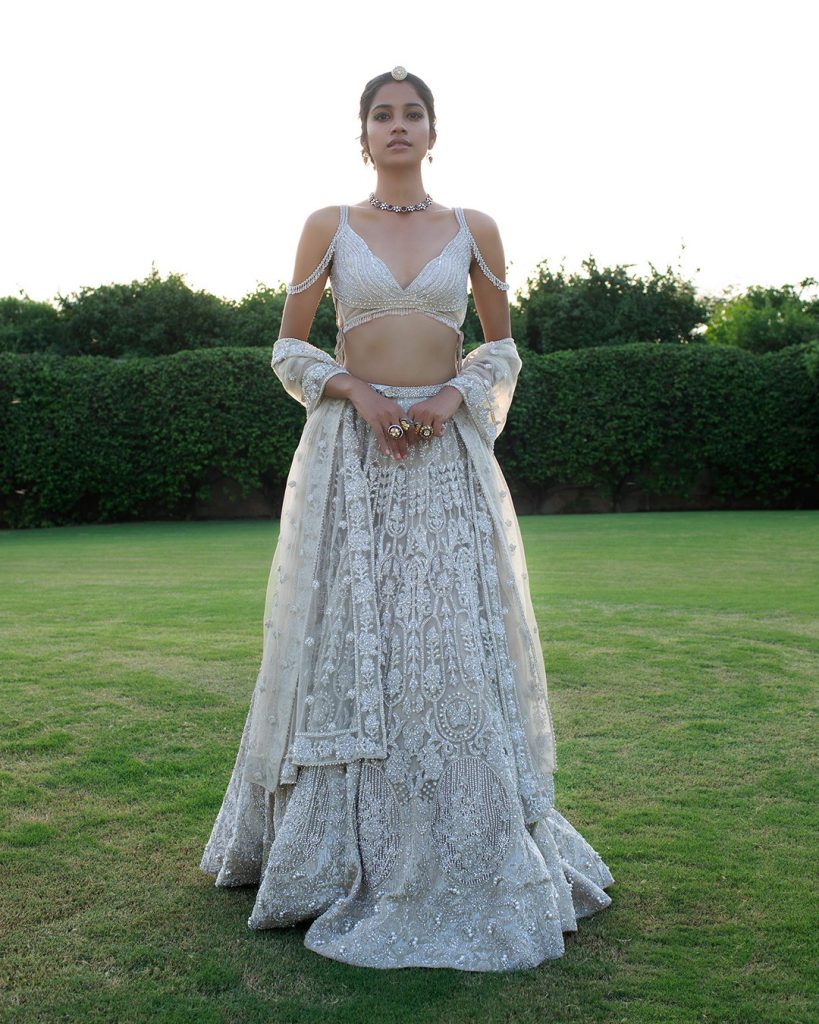 CECILE BRIDAL LEHENGA SET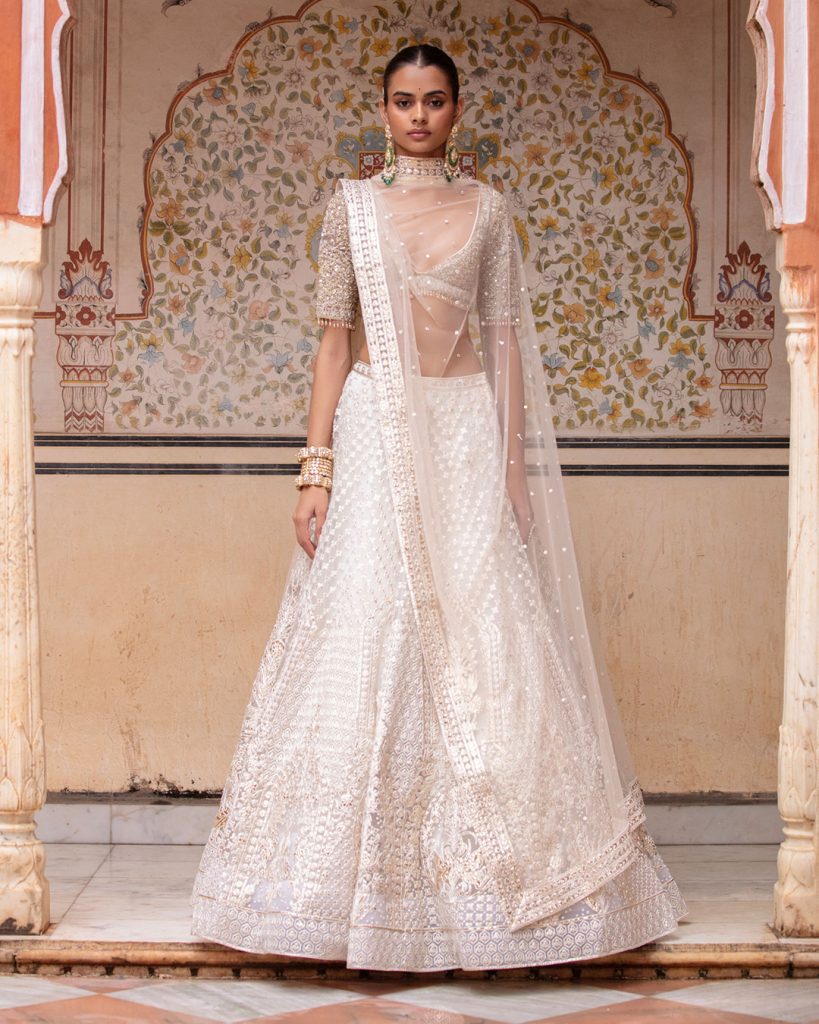 ELLEN BRIDAL LEHENGA SET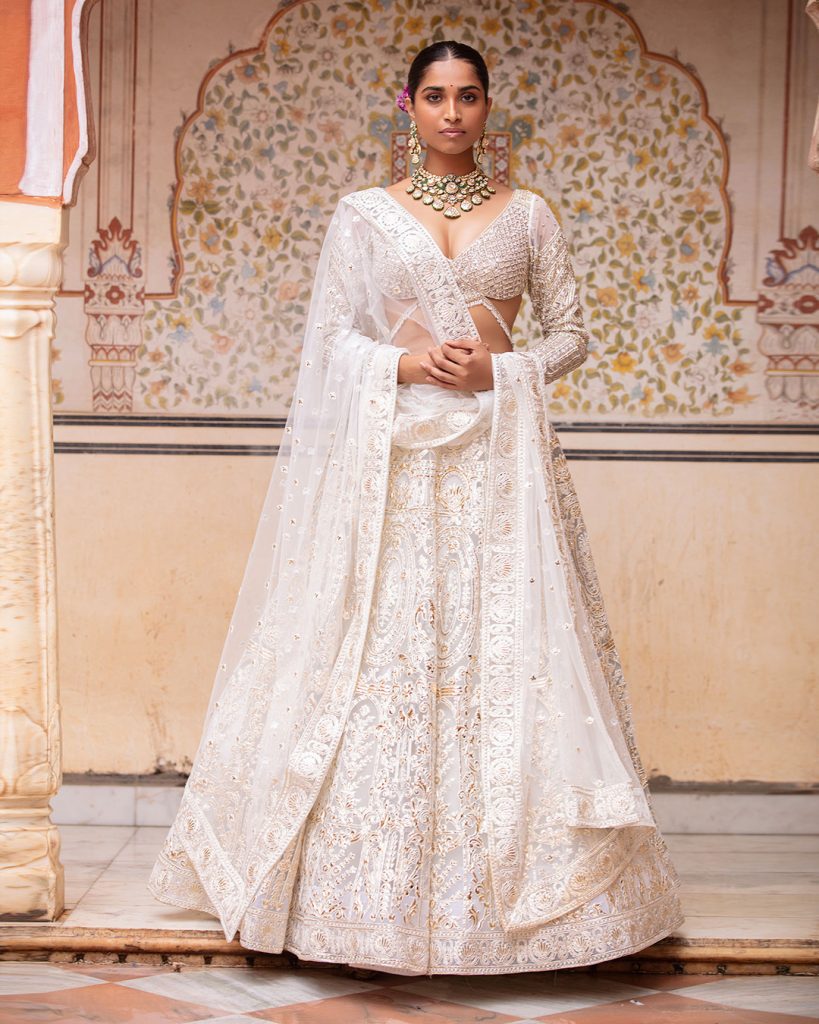 ESTELLA BRIDAL LEHENGA SET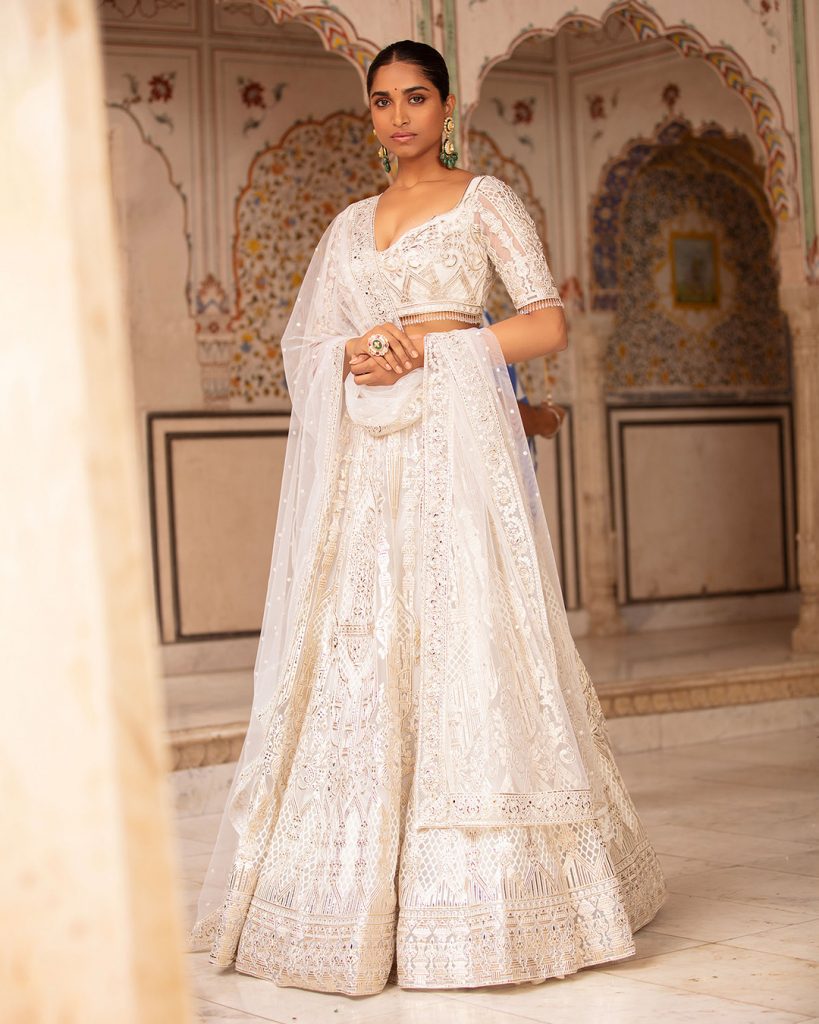 FRIDA BRIDAL LEHENGA SET

SYDNEY BRIDAL LEHENGA SET 
THINGS TO CONSIDER WHEN PICKING YOUR IVORY BRIDAL LEHENGA:
 

Do your research beforehand

– No bride wants to lose her pre-marital charm worrying about one of the most crucial elements for her D-day–the wedding lehenga. Ideally, lehenga shopping is one thing that you should mark off the list as soon as the wedding date is finalised. Create a mood board considering the theme of your wedding and narrow down the styles, fabrics, etc. you want to explore and get going with your ivory lehenga shopping.

Heavy-duty lehengas

– Be considerate of the weight of the ivory lehenga before finalising it. Bridal lehengas are usually heavier due to all the intricate embroidery, sequins and tassels added to the lehenga. The detailed thread work and intricate embellishments is what amplifies the beauty of these masterpieces, imparting a regal appearance to the ensemble. Depending on the type of work you opt for, your ivory lehenga (beads, sequins, crystals, etc.), the weight may vary.

Explore different blouse designs

– One element of your lehenga that you can experiment a lot with is your Lehenga blouse. Remember, the internet is your arena. Explore all the latest designs popular with influential fashionistas and choose your pick. From cropped to backless to plunging necklines–you're spoilt for choices.

Last-minute fittings

–

No bride should skip this crucial step. Never fail to try on your wedding ivory bridal lehenga a couple of weeks before the wedding. When the wedding nerves start to kick in, the wedding ivory lehenga may loosen or tighten up a little. Oftentimes, last-minute fittings and alterations might be required.